Bravado or Strategic Helplessness: What Is Going on Behind the Façade in Minsk?
Publication: Eurasia Daily Monitor Volume: 19 Issue: 155
By: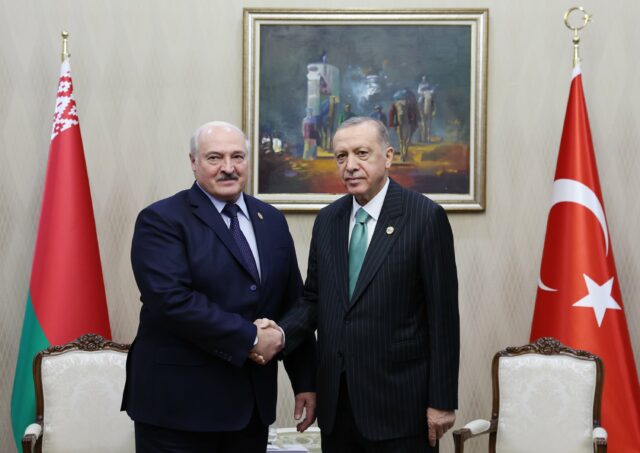 Belarusian President Alyaksandr Lukashenka's trip to Astana, Kazakhstan, on October 13 to participate in the 6th Summit of the Conference on Interaction and Confidence Building Measures in Asia (CICA) turned out to be quite eventful. While there, Lukashenka held face-to-face meetings with Turkish President Recep Tayyip Erdogan, the leaders of Kazakhstan and Pakistan, delivered a speech and gave an interview to NBC's Keir Simmons.
In his speech, Lukashenka offered his shared views with the Russian perspective, according to which "after the collapse of the Soviet Union, the so-called collective West, intoxicated by its victory, lost control and failed to cope with the functions of a global regulator and guarantor of stability. Now the whole world is paying for it." The Belarusian president continues to view developments in Ukraine, especially from 2014 to the onset of the current war, as well as the post-election rallies in Belarus in 2020 as resulting solely from insidious attempts by the West to expand its geopolitical domain (Belta, October 13).
Fairly regularly, Lukashenka gives interviews to major Western news media outlets—he gave one to Agence France-Presse in July 2022 and to BBC in November 2021—which seemingly make up for the lack of high-level contacts with Minsk, something that is in high demand in the West. In his NBC interview, Lukashenka made the following points. First, he agreed that Russia may not be winning in Ukraine but argued neither is the other side, despite 50 countries collectively fighting Russia in Ukraine. Regarding the probability of Moscow to use nuclear arms in this conflict, the Belarusian president shared an ambiguous opinion. On the one hand, he assured the interviewer that there is no need for that, as Russia can cripple Ukraine even without nukes. Yet, on the other hand, Lukashenka admonished the West to refrain from cornering its adversary. He also claimed that, of all countries, Poland is the most active in provoking the West to use nuclear weapons against Russia and warned the United States against "dancing to the tune" of the allegedly deranged Polish politicians.
Lukashenka also announced his upcoming visit to Turkey, in part to discuss the potential for negotiations between Russia and Ukraine. He claimed that, if political will is sufficient, a peace settlement in Ukraine could be achieved in a week. In his opinion, Russian-Ukrainian negotiations did show promise early on, but the West allegedly forced Ukrainian President Volodymyr Zelenskyy to discontinue the talks. On the question of whether Belarus is about to join Russia's military operation against Ukraine, Lukashenka's response was that Belarus's role amounts to its present-day participation in protecting the Western borders of the Union State, "curing Russians and Ukrainians," "feeding Russians and Ukrainians" and accepting 400–500 Ukrainian refugees per day. He added that nothing beyond this will be required of Minsk. "We did not kill anyone there [Ukraine], and we are not going to kill anyone. And we do not intend to get involved. We have always talked about this. … Apparently, you [the West] do not want to listen and do not want to hear us. But this is your problem." Finally, Lukashenka assured the interviewer that Russian President Vladimir Putin is in perfect health physically and mentally and that, though relations between himself and Putin have not always been serene, so goes relationships between close friends (President.gov.by, October 15).
Certain statements made by Lukashenka effectively resonate with judgments shared by some keen observers of Belarus's foreign policy. To this point, Pavel Matsukevich, the former Belarusian charge d'affaires to Switzerland, now an exile in Georgia, pointed out that Zelenskyy's recent suggestion to place international peacekeepers at the Belarusian-Ukrainian border, while difficult to implement, could be used by the West "to convey to Lukashenka something other than one more threat of sanctions. The problem is that, so far, the West has not made any efforts in this direction, as if resigned to the role of Belarus. Even worse, threats of new severe sanctions emanate from Brussels. … But what is the point of resorting to them if the previous sanctions have not influenced the behavior of official Minsk in any area with which they were connected?" observes Matsukevich. Apparently, the political exile does not share the "general line" or chosen policy of the exiled Belarusian opposition, which insists on the West snubbing the Belarusian leader (NewBelarus, October 14). Instead, Matsukevich discerns an opportunity for the West "to see Lukashenka not merely as a problem but as a possible solution," simply because direct participation in the war is not in his, nor Belarus's, interests. In Matsukevich's opinion, the fact that the Ukrainian leadership does not reciprocate the repeated courtship of Svetlana Tikhanovskaya, the exiled Belarusian opposition leader, may in fact be treated as Kyiv's encouraging message to Minsk (Euroradio, October 12).
Nevertheless, despite Lukashenka's professed clarity of outlook, a lot of commotion is happening behind the scenes. Suffice it to mention here the unusual confusion surrounding the status of the so-called "counterterrorist operation." To begin with, Belarusian Foreign Minister Vladimir Makei, in an interview with the Russian outlet Izvestia, stated that such an operation had been introduced in Belarus (Izvestia, October 14). When the stunned media reaction followed, Makei accused the media of promoting conspiracy theories and explained that these were just some "anti-terrorist measures" (Belta, October 14). At the Commonwealth of Independent States summit in Astana, conducted concurrently with the CICA summit, Lukashenka announced that a regime of "increased terrorist threat" has been declared in Belarus. Finally, contrary to Makei's original statement, the Belarusian State Security Committee (KGB) confirmed that the "regime of counterterrorist operation" had not been introduced in Belarus (Belta, October14). According to Yury Drakakhrust of Radio Free Europe/Radio Liberty, "This parade of [verbal] chimeras is a political-psychological reaction to the deepening sense of helplessness" vis-à-vis Russia's far-reaching attempts to goad Belarus into becoming fully involved in the war against Ukraine (Zerkalo, October 14).
It is against the backdrop of this putative helplessness that some strategic initiatives on the part of the West—initiatives that drive a wedge between Moscow and Minsk—might make sense. Even so, it remains to be seen whether they will be undertaken.