Breaking out of the West's Conditioned Response to Belarus 'Failing the Democracy Test'
Publication: Eurasia Daily Monitor Volume: 14 Issue: 49
By: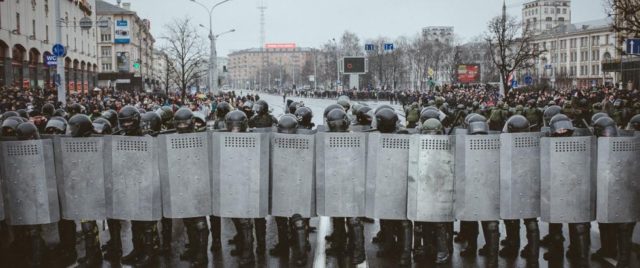 The consequences of Belarusian President Alyaksandr Lukashenka's April 3 meeting with his Russian counterpart, Vladimir Putin, as well as the March 25 crackdown on the Freedom Day rally in Minsk continue to be vigorously discussed. These consequences are inter-related. Irrespective of some politicians' intent to ride the wave of public discontent, the latter has everything to do with economic decline, which to a significant extent depends on Belarusian-Russian economic relations.
Prior to the aforementioned April 3 Lukashenka-Putin summit in St. Petersburg, some obliging Russian commentators hastened to deliver new evidence of Belarus's allegedly crucial and everlasting dependence on Russia's benefaction (RBC, April 2). Many of them anticipated that, this time around, Russia would say a decisive "no" to the concessions solicited by its junior partner; yet those predictions did not materialize at all. Although the natural gas price for Belarus in the years to come will actually stay the same, $130 per 1,000 cubic meters, the country will gain the opportunity to re-export a certain amount of duty-free oil it receives from Russia (Tut.by, April 6). And the expected gain is equivalent to the price discounts originally solicited by the Belarusian government.
In his account of the meeting with Putin, Lukashenka not only specified this particular concession by Russia but also addressed the recurrent bans on Belarusian agricultural products, imposed by Moscow's agricultural import controlling agency (Rosselkhoznadzor). Lukashenka insisted that the personal interests of Russia's "latifundia" owners stand behind those bans. For instance, Sergei Dankvert, who heads Rosselkhoznadzor, owns a number of lucrative assets directly related to the sector he oversees as a federal-level bureaucrat (Tut.by, February 11). This circumstance, most probably, justifies Lukashenka's earlier expressed desire to sue that particular official (see EDM, February 14); but it also apparently compelled Dankvert to ultimately decide to recuse himself from supervising agricultural exports from Belarus (Tut.by, April 5). Moreover, Lukashenka apparently informed Putin that instances of Belarus re-exporting Western food banned by Russia have everything to do with Russian, as he put it, "highway robbers" who organize that re-export via Belarus. Lukashenka also remarked that later this year the modernization of Belarus's two oil refineries will be completed. Light distillates will then account for 95 percent of all petroleum products released by these refineries. Consequently, they will be able to process any kind of oil available on the world market, and Russians understand that (Belta.by, April 6).
The latest discussions of the March 25 crackdown are also revealing. It appears that Foreign Minister Vladimir Makei met with Western ambassadors on March 24—that is, in advance of Freedom Day—to assure them that whatever happens the following day, Belarus remains interested in continuing a dialogue with the West. Curiously, the Belarusian media did not report on that meeting (Tut.by, April 6). The most well-known March 25 detainee, Andrei Bondarenko, the director of a human rights watchdog group, was quickly acquitted by a court in the city of Mogilev (Tut.by, March 30). According to Artyom Shraibman of Tut.by, Belarus's privately-owned news portal, Belarusian TV channels attempted to prepare the population for a coming state crackdown by running "loops of hastily cut footage depicting preparations for a Maidan-style uprising in Minsk, in which half the shots were of corpses and bombings taken from stock footage of Serbia and Donbas" (Carnegie.ru, April 6). Yet, it is also noteworthy that every local demonstration following March 25 has resulted in regional authorities walking out of their offices and talking to the protestors (Tut.by, April 9). Shraibman further expressed the view that although the 2014–2017 thaw between Belarus and the West may now be over, each subsequent thaw ends on a still higher note—that is, its results are ever more difficult, though not impossible, to undo (Tut.by, April 6).
In that light, the scenario for the Minsk demonstrations on May 1—or rather what their organizers want to accomplish—look disturbingly simple, and so are the intentions of those issuing threats and warnings to the Belarusian government (e.g., Svaboda.org, April 6; Deutsche Welle—Russian service, April 7). For example, Nikolai Statkevich, a 2010 presidential hopeful and Belarus's least tamed opposition leader, no longer promises he will ensure a peaceful character of the rally he wants to head on May 1. That is precisely because his goal, as well as that of such opposition leaders as Vitaly Rymasjevsky and Anatoly Lebedko, is to achieve the re-imposition of Western sanctions on Minsk. Curiously, though enjoying minuscule public support, these politicians may actually achieve their goals with relative ease. If police apply tough measures to a rally prohibited by the authorities, then the West may readily oblige. This line of thinking is exposed by Andrei Dmitriev, who heads the Tell the Truth civic campaign and opposes the idea of sanctions. In a recent article for Naviny.by, Dmitriev asks rhetorically whether sanctions are worth broken lives. In his opinion, the watershed in today's Belarus is not so much between the government and the opposition as it is between the reactionaries and reformers from both sides. "The reactionaries from both the government and the opposition reject dialogue and incremental progress toward the resolution of serious national problems. On the contrary, they are keenly interested in head-on collisions and in the subsequent isolation of Belarus," he writes (Naviny.by, April 8).
Russian physiologist Ivan Pavlov's famous experiments with dogs, carried out during the 1890s, led him to his theory of classical conditioning. Pavlov's dogs salivated in response to being fed by him and then in response to him just entering the room. Interestingly, this conditioning phenomenon encapsulates the current situation in Belarus whereby the intransigent Belarusian opposition pushes the West into re-imposing sanctions. First, opposition leaders such as Statkevich provoke the Belarusian authorities into "failing a democracy test" by cracking down on opposition demonstrations. In response, Western decision-makers re-impose sanctions as a kneejerk reaction. It remains to be seen which, if any, of these groups will rise above this sort of conditioning. May 1 is around the corner.