Brief: Ethno-Nationalist Rebels Takeover Towns in Myanmar's Karen State
Publication: Terrorism Monitor Volume: 21 Issue: 16
By: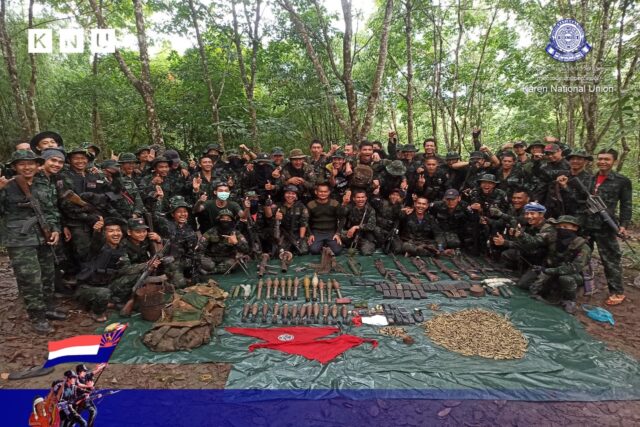 On June 5, Myanmar's military conducted air strikes on Kyainseikgyi in Karen (Kayin) State after the Karen National Union (KNU) claimed several attacks against the military (myanmar-now.org, June 5). The attacks by the Karen rebels enabled them to take control of seven towns in Karen State, undermining the Military Council Southeastern Command's implementation of martial law in Kyainseikgyi and one other nearby town in an effort to quell the uprising (bnionline.net, July 22). As a result of the military's loss of control in Karen State as well as other parts of the country, it is expected that the leader of Myanmar's military government Min Aung Hlaing will extend the country's State of Emergency (bnionline.net, July 15).
On July 12, the special operations units of the KNU and local People's Defense Force captured a Burmese military (Tatmadaw) base in Myawaddy, Karen State, further suggesting that the military government's situation is deteriorating (myanmar-now.org, July 12). In the attack, two government soldiers were reportedly killed and three others were injured. The Tatmadaw had intended to preempt these types of attacks by bulldozing roads around Myawaddy, thereby making it more difficult for the rebels to maneuver, but this strategy was unsuccessful.
Only four months earlier, Karen rebels had seized another military base near the border with Thailand (benarnews.org, March 28). The oldest Karen militant group—the Karen National Liberation Army (KNLA), which has existed since 1949—released a video of that attack. It showed (from a distance) how the rebels set fire to the base, with the goal of rendering it unusable if the Tatmadaw tried to return (YouTube/RadioFreeAsia, March 24).
Karen State, meanwhile, has been upended by the violence; youths who do not join the rebels are often forced to flee into Thailand and become refugees. Within weeks of the Karen rebels' seizure of the base on the border, for example, 4,000 refugees from the region crossed the Thaung Yin River that divides Myanmar and Thailand, seeking shelter in the latter (rfa.org, April 6). Although Thailand has generally provided the refugees with safe living conditions and refugee youths with schooling, the Thai government has not supported the Myanmar rebel groups on grounds that their success could lead to Myanmar's "Balkanization," destabilizing the region (aljazeera.com, March 23).
Moreover, Thailand recently held its second election since the Thai military overthrew the country's elected government in 2014, but Myanmar was a low priority for both political parties (frontiermyanmar.net, May 13). The Move Forward party won the election and its leader, Pita Limjaroenrat, distanced himself from the former Thai military government's close relationship with the Tatmadaw. Limjaroenrat's stated plan, however, is to use "ASEAN-led solutions" to address the Myanmar conflict. This indicates that Thailand does not intend to play a leading role in resolving the continuing conflict across the border, even in Karen State.