Brief: Indonesian Counter-Terrorism Force Detains JI and JAD Remnants
Publication: Terrorism Monitor Volume: 21 Issue: 4
By: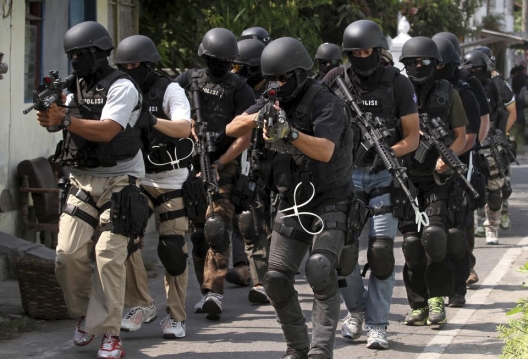 On February 9, Indonesia announced the elite counter-terrorism force Densus 88 arrested six Jemaa Islamiya (JI) members in South Sumatra, Jakarta, and Cirebon, a city in West Java (thestar.com, February 9). The six-member cell was among the more expansive JI networks found in recent years, although its dismantling by Densus 88 demonstrates how the elite force has gained the upper hand against JI. Consistently, the remnants of JI have been arrested before they have been able to carry out any attacks. Since JI's 2009 bombing of the Ritz Carlton in Jakarta, virtually all of JI's attacks have occurred in the Philippines. Even so, there have only been several JI attacks in the Philippines. A decade after the Jakarta hotel attacks Densus 88 is still hunting down and arresting the JI members responsible for those bombings (benarnews.org, December 12, 2020).
Part of Densus 88's success in disrupting JI has been its relentless arrest of the group's members and supporters. For example, on January 22, Densus 88 raided a home in Yogyakarta, where a 38-year old man had been posting Islamic State (IS) images on his social media accounts. This led Densus 88 to suspect he might planning an attack (jakartaglobe.id, January 22). Densus 88 claimed it arrested 26 terrorist suspects in December 2022 alone, with 14 of them being Jamaah Ansharut Daulah (JAD) members and the other 12 being JI members (antaranews.com, December 21, 2022).
While JI is best known for major terrorist attacks, JAD leaders on the other hand tend to advocate for an Islamic state and the end of Indonesian secularism, pluralism, and democracy—but not necessarily attacks. Nevertheless, in recent years JAD followers have conducted several attacks as they have turned the group's ideology into action (benarnews.org, April 4, 2022; tempo.co, July 23, 2019). In some ways, JAD also poses a more difficult and nuanced threat, due to their nominally non-militant approach, which Densus 88 and Indonesian security forces must address.
For example, JAD has been raising funds from recent earthquake relief efforts in West Java, ostensibly to help victims—with the side benefit of introducing them to JAD ideology (akhbaralaan.net, February 13). According to the National Counterterrorism Agency (BNPT), JAD sought to gain sympathy from the populace through its relief activities and aimed to improve its image. This, in turn, could strengthen the group in the long-term, despite BNPT efforts to crack down on JAD, which has been officially banned in Indonesia since 2018 (kumparan.com, February 13).
The Indonesian intelligence services are concerned that JAD might exploit relief efforts in order to fundraise for the group's activities. Only three years earlier, the JAD treasurer—on Densus 88's "most wanted" list—reportedly traveled to Afghanistan to join Islamic State in Khorasan Province (ISKP) after he received donations through Western Union from Trinidad and Tobago, the Maldives, Venezuela, Germany, and Malaysia (tempo.co, July 23, 2019). Although JAD is somewhat less militaristic than JI, its followers have demonstrated the potential to fundraise for and conduct attacks at home and abroad with ideologically aligned groups.