Brief: Sulu Island in the Philippines 'Abu Sayyaf-Free' after Mass Surrender of Militants
Publication: Terrorism Monitor Volume: 21 Issue: 20
By: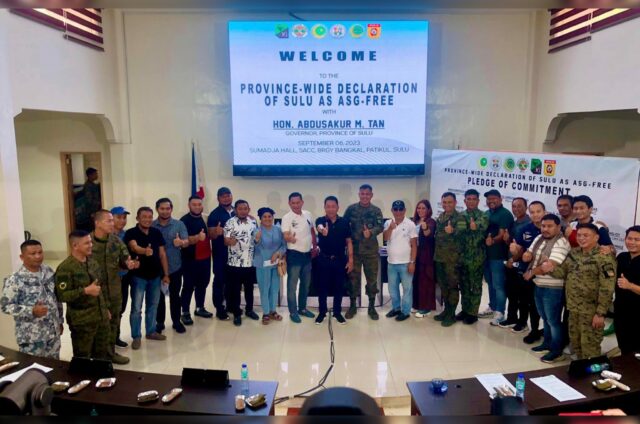 On August 2, a Philippine military spokesman announced that Sulu Island in Mindanao is now free of Abu Sayyaf (The Manila Times, August 2). If there were any doubts about the military's confidence in this claim, on September 7, the commander of Joint Task Force Sulu, Major General Ignatius Patrimonio, reaffirmed that Sulu is "Abu Sayyaf-free." This comes after years of effort, with Patrimonio lauding the surrender of 966 Abu Sayyaf members and the turning in of hundreds of firearms in more than 52 villages in Sulu since 2017 (Key Philippine Military and Insurgency-Related Events, June 29, 2022; Inquirer.net, September 7).
One demonstrative example of this process is the case of three Abu Sayyaf members who surrendered to the 101st Infantry Brigade in Zamboanga, Sulu (SunStar, September 23). The writing was on the wall for the cadre's surrender as early as August 2020, after their former commander, Abduljihad "Indang" Susukan, surrendered himself to the founder and leader of the now government-allied Moro National Liberation Front, Nur Misuari (BenarNews, August 14, 2020). Susukan was loyal to Islamic State (IS), but the continuing struggles of its Southeast Asia "province" since the fall of Marawi in the Philippines in 2017 and its loss of territory in 2019 in Syria demoralized Susukan and his followers.
Another factor facilitating the surrender of Abu Sayyaf jihadists is the Philippine military's guarantee that it will assist former militants who surrender to reintegrate with mainstream society. In fact, to deal with the large numbers of surrendering Abu Sayyaf members, the military is planning to open up a new 25 million peso (approximately $450,000) "reformatory center" for their deradicalization and rehabilitation (The Philippine Star, September 28). It will focus on "religious reorientation and educating the Abu Sayyaf members who surrendered about how to obtain and then maintain employment."
The Governor of Sulu is less optimistic about Abu Sayyaf's future than the military (BenarNews, September 11). For example, Governor Abdusakur Tan notes that Abu Sayyaf has been "wiped out" in Sulu, but that many of its key commanders have yet to be captured. Moreover, other analysts in the Philippines point to Abu Sayyaf's history of ebbing and flowing levels of activity in the past, cautioning that the current lull may not be permanent (The Philippine Star, September 28). Thus, while the short-term outlook for Abu Sayyaf certainly indicates that the group is on the decline, the group's long-term prospects remain more uncertain.