Briefs
Publication: Terrorism Monitor Volume: 14 Issue: 23
By: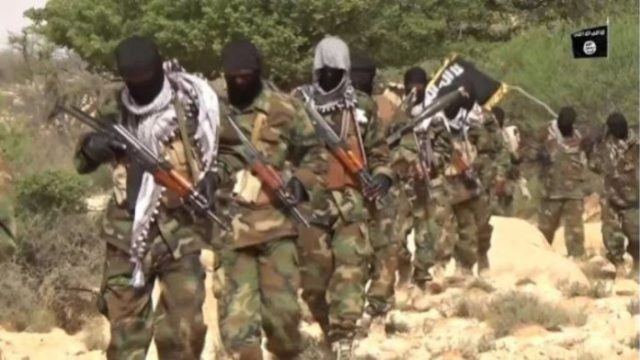 SOMALIA: PRO-IS FIGHTERS EXPLOIT CLAN LOYALTIES
Islamic State-linked (IS) militants took over the port town of Qandala in Somalia's semi-autonomous Puntland region early on October 26, apparently facing little resistance (Shabelle News, October 26). Qandala is a strategic target, a hub for smuggled weapons brought into Somalia from the Yemeni port of Mukalla. The fighters, possibly anticipating a strong response from the authorities, appear to have partially retreated the following day (Garowe, October 27). Whether temporary or not, the advance is significant as it marks the first time the IS faction has made any sizeable territorial gains in Somalia.
The group is led by Sheikh Abdulkadir Mumin, a Somali-born British jihadist who preached at mosques in London before returning to Somali in 2010 to fight with al-Shaabab. He split with the al-Qaeda-linked group in 2015, swearing allegiance to IS leader Abubakr al-Baghdadi and causing ructions within al-Shabaab, which subsequently tried to stamp out the breakaway group (Garowe, December 24, 2015).
Mumin's faction has since been able to make ground by taking advantage of a political dispute in Bari, the Puntland province were Qandala is located.
In May last year, Abdisamad Mohamed Gallan, Bari's then governor, was sacked by President Abdiweli Mohamed Ali (Horseed Media, May 27, 2015). Since then Gallan, a member of the Ali Salebaan clan, has launched his own small insurgency, leading his supporters in clashes with government forces (Hiiraan, June 23). According to the UN Monitoring Group report on Somalia, Gallan is backed by Mumin, also a member of Ali Salebaan clan (United Nations, October 31).
The report links both men to fellow clan-member Isse Mohamoud Yusuf, an arms dealer known as "Yullux" who plies the Mukulla-Qandala smuggling route.
The Ali Salebaan have long felt marginalized by the Puntland government, and Qandala falls within their heartland. Access to the port – which the pro-IS faction has effectively demonstrated – potentially gives Mumin access to greater resources, while clan connections afford him some protection and Puntland's government remains distracted by Gallan's insurgency.
The move on Qandala is also something of a propaganda victory for Mumin, whose group remains relatively small in the grand scheme. Rivals al-Shabaab remain by far a greater threat in East Africa (see Terrorism Monitor, December 1), and Mumin's faction has yet to win any public endorsement from al-Baghdadi. Nonetheless, that may come. As long as Gallan's insurgency remains uncontained, Mumin's faction will likely have greater room to maneuver. More territorial gains by his group – and propaganda victories – can be expected.
NIGERIA: BOKO HARAM ATTACKS SHOW MILITANTS FAR FROM DEFEAT
The release of 21 of the kidnapped Chibok schoolgirls in Nigeria last month, apparently without any concession from the government, was seen as an indication Boko Haram was on the ropes. However, a series of successful recent attacks and the killing of a high-profile military officer has poured cold water on government claims the group has been brought to its knees (Guardian [Nigeria], October 14).
On November 4, Boko Haram fighters killed Lieutenant Colonel Muhammed Abu-Ali, along with four of his men in an ambush during fighting at Mallam Fatori in Borno State (Premium Times, November 5). Abu-Ali was widely celebrated in Nigeria as a hero of the country's counter-terrorism efforts, and his death prompted tributes from political and military figures (Premium Times, November 6). A separate ambush just days later killed another commander, Lieutenant Colonel BU Umar, although in that case the military delayed releasing details of the incident (Premium Times, November 24).
In May the Nigerian military launched "Operation Crackdown" in a bid to clear the Sambisa forest of Boko Haram fighters and rescue the Chibok schoolgirls (This Day, May 3). Nearly eight months later, however, the offensive is still under way, hampered by the dense vegetation of the forest, Boko Haram's better knowledge of the terrain and the poor state of the Nigerian armed forces.
The military was the focus of recent criticism by former Nigerian President Olusegun Obasanjo, who blasted them as corrupt, poorly equipped and run by "cruel and unpatriotic" commanders who turn their men out to face Boko Haram without adequate resources (Nigerian Bulletin, November 23). Even allowing for the politicking of Nigeria's former leader, who feels his own administration's achievements have been overlooked by President Muhammadu Buhari, the picture he paints of the Nigerian military is not wholly inaccurate.
Sensitive to the recent setbacks, and ahead of Obasanjo's public rebuke, the military has tried to bolster confidence. The air force has released footage of its fighter jets striking Boko Haram targets in Goni Kurmi, while the chief of defense staff, General Abayomi Olonisakin, briefed journalists about military successes while inspecting newly acquired military vehicles (The Nation, October 11; Guardian [Nigeria], November 21).
Even so, the killing of the high-profile Abu-Ali is a blow to the government's efforts and contradicts President Buhari's claim – now nearly a year ago – that Boko Haram was "technically defeated" (BBC, December 24, 2015). Even with an ideological split that has divided the militants in recent months, Boko Haram continues to be a serious threat (see Terrorism Monitor, August 19). It will take more than media statements to bring a successful end to the Sambisa forest operation.