Briefs
Publication: Terrorism Monitor Volume: 15 Issue: 1
By: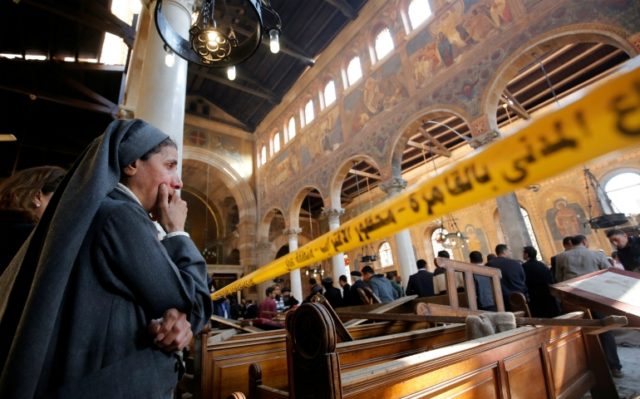 Egypt: An Intensifying Problem With Islamist Militancy
A suicide bomber blew himself up at a Cairo church close to the Coptic Orthodox Cathedral in December, killing at least 25 people, wounding scores more and putting Egypt's Coptic community on edge heading into their Christmas celebrations on January 7 (Ahram, January 6). The real target of Egypt's militants, however, is the state itself.
Following the December 11 attack, President Abdel Fattah al-Sisi, who has been publicly supportive of Egypt's Copts, announced three days of mourning and ordered the church to be renovated (which it was) in time for the holiday (al-Bawaba, December 12, 2016). Islamic State (IS), meanwhile, claimed responsibility for the attack and vowed to continue its "war against apostates" (Egypt Independent, December 14, 2016).
Egypt's Christians are an obvious target for Islamist militants — the church attack was the deadliest on Egypt's Christian community since a blast in Alexandria in 2011 that killed 23 worshipers — but the government's primary concern remains the political aspirations of the Muslim Brotherhood.
In the days following the blast, Egyptian security forces rounded up four of the attack's alleged plotters (Ahram, December 13, 2016). Egypt's interior ministry also named the mastermind of the attack as Mohab Mostafa el-Sayed Kassem, and in so doing raked over a long-running political dispute with Qatar, which has been at odds with Sisi over its backing for the Muslim Brotherhood administration of former-president Mohamed Morsi.
The interior ministry announced that Kassem, a militant known as "The Doctor" with links to IS' Egyptian affiliate Ansar Bayt al-Maqdis (ABM), had travelled to Qatar in 2015. It claimed that while there he met Brotherhood officials who encouraged him to join ABM and carry out attacks. Qatar reacted angrily, calling the accusations an attempt to "sully" its name and a "cover up" for the failures of the Egyptian security services (al-Bawaba, December 15, 2016). Egypt also received a reprimand from Qatar's Gulf allies (Khaleej Times, December 16, 2016).
There is truth on both sides, but Egypt's problems go beyond these established Brotherhood links. Militant attacks have intensified since the 2013 coup. ABM had been a relatively fringe group up until Sisi came to power. Little over a year later, ABM declared allegiance to IS as Wilayat Sinai and stepped up its campaign against the security force. Although based in Sinai, its operations can reach Cairo, as the church bombing and other attacks make clear.
More recently the Hasam movement, a relatively new group, mounted an assassination campaign against state and security officials. The group claimed the failed attempted assassination last year on Egypt's former grand mufti, Sheikh Ali Gomaa, an establishment figure (New Arab, August 5, 2016).
As 2017 gets under way, it will be the Egyptian establishment that comes under continued attack from violent Islamists.
Cameroon: Volunteer Forces Work to Combat Boko Haram
Northern Cameroon has seen a stepped-up campaign of attempted suicide attacks attributed to Boko Haram in recent weeks. While local vigilance committees have helped to combat the threat, with the militant group apparently under pressure across the border in Nigeria, they will likely have their work cut out for them in the coming months.
At least two people were killed and several others injured on December 25 by a suicide bomber who blew himself up close to the entrance to a Christmas market in the northern town of Mora (Cameroon Info, December 25, 2016; K'mer SAGA, December 25, 2016). According to local media, the bomber was heading toward the market on a bicycle when members of the local vigilance committee stopped and tried to search him, at which point he detonated his explosives (Cameroon Info, December 28, 2016).
In November, two young female suicide bombers also targeted the market in Mora, but only one was able to detonate her device, causing injures to bystanders, while the other was killed before she could blow herself up (Africa News, November 25, 2016). Members of the local vigilance committee were again responsible for disrupting the bombing attempt; committee members in northern towns thwarted two other attempted suicide attacks earlier this month (Camer, January 11).
The committees are in effect state-sanctioned vigilante groups. They are comprised of volunteers operating with the blessing of the government, but some complain they are under-resourced and many are armed with only rudimentary, homemade weapons (Africa News, April, 4, 2016). While Cameroonian troops battle Boko Haram alongside their Nigerian counterparts as part of a regional military force, and have made significant gains in the last few years, they have struggled to deal with suicide bombers. The local committees have enjoyed greater success in this regard.
Across the border, recent Nigerian military successes appear to have put Boko Haram under pressure. As 2016 drew to a close, the Nigerian military claimed to have vanquished Boko Haram in the Sambisa forest, taking a key base known as Camp Zero (Vanguard, December 24, 2016). Nigeria has made similar claims about the defeat of Boko Haram before, which have later proved to be overblown. However, if militants in the forest are being displaced, then Cameroon's far north can expect to see further disruption in coming months.
Suicide bombers often infiltrate Cameroon's northern towns from across the border (Cameroon Info, August 23, 2016). But poor economic conditions and cultural similarities with northern Nigeria make Cameroon's north a potential recruiting ground for Boko Haram in its own right. In the long term, this is where the problem lies. The government must focus on economic development and deradicalization initiatives as much as on military strategy. Without that there will be little let up for either the military or the local vigilance committees.