Briefs
Publication: Terrorism Monitor Volume: 15 Issue: 8
By: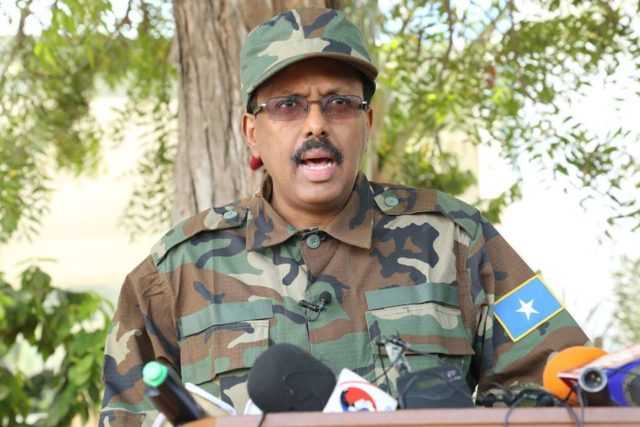 Somalia: Ramping up Action on al-Shabaab
Somalia's recently elected president has declared "war" on al-Shabaab and offered an amnesty to militants who lay down their weapons, backing his rhetoric with an overhaul of the country's security establishment aimed at strengthening efforts to defeat the group.
President Mohamed Abdullahi Farmajo made his declaration dressed in military fatigues at a news conference on April 6 (Horseed Media, April 6). Part of his efforts involve a 60-day amnesty for militants willing to surrender — promising training and jobs to those willing to desert the group — but he has also replaced the leaders of the army, police and national intelligence service (Garowe, April 6).
The new military chief is General Ahmed Mohamed Jimale Irfid, who survived an assassination attempt just three days after his appointment — an al-Shabaab suicide car bomb struck his convoy as it was leaving the defense ministry, killing at least 15 people (Hiiraan, April 9). The militants claimed military officials were among the dead, though that has not been borne out by media reports, which say the fatalities were mainly civilians in a passing minibus that was caught in the blast.
Taking over the intelligence services is Mohamed Ali Sanbaloolshe, a former ambassador to the United Kingdom. Sanbaloolshe has held the position before — in 2014, he was head of Somalia's national intelligence and security agency for a matter of months before being sacked as a result of a political dispute (Garowe, September 7, 2014).
Sanbaloolshe is thought to be an able pick for the job, but he faces a daunting task and will need to re-build many burnt bridges. Moves to overhaul Somalia's security structures and improve coordination and intelligence sharing between the central authorities and state-level actors have been a long time coming but do finally appear to be making some progress (Goobjoog, April 17). There is still a ways to go, however. A lack of a properly integrated national intelligence framework is considered to be a major hindrance in the fight against al-Shabaab, especially when faced with al-Shabaab's own fearsome and effective Amniyat intelligence wing.
The changes to the security services come amid a marked increase in militant activity in Mogadishu. Car bombs and mortar attacks are becoming more frequent. On April 16, militants attacked the airport, killing two people (Garowe, April 16). On April 18, at least five people were killed and several others injured when mortar shells struck a primary school (Garowe, April 19).
President Farmajo hopes his new appointments will be able to deliver a tougher response. No doubt he has also been influence by the hardening U.S. stance toward al-Shabaab (Horseed Media, March 30). That has included the deployment of dozens of troops to Somalia, the largest such effort since the ill-fated mission to Mogadishu in 1993.
Pakistan: Terror Arrest Puts Spotlight on Universities
Pakistani security forces in Lahore have foiled an alleged plot to bomb a church over Easter, capturing a suspected female militant in the process whose subsequent confession has provoked much media interest and raised concerns about the extent of radicalization in Pakistan's universities.
Noreen Leghari, a second year medical student at Liaquat University in Sindh province, was arrested after an army raid foiled the planned Easter Sunday attack. Her husband, who appears to have masterminded the plot, was killed in the ensuing shootout, and security forces recovered explosives and suicide jackets at the scene (Dawn, April 16). In a videotaped confession, Leghari told the authorities she had travelled to Lahore of her own free will and was to be a suicide bomber in the operation (Samaa, April 17; The News, April 18).
Leghari had been missing from her family home in Hyderabad since February. Police appear to have been aware that she had circulated extremist material online before going missing, and they suspected that she had joined Islamic State (IS) and travelled to Syria for training (Dawn, April 17). Her family, meanwhile, insists she was kidnapped and say she has no connection with the group (Punjab News Express, April 17).
Wading into the media coverage, Liaquat University, where Leghari was studying, has been keen to distance itself from events. Vice Chancellor Naushad Sheikh characterized Lehjari to journalists as an introvert and suggested she was radicalized online and recruited through social media, rather than as a result of anyone she encountered on the campus (Geo News, April 17). The university's concerns are understandable. Pakistani institutions feel unfairly characterized as places of radicalization, but they battle against bad publicity and claims their administrations do too little to tackle the issue.
This month a journalism student at Abdul Wali Khan University in Mardan was killed by a lynch mob of fellow students, apparently for posting "blasphemous" material online (Dawn, April 15). So far 24 people have been arrested, and the university has suspended seven of its employees (Geo News, April 18). Last year, counter-terrorism forces rounded up lecturers at institutions across Punjab province accused of having connections to the banned Islamist group Hizbut Tahrir (The News, June 13, 2016). Meanwhile, in Sindh, one report suggested about a dozen female students have gone missing from institutions across the province, ostensibly to join IS (The News, March 18).
Such incidents suggest fears about Pakistani universities cannot be entirely dismissed. While young Pakistanis — in keeping with their tech-savvy counterparts elsewhere in the world — doubtless face dangers online, recent events suggest the country's universities need to do more to combat radicalization on their campuses.