Briefs
Publication: Terrorism Monitor Volume: 15 Issue: 9
By: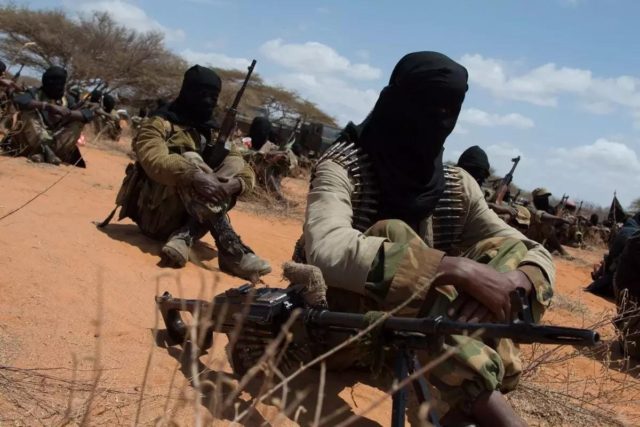 Kenya: On Alert as al-Shabaab Factions Clash
Kenyan security forces are on alert following reports of bloody clashes between al-Shabaab factions, which are said to have pushed fleeing militants across the border.
The fighting is thought to have been prompted by the group's execution of two high-ranking commanders who had sworn allegiance to Islamic State (IS). Kenyan security forces are also said to have intercepted an audio message from another al-Shabaab militant criticizing the executions, pledging allegiance to IS and calling on other fighters to do the same (Daily Nation, April 23). Reports say the recording urged recruits to join a new group called "Dini ya Kiislamu Super Power" (DKSP).
Al-Shabaab's leadership takes a hard line on dissent. At the end of 2015, it ordered a ruthless crackdown on the pro-IS faction led by Abdulkadir Mumin, sending fighters to the Bari region in northeastern Somalia to hunt down members of the jihadist's group (Garowe Online, December 24, 2015).
Mumin's faction remains relatively feeble. It reported a fleeting and largely symbolic victory in the coastal town of Qandala in Puntland last year, but poses little threat to al-Shabaab overall (Garowe Online, October 26, 2016). Since DKSP appears to also be led Mumin, the recent executions suggest only that his small band of followers has gained a little more traction, rather than indicating that a new divide is opening up within al-Shabaab.
Nonetheless, al-Shabaab is wary. In April 2016, a group calling itself Jabha East Africa — also thought to be linked to Mumin — criticized its "stubborn" and "confused" al-Shabaab "brothers" for being unwilling to accept the IS caliphate (Tuko, April 8, 2016). Since then, however, Jabha East Africa has had no impact on the region's jihadist landscape, and DKSP will likely go the same way.
While al-Shabaab's intolerance of fighters who lean toward IS is not new, the killings do seem to indicate that there are rising tensions within the group. Recent reports say the group executed at least six Kenyan recruits last month, accusing them of being government spies (Daily Nation, May 1; Tuko, May 2). The Kenyans were said to be from Lamu county on the northern coast, an area scarred by al-Shabaab violence.
While al-Shabaab turns on its own members, African Union forces in Somalia may hope to take advantage. Kenyan warplanes have scored some successes, with a number of air strikes on an al-Shabaab bases in the southern Gedo region (Garowe Online, April 25). Officials in Lamu, meanwhile, have played up the reports of the executions in the hope they will dissuade potential recruits (Daily Star [Kenya], May 3). But any reprieve from cross-border attacks as a result of the recent inter-factional fighting is likely to be short-lived.
Mali: al-Qaeda Alliance Steps Up Attacks
Militants in northern and central Mali have stepped up attacks on Malian and international forces over the last month in what appears to be a concerted campaign by the new al-Qaeda alliance Jamaat Nusrat al-Islam wal Muslimeen (JNIM).
An attack on a UN Stabilization Mission in Mali (MINUSMA) base  in Timbuktu on May 3 killed a Liberian peacekeeper and injured nine other UN soldiers (RFI, May 4). Within hours, JNIM announced it was behind the attack (Journal du Mali, May 4).
In the last few weeks, the group has claimed to have carried out an attack on a Malian military camp at Gourma Rhraous, about 120 kilometers (km) east of Timbuktu, in which four soldiers were killed; a bomb attack in Douentza in Mopti region on April 5, in which a French soldier was killed; and an attack against Malian police in Tene on April 13 (Mali Actu, April 18; Mali Actu, April 26).
The JNIM alliance, which is made up of a range of al-Qaeda-linked groups in northern Mali under the leadership of Ansar Dine chief Iyad ag Ghali, consolidates and extends the influence of al-Qaeda in the Islamic Maghreb (AQIM) at a time when Islamic State is losing ground (a state of affairs explored by Dario Cristiani in this issue of Terrorism Monitor).
Ag Ghali made clear the group's intentions in an interview published in April, saying JNIM plans to expand al-Qaeda's operations into a "wider area," and listing 11 "enemy" countries:  the United States, Germany, France, the Netherlands, Sweden, Chad, Guinea, Cote d'Ivoire, Burkina Faso, Senegal and Niger (Alakhbar, April 3; Mali Actu, 15 April). The recent attacks suggest that campaign is now under way.
The violence is also further endangering the faltering peace process in Mali's north. According to government reports, five members of the Congress for Justice in Azawad, an armed Tuareg-led group involved in the process, were killed by suspected AQIM fighters in Gargando in central Mali on April 8 (RFI, April 8).
The jihadists stand to benefit from the government's failure to implement a peace agreement with such groups, a state of affairs that JNIM will likely exploit.
In the current climate, the Malian government has once again extended its state of emergency powers for another six months (Africa News, April 30). The move is no surprise, and there are likely more attacks on Malian and international troops to come. Mali has already proved to be one of the most deadly arenas for UN personnel in recent years. The JNIM campaign appears set to try to keep it that way.