Briefs
Publication: Terrorism Monitor Volume: 15 Issue: 16
By: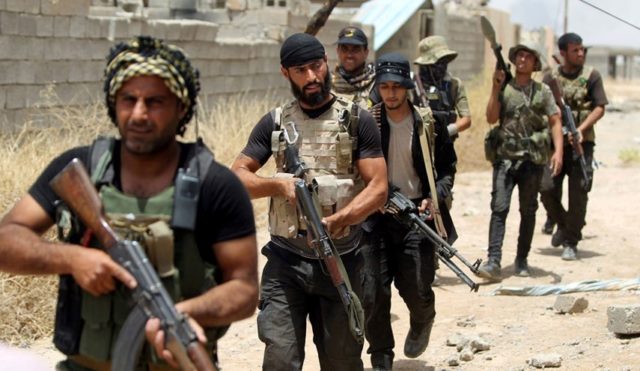 Iraq: Political Differences and Outside Influences
As Iraq moves into the next stage of its campaign against Islamic State (IS), political rivalries, sectarian divisions and the outside influence of regional players are conspiring to hamper efforts to tackle the terrorist group.
Backed by air strikes, Iraqi forces have begun moving in on IS fighters in Tal Afar, the final IS stronghold in northern Iraq's Nineveh governorate (Twitter, August 7; Iraqi News, August 7). This is the next phase of the battle following the July 10 liberation of Mosul. Despite that victory, there is still a long way to go.
Three years under IS rule and a massive military operation to recapture the city have left Mosul in ruins. Hundreds of thousands of people have been displaced, and with years of rebuilding ahead, few are ready to return home (Rudaw, August 9). At the same time, both Iraqi forces and the Shia militias that aided in the liberation of Mosul have been accused of carrying out abuses in the city (Baghdad Post, August 7; Rudaw, July 20).
The Hashd al-Shaabi (PMU, Popular Mobilization Units) — a collection of predominantly Shia militias formed in 2014, though not all of them are in fact Shia — have proved to be an important and effective player in the battle against IS, but have become increasingly difficult for the government to control. Nonetheless, the organization appears likely to remain a fixture of the Iraqi security landscape. Prime Minister Haider al-Abadi has ruled out dissolving the PMUs, a demand made by Shia cleric Muqtada al-Sadr who wants the more "disciplined" PMU fighters to be absorbed into the Iraqi army (al-Jazeera, August 5). In truth, al-Sadr's concern over the PMUs may come from the fact that they include a number of his own political rivals.
Having previously fought IS on the outskirts of Tal Afar, the Shia militias were warned not to enter the town, but now it appears that PMU fighters will take part in the new offensive (Anadolu, July 29). That will set the stage for disagreements between Iran — Iran sponsors a number of the PMU militias and would be pleased to see them take Tal Afar — and Turkey, which sees itself as the protector of Sunni Turkmen living in the city and fears that there will be sectarian reprisals similar to the abuses reported in Mosul.
Meanwhile, Iraq's Sunni politicians are also struggling to find common ground. Rival reconciliation meetings, including a conference organized by parliamentary speaker Salim al-Jabouri, have failed to get off the ground (New Arab, July 13). Those disagreements are likely exacerbated by the diplomatic spat between Saudi Arabia and Qatar, since both Gulf States back various Iraqi Sunni parties, with al-Jabouri thought be favored by Qatar (al-Monitor, June 11).
All told, the region's troublesome politics risk hampering the next stage of the battle against IS, to say nothing of the Iraqi government's efforts to rebuild communities in areas that have suffered terribly under the terrorist group.
Somalia: Mogadishu Under Pressure
Mogadishu has seen an increase in attacks in recent months, and the withdrawal of African Union troops from a nearby town has piled on the pressure in Somalia's capital.
One person was killed and several others injured when a car bomb exploded near a hospital on the main Maka al-Mkarramah road on August 4 (Somali Update, August 4). A bombing on the same stretch of road, orchestrated by al-Shabaab less than a week earlier, killed at least five people and injured several others (Garowe Online, July 30). In a separate incident, just hours after the August 4 blast, al-Shabaab gunmen in the capital shot and killed Mohamed Ali Elmi, the provincial governor of the Galgadud region, along with his brother (All Africa, August 8). Elmi was reportedly in Mogadishu visiting relatives.
Residents of Somali capital are on edge — bodyguards for one Somali politician mistakenly shot dead two civilians during a demonstration by motorcycle taxi drivers on August 7 (Radio Dalsan, August 7).
Away from the capital, militants re-took the town of Lego in the Lower Shabelle region on August 4, after Ugandan troops with the African Union mission in Somalia (AMISOM) withdrew from their base there. The area is a prize for al-Shabaab, their fighters having staged a major attack on the base in 2015 (al-Jazeera, June 26, 2015). Situated on a major road about 100 kilometers (km) northwest of the capital, having Lego in the hands of the militants reduces transport options into Mogadishu. Reports indicate that the militants arrived within minutes of the AMISOM convoys moving out (Defence Web, August 4).
Mogadishu is coming under pressure. Victories such as the recent killing in a drone strike of al-Shabaab commander Ali Mohamed Hussein (a.k.a. Ali Jabal), who was responsible for coordinating many attacks on the Somali capital, provide relatively little relief (Mareeg, July 31). AMISOM troops are expected to start drawing down next year, and it is doubtful that Somali forces will be ready to take up the slack. Despite the successes of the U.S.-trained Gashaan counter-terrorism force, the Somali National Army (SNA) lacks cohesion and seems ill-equipped to cope.
The same regional divides that beset the SNA are also a major hurdle for Somalia as it attempts to combat al-Shabaab, though there have been some small successes. In July, the United Nations heralded joint police patrols in Gaalkayo, where the city's administration is divided between Puntland and Galmudung, states that have frequently clashed.
The joint patrols are part of a ceasefire agreement signed on January 1, and their main purpose will be to ensure the continuation of that deal. Perhaps in an indication of how effective such coordination can be, it was a joint operation by Puntland and Galmudug security forces in Gaalkayo last month that resulted in the capture of al-Shabaab commander Abdirsak Hussein Tahlil (All Africa, July 25).