Briefs
Publication: Terrorism Monitor Volume: 15 Issue: 21
By: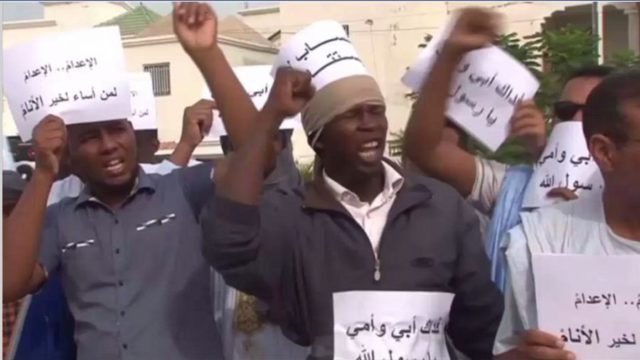 Mauritania: Blasphemy Case Raises Islamist Ire
Mauritania's efforts to curtail Islamist extremism have seen success in recent years, but protesters calling for a blogger to be put to death for allegedly insulting the Prophet Mohammed show that tensions continue to simmer.
The blogger in question, Mohamed Ould Mkhaitir, was arrested back in 2013 after he posted an article on Facebook in which he invoked the Prophet in a post critical of the country's caste system (Entalfa, December 17, 2014; Agoravox, December 31, 2014). He was put on trial for blasphemy in 2014 and sentenced to death, though Mkhaitir was able to press his case through a series of appeals (PressAfrik, November 8). On November 9, a court reduced his sentence to a two-year jail term, meaning he will now be allowed to go free (News 24, November 9).
Mkhaitir's trials have repeatedly drawn conservative crowds (New Arab, November 16, 2016). His return to court this month prompted protests once again from Mauritania's Islamists in the capital of Nouakchott and in the city of Nouadhibou, were the case was begin heard.
Picked up by Western rights groups, Mkhaitir's case has received some international attention, but it has also polarized groups inside Mauritania — liberals who publicly supported the blogger have reportedly received death threats from groups claiming to be "protectors" of the Prophet's name (Entalfa, June 11, 2014).
Despite the anger of the country's conservatives, however, Mauritania has moved away from the Islamist violence that dogged it between 2005 and 2011, when it faced repeated attacks by al-Qaeda in the Islamic Maghreb (AQIM). Since then, concerted efforts at home and a greater engagement with its neighbors and the West in the battle against Islamist terrorism in the Sahel region have made a significant impact.
The threat from violent Islamists remains. At least 55 Mauritanian jihadists are fighting with AQIM, according to sources quoted in the State Department's Country Reports on Terrorism 2016. Mauritanian authorities have also in the past rounded up suspected Islamic State supporters inside the country (AllAfrica, October 15, 2014).
Last month, Nusrat al-Islam wal Muslimeen, the al-Qaeda alliance in neighboring Mali, released a 25-minute video showing men confessing to spying for the Mauritanian intelligence service (SITE, October 9).
Mauritania's efforts to tackle extremism have paid off, but the protests around Mkhaitir's trial are a reminder of a continued potential threat.
Iraq: Space for Change in the KRG
The fallout from the Iraqi Kurds' ill-judged independence referendum has seen the Kurdistan Regional Government (KRG) humbled and its Peshmerga fighters pushed out of territory they had captured from Islamic State (IS) in 2014. Having overplayed his hand, Masoud Barzani has stepped down as KRG president (Kurdistan 24, October 29). Coming not long after the death of Barzani's longtime political rival, Jalal Talabani, there is the intriguing possibility of political change in northern Iraq.
In October, several weeks after Kurds turned out to vote overwhelmingly in favor of independence, Iraqi troops backed by Shia militia moved to re-take Kirkuk from the Kurds, recapturing the disputed city and taking back large areas of territory in Kirkuk and Nineveh provinces (TRT World, October 19). Some clashes were reported, but overall the Iraqi forces advance met little resistance (al-Jazeera, October 16).  In many cases the Peshmerga had already withdrawn, the result of a deal with the Patriotic Union of Kurdistan (PUK), the traditional rival to Barzani's Kurdistan Democratic Party (KDP).
The deal likely came about as a result of Iranian intervention. Ahead of the advance, Iranian Quds Force commander Qassem Soleimani was reportedly in the PUK stronghold of Sulaimaniyah (The National, October 16; al-Monitor, October 17). Barzani later seized on this and the role of the Shia militia, complaining that the offensive on Kirkuk was "led by Iranians," and that the Kurds' U.S. and British allies were well aware of the fact (al-Jazeera, November 8).
That Barzani misread the situation going into the referendum suggests he was poorly advised. The United States and the United Kingdom have both been clear that while they are willing to back the KRG financially and the Peshmerga forces militarily in the fight against IS, they do not support the KRG's quest for independence.
The PUK will have been pleased to see Barzani chastened over this.  They had been only lukewarm to the idea of the referendum, while a third faction in Kurdish politics, the Gorran Movement, openly opposed it (Rudaw, September 24). The question now is how the Kurds move forward and whether a new set of leaders can mend the fractures in their political landscape.
However, wholesale change seems unlikely. Barzani himself will maintain a political role as part of the High Political Council, a body he established ahead of the referendum (Rudaw, October 29). For the KRG leadership he is thought to favor his son Masrour, the KDP's spy chief. Prime Minister Nechirvan Barzani, his nephew, is another contender. Meanwhile, in the PUK, Talabani's son Bafel is becoming more prominent (Rudaw, October 12).  There seems to be a need for "new blood" in Kurdish politics, but where it will come from is unclear.