Briefs
Publication: Terrorism Monitor Volume: 15 Issue: 22
By: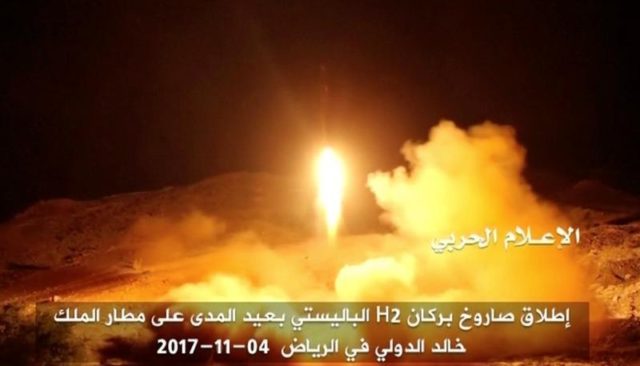 Yemen: Saudi Arabia Takes Aim at Hezbollah
Yemen's Houthi rebels fired a long-range missile targeting the Saudi capital of Riyadh on November 4. The missile, apparently destined for King Khalid International Airport, was intercepted, but it nonetheless marks an escalation in the quagmire of Saudi Arabia's intervention in Yemen and has foregrounded Riyadh's concerns about Iranian proxies.
Since starting its war in Yemen in March 2015, Saudi Arabia has seen a number of attempted missile strikes into its territory. It blames these on Iran, which it accuses of arming and controlling the Houthis. Riyadh says its analysis of the debris from a series of Houthi-fired missiles shows that the missiles were manufactured in Iran and smuggled into Yemen (SPA, November 6).
Following the November 4 attack, Saudi Foreign Minister Adel bin Ahmed went further, blaming Lebanon's Iran-backed Shia group Hezbollah (Haaretz, November 6). Hezbollah leader Hassan Nasrallah responded that such a claim was "baseless." Nasrallah went on to say that that while he condemned Saudi actions in Yemen, Hezbollah had sent "not even a pistol" to the conflict there (Daily Star [Lebanon], November 20; Times of Israel, November 20).
The Lebanese group is considered to be Iran's most successful proxy force, with a 30,000-strong militia and a dominant position in Lebanese politics. Its fighters are now in Syria, where they have proved to be a boon to the forces of Syrian President Bashar al-Assad, a fellow Iranian ally, and in Iraq, where a smaller contingent are advising and training Shia militias.
The group's role in the conflict in Yemen, however, is harder to judge. Although Saudi claims may be overstated, Hezbollah too cannot be expected to be upfront about its involvement. For example, Hezbollah only publicly acknowledged the presence of its fighter in Syria in 2013, when they joined Syrian forces to capture the city of Qusayr from rebel hands, though they had been operating there well before (al-Jazeera, May 29, 2013).
As for Yemen, video footage from February 2016 supposedly showed a Hezbollah commander named Abu Saleh training Houthi fighters, apparently to carry out operations inside Saudi Arabia (al-Arabiya, February 25, 2016). Another Hezbollah commander, Abu Ali Tabtabai, was reportedly sent from Syria to Yemen to train Houthi fighters in 2015. Meanwhile, Yemen's government in exile, backed by the Gulf States, claims to have "many documents" and other evidence that support claims about Hezbollah's role in Yemen (WAM, February 26, 2016).
Hezbollah's increased strength — a direct result of its involvement in the Syrian conflict — has put Saudi Arabia and its Gulf allies on edge. Lebanese Prime Minister Saad Hariri's recent indecision over his own resignation is widely seen as the result of Saudi pressure. It is an indication of just how worried Riyadh has become. Having caused a humanitarian crisis in Yemen, it appears Saudi Arabia may also be willing to risk Lebanon's stability in its attempts to curb Iranian influence in the region.
Bahrain: Outside Influence or a Change in Tactics?
Bahrain's security forces reportedly foiled a planned series of terrorist attacks on oil pipelines in the Kingdom this month (Asharq al-Awsat, November 16). It follows an earlier explosion at a pipeline near the village of Buri, about 16 kilometers from the capital Manama. The pipeline carries crude oil from Saudi Arabia's offshore Abu Safa oil field.
Authorities claimed that the blast was the result of sabotage and "an act of terrorism" (The National [UAE], November 12). Bahraini Foreign Minister Khalid bin Ahmed al-Khalifa blamed Iran, a sentiment echoed by other Bahraini officials and eagerly adopted by Saudi Arabia (Twitter, November 11). Iran called the allegation "childish finger pointing" (New Arab, November 12).
According to the Bahraini authorities, a five-man cell directed from Iran by Qassim al-Muamen, a convicted terrorist, planned the recently thwarted attacks. The group was reportedly also planning to carry out a series of assassinations (BNA, November 15).
While the Gulf States are typically quick to blame interference on outside forces, Bahrain, with its majority Shia population ruled over by a Sunni monarchy, has a number of its own disgruntled Shia militant groups that may operate autonomously but be receptive to Iranian influence.
The most significant of those groups is perhaps Saraya al-Ashtar (the al-Ashtar Brigades), three members of which were executed earlier this year over their involvement in a 2014 bomb attack (al-Arabiya, January 15). In March, two Saraya al-Ashtar members — Ahmad Hasan Yusuf and Alsayed Murtadha Majeed Ramadhan Alawi — were added to the U.S. Specially Designated Global Terrorist list (U.S. Department of State, March 17). Separately, Bahraini authorities saw some success in tackling the group in August, breaking up a ten-member cell and confiscating weapons and explosives (Gulf News, August 24).
Saraya al-Ashtar came to public attention in April 2013 when it released its first statement promising attacks against Bahrain's Sunni rulers. It remains unclear to what extent the group is supported from Tehran. However, there are certainly ideological sympathies, and the State Department's designation of Yusuf and Alawi makes clear that Iran has provided weapons, funding and training to groups in Bahrain.
Manama insists, however, that those alleged to have been plotting to bomb the pipelines arrived in the country from Iran. Certainly, attacks on oil infrastructure would mark a departure for domestic Shia militants — including Saraya al-Ashtar — which tend to favor targeting members of the security forces with homemade explosives.