Briefs
Publication: Terrorism Monitor Volume: 16 Issue: 1
By: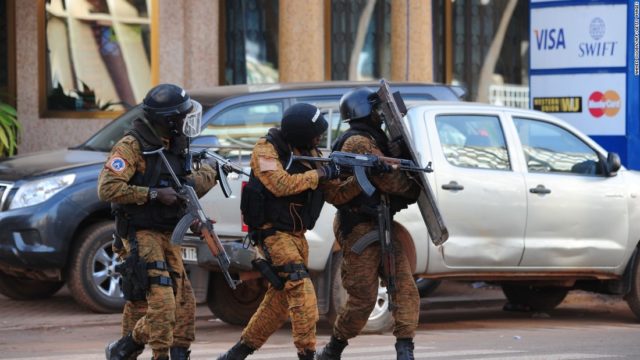 Burkina Faso: Mali Militants Claim Attacks
A Mali-based al-Qaeda alliance has claimed a number of attacks in neighboring Burkina Faso, a development that could foreshadow an alliance with local jihadists and promises a difficult year for the tiny West African nation.
Since its establishment early in 2017, Jamaat Nusrat al-Islam Wal Muslimeen (JNIM), which unites a number of groups focused in Mali under the banner of al-Qaeda, has strengthened its operational capacity and extended the area of its operations. Amongst a number of announcements at the end of last year, it claimed to be behind a series of attacks, including two in Burkina Faso's Soum province—one on December 2, in Tounte, in which a Burkinabe military vehicle was destroyed, and an attack on a police station in Arbinda on December 21 (Mali Web, December 29, 2017; SITE, December 26, 2017).
These are not the first incidents in Burkina Faso for which the group has claimed responsibility, but attacks in Soum are typically attributed to Ansarul Islam, a Burkinabe jihadist organization established by radical local preacher Malam Ibrahim Dicko. Indeed, one report of the Arbinda attack claimed that gunmen who ransacked the police station left "Islamic State – Malam Dicko" written on a wall of the building (Burkina Online, December 22, 2017; InfoWakat, December 22, 2017).
Ansarul Islam, with its pretensions to be part of Islamic State (IS), has so far resisted throwing in its lot in with JNIM, but that could change going forward. Dicko is thought to have died in May last year, following an attack on his base by French troops. In his place, his younger sibling, Jaffa Dicko, appears to have taken over the group's leadership (Le Monde Afrique, December 21, 2017). Like his brother, Jaffa Dicko has ties to Amadou Koufa, the Macina Libertion Front leader whose group is part of JNIM. The al-Qaeda alliance's Burkina Faso claims suggest a developing relationship between the two organizations, making an alliance of some sort possible in the future.
Burkina Faso is ill equipped to deal with such an increased security threat. The country's security minister, Simon Compaoré, has found himself publicly embarrassed in recent weeks after being filmed wearing a bulletproof vest and waving a Kalashnikov rifle while at the home of opposition politician Ladji Coulibaly (Afrique Sur 7, November 16, 2017). The incident took place several months ago, but the video, shared on social media, has left the security minister facing possible legal action (Le Faso, January 8). Meanwhile, unidentified gunmen again attacked a police station in Soum on January 5 (Burkina 24, January 6).
Compaoré's difficulties are merely a distraction, but one that Burkina Faso can hardly afford when faced with a burgeoning jihadist insurgency. Ansarul Islam's bloodiest attack remains the December 2016 assault on a military base in Nassoumbou—12 soldiers were killed in the attack—while its more recent attacks have been less spectacular. An alliance with JNIM this year could change that, however, leaving Burkina Faso looking set for a difficult year.
Lebanon: Feeding the Fight Across the Border
An Islamist militant leader has left Lebanon's Ain al-Hilweh refugee camp near the city of Sidon to join fighters in Syria, offering some small reprieve to residents in a camp that has several times been the scene of violence by extremist groups.
Palestinian militant Bilal Badr, the leader of the al-Shabab al-Muslim group, made his departure from Ain al-Hilweh public in a statement shared on social media at the beginning of the year (Daily Star [Lebanon], January 3). The statement was intended to thank supporters for helping his wife, who was briefly detained in the camp after he left, but in it he announced that he had traveled to Syria, "the land of jihad and glory" (Daily Star (Lebanon], January 2; Haaretz, January 2).
He is likely now in Idlib province, where Syrian government forces, backed by Russian air power, are attempting to recapture territory from insurgents, including the jihadist alliance Hayat Tahrir al-Sham, with which Badr's group has links.
Badr's al-Shabab al-Muslim, which includes some of the remaining members of Palestinian Islamist groups Fatah al-Islam and Jund al-Sham, is one of a number of militant outfits operating in Ain al-Hilweh. It gained attention in August last year when its fighters clashed with Lebanese security forces and mainstream Palestinian organizations (al-Jazeera, August 23, 2017).
The largest of Lebanon's 12 refugee camps, Ain al-Hilweh is a hotspot for radicalization. Local Islamists have been connected to the attempted suicide bombing last January of a café in Beirut that was thwarted by the security services (Arab News, January 21, 2017; al-Arabiya, January 22, 2017). So too the hard-line cleric Ahmad al-Assir, imprisoned and sentenced to death in connection with attacks in 2013 on the military in Sidon, remains influential, even from his prison cell. Some of his followers have also left the camp in order to travel to Syria (Daily Star [Lebanon], December 29, 2017).
The cross-border traffic has been far from one-way, nor has it been, by any stretch, restricted to fighters. Swollen by those fleeing the Syrian conflict, Ain al-Hinweh's population is thought to have grown from 70,000 to 120,000 people since the fighting started (MEMO, April 9, 2017). Such movement raises infiltration concerns, but security has grown tighter.
Groups such as al-Shabab al-Muslim are an unwanted cause of friction in Lebanon's overcrowded Palestinian refugee camps. While Badr's group had already lost much of its influence since last year's clashes, his departure for Syria offers some small relief for the residents of Ain al-Hilweh who doubtless hope that he and his ilk will not be returning.