Briefs
Publication: Terrorism Monitor Volume: 16 Issue: 16
By: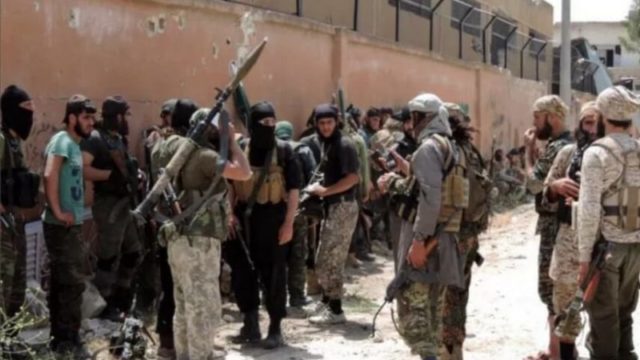 Syria: al-Qaeda Looks to Revive Its Fortunes
An attack on Syrian government forces in the country's Hama governorate appears to have been intended to raise the profile of a rejuvenated al-Qaeda-linked alliance in the midst of Syria's conflict.
Syrian forces have been ramping up their assaults on jihadist groups in Hama in recent weeks (ABNA, August 7). Amid that campaign, fighters with Hurras al-Din claimed to have carried out an attack on government positions in Jurin, in northern Hama, saying in a statement on August 3 that "many" government troops had been killed in the assault (Jihadology, August 3). The group later also published photographs, supposedly showing the attack, in which militants could be seen firing mortars and using a heavy machine gun (SITE, August 6).
One month earlier the group claimed to have killed seven government soldiers in an operation in Tell Bizam, in northern Hama, although pro-regime media termed the incident a "failed attack" (FNA, July 9).
Formed in February, Hurras al-Din (also called the Guardians of Religion Organization) brings together a number of jihadist groups, including Jaysh al-Malahem, Jaysh al-Badia, and Jaish al-Sahel, and appears to constitute an alliance of al-Qaeda loyalists united in their fealty to Ayman al-Zawahiri (Step News, February 27).
The group's leader, Abu Hamam al-Shami, is a former member of Hayat Tahrir al-Sham (HTS) who fell out with the HTS leadership over its clampdown on al-Qaeda elements (New Arab, May 1; Enab Baladi, May 10). That purge was in November last year, when HTS arrested a number of high-profile al-Qaeda-affiliated clerics and leaders, including former Jabhat al-Nusra ideologue Sami al-Aridi and former Jabhat Fateh al-Sham leader Iyad al-Tubaisi (Syria Call, November 27, 2017). The move prompted an immediate rebuke from al-Zawahiri and appeared to confirm that al-Qaeda had lost control of its major Syrian affiliate (Asharq al-Awsat, November 30, 2017).
Also contributing to the formation of Hurras al-Din seems to have been HTS' acquiescence to Turkish intervention in Idlib and the establishment of a "de-escalation" zone (MEMRI, June 8; Turkish Ministry of Foreign Affairs, September 15, 2017). That decision was largely pragmatic on the part of HTS, but has potentially laid it open to an ideological backlash from other hardliners.
However, while critical of HTS, Hurras al-Din appears keen to avoid conflict with the group. In any case, it is in no position to threaten it, with its fighters spread thinly and under-resourced. Nonetheless, the images the group published supposedly depicting its attack on government troops in Jurin showcased an improved arsenal and could be seen as an attempt to bolster its position as it seeks to pick up the support of local groups unhappy with its rival's new direction. The emergence of Hurras al-Din offers al-Qaeda its best chance yet to reinvigorate its support in Syria.
***
Tunisia: Troubled Politics Allows Militants to Maximize Impact
An attack on a police patrol last month by al-Qaeda-linked fighters has raised fears of greater militant activity in Tunisia as a political crisis in the capital Tunis gathers pace. The situation, however, remains relatively controlled.
Six members of the Tunisian National Guard were killed and three others wounded in July when militants attacked a patrol in Ghardimaou in the northwestern region of Jendouba, in an area known to be a communications black spot (al-Jazeera, July 8; Asharq al-Awsat, July 9). The group's patrol vehicles were reportedly hit by an improvised explosive device before waiting militants opened fire on the survivors (TAP, July 9). On July 8, a statement from al-Qaeda in the Islamic Maghreb (AQIM) said its Tunisian branch, the Katiba Uqba ibn Nafi (KUIN), had carried out the attack, a claim made through a newly created Telegram channel for the group.
The incident, which sparked national outrage in Tunisia, is significant as the first major KUIN attack this year. Although still relatively small, it successfully dealt a blow to the Tunisian tourism sector, which is slowly rebuilding after two major attacks in 2015. The attack on holidaymakers took place at a resort in Sousse, with authorities cancelling cultural events, including an international music festival (TAP, July 8).
KUIN has long had a presence in the Chaambi mountain range along the border with Algeria, but has suffered a series of setbacks at the hands of the security forces, including losing its leader, Mourad Chaieb, in August last year and a number of other leaders (MosaiqueFM, August 9, 2017; MME, January 21). The Ghardimaou attack could indicate the group is reconfiguring.
European governments will be watching the situation closely, especially following the arrest of a Tunisian national in Germany accused of planning an attack using the poison ricin (see Christian Jokinen's article in this issue of Terrorism Monitor). Furthermore, an announcement this month by Tunisian officials reported that they have uncovered an international network funneling suspected terrorists from Iraq and Turkey into Europe (Asharq al-Awsat, August 4).
All this comes at a difficult time for Tunisia politically, with Prime Minister Youssef Chahed facing calls to resign following a shift in the balance of power within the governing coalition. The ongoing dispute between the Nida Tunis and Ennahda parties, which lead the coalition, threatens to paralyze government decision-making. Jihadist attacks make the situation more difficult as critics like to push the blame toward the government and Ennahda, the main Islamic party (Realites, July 8).
Nonetheless, Tunisia's political deadlock is not unresolvable—a well-timed cabinet reshuffle could ease tensions. Meanwhile, KUIN, which has been relatively quiet for months, still appears to be on the back foot, confined to the Chaambi Mountains where it is in competition with the Islamic State-linked Jund al-Khilafah-Tunisia.