Briefs
Publication: Terrorism Monitor Volume: 17 Issue: 2
By: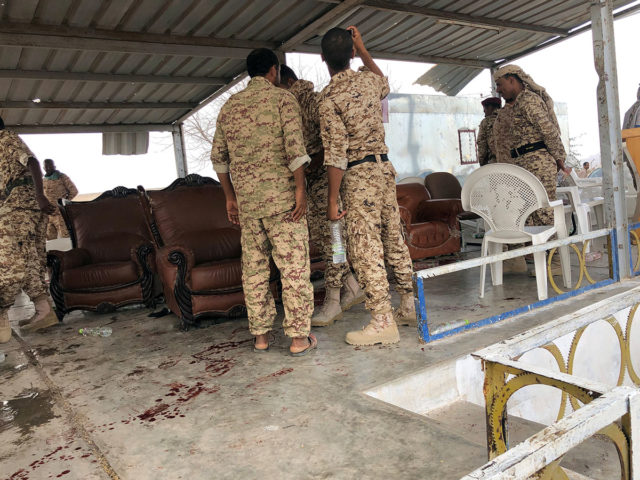 YEMEN: Houthi Drone Attack and Fragile Ceasefire
Brian M. Perkins
The fragile Stockholm Agreement ceasefire in Yemen's port city of Hudaydah that was agreed upon in Sweden on December 18, 2018 continues to hang in the balance.  Talks between the Houthis and Yemen's Saudi-backed government that took place in Amman, Jordan ended mostly with each side accusing the other of continued hostilities (Jordan Times, January 24). The two sides have yet to agree upon the list of detainees for a planned prisoner swap that is among the key points of the Stockholm Agreement. Meanwhile, tensions between the two sides have continued to mount as there have been hundreds of reported violations of the ceasefire in Hudaydah and countless other hostilities in areas not covered by the agreement.
Among the most notable hostilities was a Houthi drone attack on January 10 that targeted a military parade at al-Anad Air Base in Lahij (Aden al Ghad, January 10). Several high-ranking military officials were attending the parade when the Houthi drone exploded as it flew just above the crowd. The attacked left seven dead and more than a dozen others injured. Among those who were killed was Intelligence Brigadier General Saleh Tamah, a high-ranking intelligence official and previously a prominent member of Yemen's Southern Movement.
The Houthi's use of a drone was not entirely surprising as the group has long had access to various Iranian drones and have allegedly conducted several attacks using a variety of different platforms. Conflict Armament Research published a report in March 2017 on the Houthi's use of Kamikaze-style drones—such as the Qasef-1 variant—have reportedly been transferred from Iran. [1]  What is more striking than the group's successful use of drones, however, is that the Yemeni government admitted that the Houthis had intelligence assets within the military that were instrumental in the attack on al-Anad (Al-Arabiya, January 15). Yemen's Interior Ministry announced the arrest of members of a cell that worked with the Houthis in Aden and Lahij. Among those arrested was reportedly a senior military official who left the parade just minutes before the attack. Those arrested reportedly admitted to their involvement and likely provided further details that have not been released.
The Saudi coalition has since announced that it had identified the drone used as an Iranian-made Shahed-129 and that the group is housing drone stockpiles in residential areas. The coalition has conducted several airstrikes over the past two weeks reportedly targeting drone storage warehouses and manufacturing sites as well as training grounds in Sanaa (Arab News, January 21).
It is unclear if the airstrikes did in fact destroy a significant number of Houthi drones, but the back and forth attacks between the two sides—even in areas not covered by the Stockholm Agreement—will continue to make the fragile ceasefire in Hudaydah less and less likely to hold.
Notes
[1] To access the March 2017, Conflict Armament Research report on "Iranian Technology Transfers to Yemen," go to https://www.conflictarm.com/publications/
***
SOMALIA: Clashes Between Islamic State and al-Shabaab Continue
Brian Perkins
Fighting between the Islamic State (IS) and al-Shabaab in Somalia has intensified significantly over the past several months. Al-Shabaab has executed and detained countless members who have defected, or shown loyalty, to IS since the group first began recruiting after gaining a foothold in Somalia in 2015.  IS' expansion and initial recruitment in Somalia has mimicked the tactics it has used in countless other countries—the group relies heavily on drawing disenfranchised members of preexisting militant organizations.
The fighting between the two groups began to escalate in November 2018, shortly after IS' deputy leader, Mohad Moalim, was found dead on a beach near Mogadishu (Garowe Online, October 23, 2018). Moalim was reportedly abducted several days prior while he was traveling in the city.
IS directly threatened al-Shabaab on December 20, 2018 in Naba 161, the group's official weekly newsletter (Jihadology, December 20, 2018). The issue detailed al-Shabaab's efforts to detain and execute IS members and its crimes against the soldiers of the Caliphate. The IS leadership went on to warn of an impending response while detailing its own previous attack against al-Shabaab fighters in B'ir Mirali, in which the group claimed to have killed 14 members and injured several others.
On the same day Naba 161 was released, al-Shabaab's al-Kata'ib Media Foundation released a document in which the group's leadership discussed how IS was fomenting dissent amongst its ranks and lambasted its rival for committing acts in opposition of Islamic Shariah. Leadership also called upon its members to eliminate the "disease" of IS in Somalia.
The two groups' areas of operation have increasingly overlapped in the past year as IS has expanded its presence beyond its base in Puntland. Most notably, IS has made its way into Mogadishu seemingly to help raise funds through similar schemes as al-Shabaab. Both groups extort taxes from local traders and merchants and attempt to force businesses to pay protection money. According to Somalia's National Intelligence Agency, IS has killed several notable businessmen and attacked other businesses for failing to pay taxes or protection money (Garowe Online, December 4, 2018). In September, IS fighters reportedly detonated a bomb outside of Salama Bank in Mogadishu and attacked a senior bank official for failing to pay extortion money. According to intelligence officials, many businesses are paying extortion money to both IS and al-Shabaab. With al-Shabaab already capturing and executing IS members in Mogadishu, the likelihood of armed clashes between the two groups breaking out in urban settings is likely to increase as they both attempt to raise funds through the same channels.
The IS branch in Somalia is unlikely to overtake al-Shabaab in terms of members or operational capabilities in the near term. The ongoing rift with al-Shabaab, however, will be far more detrimental to the fledgling IS branch, but it will likely collectively weaken both groups, to a degree, as the two attempt to sow dissension among each other's ranks and slowly reduce each other's ranks through armed attacks and executions.