Briefs
Publication: Terrorism Monitor Volume: 18 Issue: 10
By: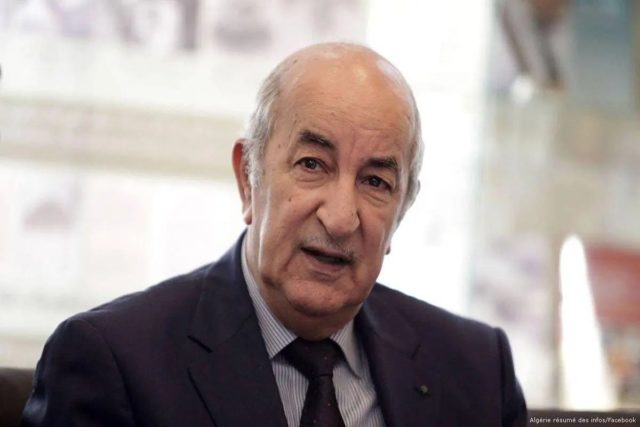 Constitutional Amendment Foreshadows Algerian Military Involvement in the Region
Brian M. Perkins
Algerian military and intelligence services are undergoing significant change as Libya continues to grapple with its civil war and terrorist violence rages across the Sahel. Algeria's political and military structure has undergone notable reform since Abdelaziz Bouteflika was ousted in April 2019 as his successor, President Abdelmadjid Tebboune, has attempted to uncouple the country's intelligence services from the presidency.
Another wave of reshuffling within the intelligence service took place in late April as Mohamed Bouzit was appointed chief of the external security directorate. Bouzit succeeds Kamel-Eddine Remili, who resigned that post just days after the dismissal and subsequent imprisonment  of the head of intelligence, General Wasini Bouazza's (al Bawaba, April 16). On May 7, as part of the government's constitutional revision project, the Algerian presidency revealed that an amendment to Article 29 of the constitution would overturn the country's long-standing military doctrine that curtails the armed forces' involvement abroad (Asharq al-Awsat, May 10).
The previous version of Article 29 did not explicitly ban military intervention abroad, but it does not explicitly authorize it, and Algeria has historically avoided military interventions. The new amendments, which still need to be ratified by parliament, would set the stage for the Algerian military to engage in peacekeeping missions and the country's "participation in the restoration of peace in the region within the framework of bilateral agreements with the concerned countries" (Algerian Press Service, May 9).
This amendment is being introduced against the backdrop of significant local and regional developments. The constitutional amendment process is taking place amid substantial changes within the country's political-military systems and intertwined social malaise. It is also taking place at a time of deep insecurity among Algeria's neighbors as the war in Libya rages on and jihadist violence is rising across the Sahel. Algeria has faced pressure from regional governments and France to participate in regional counter terrorism operations.  At the same time, President Tebboune has repeatedly stated the Algerian government's eagerness to elevate the country's position both on the world and African stage, particularly as old contests with Morocco, including Western Sahara, continue to simmer.
While the previous constitution did not explicitly prevent the Algerian military's involvement outside its borders, the new amendments will inherently codify a new military posture. This change comes alongside the creation of Algeria's International Cooperation Agency and sends a message to other North African countries, particularly Morocco, that Algeria is eager to influence regional affairs. It is unclear when Algeria will deploy its military outside its borders for the first time following the amendment, but it will likely see the country participate alongside France and the G5 Sahel.
***
Islamic State More Opportunistic than Resurgent
Brian M. Perkins
Islamic State (IS) has carried out a series of deadly attacks across Iraq as the country continues to grapple with political uncertainty and attempts to contain the outbreak of COVID-19. IS has increasingly targeted Iraqi forces in Anbar, Diyala, Kirkuk, and Saladin, raising concerns of a potential resurgence. Among the most significant attacks were a suicide bombing targeting Kirkuk's intelligence headquarters on April 28 and a complex nighttime assault on May 1 that killed 10 members of the Popular Mobilization Units (PMU) just 60 miles north of Baghdad in the villages of Mekeeshfa and Tal al-Dahab (Kurdistan24, April 28; Kurdistan24, May 14).
The uptick of attacks over the past month, however, is not as much a demonstration of significantly improved capacity as it is a demonstration of IS' opportunism, though continued success could further empower the group. Despite no longer holding significant territory in Iraq, IS has remained resilient by exploiting security divisions between Iraqi and Kurdish forces, uncertainty within the Iraqi government, reduced U.S. troop presence, and now the outbreak of COVID-19.
A large percentage of IS attacks this year have taken place in disputed regions of northern Iraq, where poor security cooperation between the Kurdish Peshmerga and Iraqi forces have left swaths of territory uncontrolled. At the same time, the COVID-19 lockdown has drawn forces away from rural areas in order to enforce lockdown measures, reducing patrols and leaving checkpoints and more rural military outposts undermanned. Some COVID-19 restrictions have been lifted, but some forces are still being redirected.
Meanwhile, the Iraqi parliament on May 6 finally confirmed the new, but still incomplete, government under Prime Minister Mustafa al-Kadhimi after going months without a functioning government following Prime Minister Adil Abdul-Mahdi's resignation in November. Despite the positive step, Iraq's political scene remains deeply fragmented and there are lingering questions as to the future role of the country's powerful Shia Popular Mobilization Units (PMU). Questions also remain regarding how Kadhimi will address the non-binding resolution that was passed in January to expel U.S. forces, which have already vacated some forward bases and paused many anti-IS activities (Al Jazeera, January 5). IS will continue attempts to exploit the political tumult as Kadhimi and the new government work to stabilize the political environment and attempt to mend relations with the United States.
The recent spate of IS attacks demonstrates that the group still has the manpower to wage a low-intensity insurgency, and likely will for years to come, but did not yet demonstrate a significant improvement in its capabilities, aside from improved freedom of movement. The group's ability to maneuver will likely once again be restricted as COVID-19 restrictions are eased and local, as well as international, forces resume and intensify operations. At the same time, there is optimism that Kadhimi could help improve relations with the United States and that NATO will heed his request for further support in the fight against IS.