Briefs
Publication: Terrorism Monitor Volume: 18 Issue: 11
By: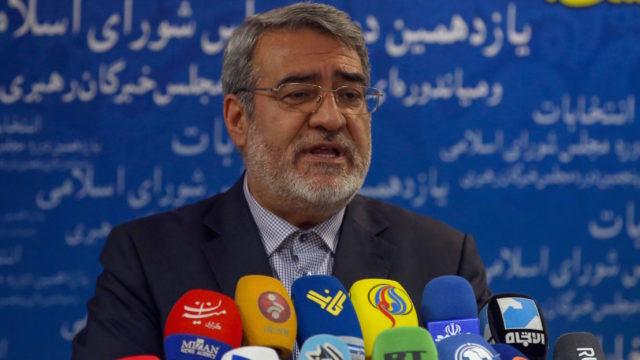 The Libyan Conflict and the Moroccan-Algerian Arms Race
Brian M. Perkins
Algeria and Morocco have long been in competition for diplomatic and military supremacy in the Maghreb and have intermittently faced off in the conflict over Western Sahara. Algeria has been the region's preeminent military power for decades, despite its influence being hampered by its military dogma of non-interference. Morocco, meanwhile, has placed a significant emphasis on modernizing and expanding its military while showcasing its current military and counterterrorism strengths through partnerships with European and African countries. As Morocco edges closer to matching Algeria's military capabilities and influence, the conflict in Libya appears to be offering a tempting way for Algiers to once again assert itself on the regional stage.
While Algeria has been struggling with internal political conflicts and societal unrest over the past several years, Morocco has been implementing a five-year plan to industrialize its military and defense industry to reach "regional supremacy." The plan has seen Morocco significantly increase its military expenditure, already devoting over $20 billion between 2017 and late 2019 (Morocco World News, November 20, 2019). While Morocco's military expenditure is still eclipsed by that of Algeria, Morocco has gained an advantage through a focus on technological advancements and by investing in strike capabilities and air superiority, particularly through the anticipated acquisition of 25 F-16 fighter jets, 24 Apache helicopters, and numerous missile systems (North Africa Post, January 11). Meanwhile, Algeria has been hindered by its inability to purchase U.S. equipment and Algiers' own attempts to reduce its reliance on Moscow. Further, the country's comparative lack of involvement in the Maghreb, including participation in military operations and exercises or broad security partnerships, has impeded both training opportunities for its armed forces and its regional and global influence.
The arms race between Morocco and Algeria is taking place amid Algiers' efforts to codify external military involvement into its constitution as well as the increasingly international conflict in Libya. Competing parties to that conflict are attempting to draw both countries into the fold.
Morocco has maintained its stance of neutrality and non-interference toward Libya and has been key in previous efforts to mediate the conflict, including in the Skhirat Agreement in 2015. Rabat has so far managed to avoid international actors' attempts to draw the country into the Libyan war. More recently, reports have suggested that Morocco rejected the UAE's attempts to entice the country to back the Libyan National Army (LNA) in exchange for concessions, including Libyan oil (Alayam24, May 3). The kingdom will likely remain keen to maintain its neutral role going forward, opting for diplomatic prestige rather than an assertion of military influence.
Similarly, Algeria has so far attempted to remain relatively neutral while still nominally supporting Libya's Government of National Accord (GNA), even playing host to its leaders and its Turkish backers. Unconfirmed reports have started to surface suggesting that Algiers is preparing to sign a defense pact with the GNA with Turkish support. Algeria, however, is in a precarious position due to the country's historic relationship with Moscow, which, alongside the UAE, backs the rival LNA.
Algeria is eager to reassert itself onto the regional stage and the conflict in Libya offers an attractive way to do so, whether by taking a stronger diplomatic or military stance. At the same time, increased involvement in Libya allows Algeria to check Morocco's rising diplomatic and military power in the Maghreb.
***
Iran: COVID-19 Continues to Exacerbate Political and Provincial Disparities  
Brian M. Perkins
The Iranian regime is just seven months removed from some of the fiercest social unrest it has experienced in recent memory. The country's deadly outbreak of COVID-19 signaled the potential for a delayed but fervent return to anti-regime protests, though prolonged public health crisis and the regime's response has seemingly sidelined such opposition for the time being. However, the Iranian interior minister's first acknowledgement of the severe death toll from the violent crackdown against protestors in late 2019 is likely to continue to resonate and cause anti-regime sentiment to fester while the country grapples with COVID-19, which has only worsened the effects of U.S. sanctions.
Just days before Interior Minister Abdolreza Rahmani Fazli's May 30 acknowledgment that around 200 protesters had been killed in 2019—international observers place the number closer to 1,000—protests and clashes broke out in Gheizaniyeh district, outside of Khuzestan province's capital Ahvaz as residents condemned the regime for the region's severe water shortages (Radio Farda, May 31; Radio Farda, May 30). Iranian forces used rubber bullets to disperse the protesters and arrested dozens of individuals. Khuzestan accounts for approximately 80 percent of Iran's onshore oil reserves and was one of the provinces hardest hit by both the initial COVID-19 outbreak and the second wave that occurred after Iran attempted to ease restrictions on April 19. The province suffers from severe underdevelopment and has been a bastion of anti-regime sentiment, being the center of the deadliest protests of 2019 before it spread elsewhere.
The current crisis has revealed deepening fissures across Iran and future challenges to the shift in the balance of power, which will likely have significant implications on the players that participate in the 2021 presidential elections. The disparity between President Hassan Rouhani and Ayatollah Ali Khamenei's messaging has widened as the COVID-19 crisis has worsened and the parliament has become more populated with hardliners. This includes the new speaker of parliament and former IRGC commander, Brig. Gen. Mohammad Bagher Qalibaf. He is a longtime confidant to Khamenei and, along with the current majority of parliament, has stood in opposition to Rouhani on most issues. Meanwhile, there are two other trends worth noting: the Iranian Revolutionary Guard Corps' (IRGC) expansion of power and role in the COVID-19 response and provincial officials' deepening disdain toward the regime for its failed response to the crisis.
The coming months will continue to see the IRGC consolidate further authority while hardline members of parliament stifle Rouhani and gear up for the 2021 presidential election. Meanwhile, the pandemic will likely continue to suppress most larger protests, with more isolated protests, such as the those in Khuzestan, cropping up intermittently. Anti-regime sentiment, however, is likely to continue to build as more suffer from another wave of COVID-19, particularly in more restive provinces such as Khuzestan and Sistan and Baluchestan, and provincial officials feel they have been left to their own devices without meaningful government support. The question moving forward is how Iranian society will respond to the IRGC and hardline political consolidation once the COVID-19 dust settles.