Briefs
Publication: Terrorism Monitor Volume: 20 Issue: 14
By: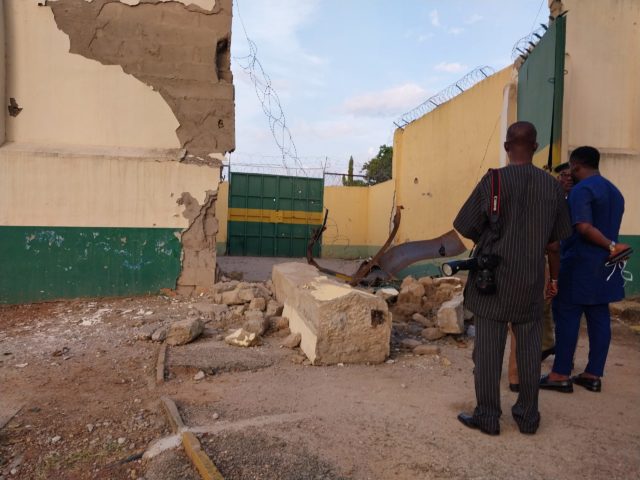 ISWAP's Kuje Prison Break Points to Expansion of Operations Throughout Nigeria
Jacob Zenn
In one of the most dramatic, and surprising, attacks in the history of the now 13-years long jihadist insurgency in Nigeria, on July 6, Islamic State in West Africa Province (ISWAP) raided the maximum security Kuje Prison in Nigeria's capital of Abuja (thecable.com, July 11). The prison had long been a subject of ire of the Abubakar Shekau faction. For example, Shekau, who years later detonated an explosive to kill himself during an ISWAP offensive against him, issued an audio in September 2015 in which he condemned Nigerian President Muhammadu Buhari's statements about "Boko Haram" members playing soccer during de-radicalization sessions in that prison (Telegram, September 19, 2015).
Despite the fact that high-profile jihadist prisoners were in Kuje Prison and it had been on the mind of Shekau loyalists, neither ISWAP, nor Shekau's faction or the al-Qaeda-affiliated Ansaru faction, have operated with any consistency in Abuja since 2012. This made a prison break in the capital seemingly unlikely. In fact, one of the last jihadist operations in Abuja was Ansaru's own prison break at the Special Anti-Robbery Squad (SARS) prison, which freed several dozen members (YouTube, November 26, 2012).
Moreover, whereas prison breaks were a key part of the Shekau faction's operations between 2009 and 2014, these primarily occurred in northeastern Nigeria and stalled out in 2014. This was possibly because Nigeria beefed up the security around prisons after the infamous prison break at Giwa Barracks in Maiduguri, Borno that year (aljazeera.com, March 15, 2014). The Giwa prison break saw hundreds of prisoners, including Shekau loyalists, escape, as recorded in a dramatic video of the operation (YouTube, March 24, 2014).
If Ansaru had special operations skills in Abuja in 2012, the question arises as to whether Ansaru, which historically has operated in Abuja and especially Kogi State to its south, aided or supported ISWAP in this latest prison break. In recent years ISWAP has killed Ansaru members for their loyalty to al-Qaeda, or specifically al-Qaeda in the Islamic Maghreb (AQIM), which Ansaru's leadership reaffirmed earlier this year (Humangle, June 10, 2020). However, Ansaru members from the time of the group's 2012 founding may not be as hostile toward ISWAP as the group's more recent members, and vice-versa, and could have collaborated in some way in the prison break. That the kidnappers of passengers on a Kaduna-Abuja train reportedly celebrated the Kuje Prison break also suggests some mixture of Ansaru and northwestern Nigerian-based bandits may have been connected to the Kuje Prison attackers (thecable.com, July 11).
Ansaru founder Khalid al-Barnawi, for example, who was arrested in Kogi in 2016, may have been in Kuje Prison. He had overcome factional differences to collaborate indirectly with Shekau even after Ansaru separated from Shekau's faction (africa-confidential.com, November 30, 2012). Another Nigerian jihadist who had been in Kuje Prison was Mukhtar Ibrahim, who facilitated Shekau faction's Mali-based trainings in 2011 with AQIM, but he was arrested at that time (premiumtimes.ng, May 8, 2013). Given that he collaborated with Shekau loyalists and was arrested before the major factional jihadist divisions occurred in Nigeria, it is possible he is now working for ISWAP. Nevertheless, neither al-Barnawi nor Ibrahim's names were on the official list of escapees provided by the Nigerian government (premiumtimesng.com, JUly 8).
Further proof of potential collaboration comes from the late ISWAP leader, Abu Musab al-Barnawi, who acknowledged in 2018 that ISWAP had accepted Ansaru defectors into its ranks (al-Haqaiq, June 2018). While Ansaru's current leaders will likely not join ISWAP, those freed from Kuje Prison, who constitute the Ansaru "old guard," may now join ISWAP, which would strengthen not only ISWAP, but also serve as encouragement for other Ansaru members or late Shekau loyalists to join ISWAP, which is at presnt the strongest jihadist faction in Nigeria. ISWAP's increasing operations in the former Ansaru stronghold of Kogi State in recent months also provides an opportunity for Ansaru and ISWAP to cooperate (dailypost.ng, April 24). However, should unification fail, it could also mean they will clash for control of the jihadist space in that state.
Any jihadist factional unification in Nigeria still seems unlikely, but ISWAP's Kuje prison break at least presents an opportunity for it. ISWAP's video of the operation released through IS media channels will also spread the message about ISWAP's success far and wide among jihadists (YouTube/SaharaTV, July 6). For ISWAP to strike not only Kogi and Taraba states in early 2022, but also Abuja, shows the organization continues to adapt and expand its operations throughout Nigeria and remains the most impressive external IS province globally.
*****
Burkina Faso on the Verge of Breakdown
Jacob Zenn
On June 14, the town of Seytenga, Burkina Faso suffered one of the largest attacks in the country's history, with more than 80 civilians killed (lemonde.fr, June 14). The two jihadist factions operating in Burkina Faso, al-Qaeda-affiliated Group for Supporters of Islam and Muslims (JNIM) and Islamic State in Greater Sahara (ISGS), were both capable of such a large scale operation. However, ISGS is better known for targeting civilians, and the group claimed the attack in an unofficial audio. ISGS did not view the villagers as "civilians," however, because it alleged the villagers included "volunteer fighters" of the Burkinabe army (Twitter/@Menastream, June 18).
ISGS' massacre also comes on the heels of JNIM deputy leader, Hamadou Kouffa, exploiting another massacre to advance JNIM's cause. Appearing in a video on June 23, Kouffa justified JNIM's participation in a "massacre" by asserting that only 30 JNIM fighters were involved and that they did not kill all of the civilians in the town of Moura. Rather, he claimed it was the Malian army and its allies in Russia's Wagner Group who killed the civilians (maliweb.net, July 1). The contrasting narratives between JNIM's somewhat softer approach compared to ISGS' reflects JNIM's generally more accommodating way of dealing with civilians.
The Seytenga and Moura massacres were still followed by another massacre, on July 4, in Kossi province in which at least 15 people were killed (aljazeera.com, July 5). On the same day, at least 12 other people were killed in Namissiguima, Yatenga province. Although there was no initial claim of either attack, the latter's targeting of pro-government militiamen was typical of both ISGS and JNIM operations (lematinal.media, July 6). The freedom of movement of the jihadists into these villages, including their ability to leave and then return again later, demonstrates how the Burkinabe security forces are ill-equipped to manage the rising levels of violence in the country.
Little reason  exists for optimism that Burkina Faso can quell either the ISGS or JNIM insurgency. The military conducted a coup against the democratically elected government in January with the promise that it would more effectively deal with the jihadists (thenewhumanitarian.org, June 29). However, if anything, the security trends are worsening in the country, with the Seytenga and Moura massacres being considered the largest ones in the country's history. Furthermore, the coups in neighboring Mali over the past decade, including as recently as 2021, have brought military rulers to power, but have also resulted in no improvements to the country's internal security.