Bringing London's "Christmas Bombers" to Trial
Publication: Terrorism Monitor Volume: 9 Issue: 46
By: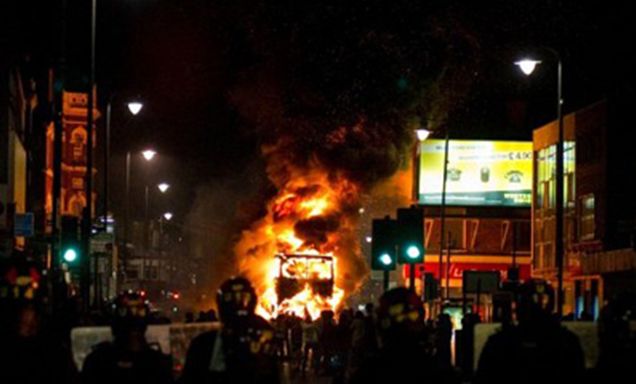 Almost a year after their arrests just before Christmas 2010, a group of young British Muslims denied charges of "conspiring to cause explosions likely to endanger life or damage property" (BBC, December 2, 2011). The men, described as being of South Asian origin, are alleged to be part of a plot to strike "iconic targets" in London that was disrupted before Christmas (Telegraph, December 20, 2010).
Initially, twelve individuals were arrested in connection to the case with cells identified by police in Birmingham, Cardiff, East London and Stoke-on-Trent (Guardian, December 20, 2010). However, in the end the Crown Prosecution Service (CPS) chose to only proceed with charges against nine men, identified as Gurukanth Desai, 28 of Cardiff; Omar Sharif Latif, 26 of Cardiff; Abdul Malik Miah, 24 of Cardiff; Mohammed Moksudur Rahman Chowdhury, 20 of London; Shah Mohammed Luftar Rahman, 28 of London; and Nazam Hussain, 25, Usman Khan, 19, Mohibur Rahman, 26 and Abul Bosher Mohammed Shahjahan, 26, all of Stoke-on-Trent. [1] All stand accused of conspiring to cause an explosion and preparing for acts of terrorism. Five of the men are also accused of possessing material useful in the preparation of terrorism, and four are charged with owning two editions of al Qaeda in the Arabian Peninsula's (AQAP) Inspire magazine and a copy of Saudi ideologue Muhammad bin Ahmad as-Salim's famous tract "39 Ways to Serve and Participate in Jihad" (AFP, December 2).
The details of what exactly the men were planning will emerge during the course of the trial, but according to information already released the men were allegedly planning to target the London Stock Exchange, the American Embassy, the London Eye Ferris wheel and prominent religious and political leaders as well as secondary targets like restaurants, pubs and nightclubs (Channel 4, December 27, 2010; Daily Mail, December 28, 2010). The men stand accused of "igniting and testing incendiary material," suggesting a plot in a relatively advanced state, but local sources told Jamestown that police conducted the arrests in Stoke and Birmingham unarmed, indicating they did not expect a very dangerous operation. The operation, codenamed "Guava," was revealed to have been part of a long-term surveillance effort by Britain's security services when the then-Independent Reviewer of Counter-Terrorism Legislation, Lord Carlile, told a Parliamentary committee that he had been aware of the operation for some time and had been invited to participate in observing the surveillance (Telegraph, December 21, 2010).
The group's connection with core al-Qaeda is unclear; while sources indicate that at least one of the suspects was believed to have traveled to Pakistan with the intent of connecting with the group, their connection to other radical groups in the United Kingdom is clearer. According to sources in Stoke-on-Trent, the men were known to have been active in the broader network of individuals connected to the now-banned radical group al-Muhajiroun and had attended protests organized by the group (Telegraph, December 20, 2010). [2] Locals in Cardiff identified some of the group as having attended a meeting organized around previously jailed al-Muhajiroun leader Trevor Brooks (a.k.a. Abu Izzadeen) and claimed that the men were part of a group of 15 boys that the community was aware were involved in meetings organized locally by al-Muhajiroun. They said they had mentioned their concerns to authorities, but the security services were apparently already alert to the group's existence (Telegraph, December 22, 2010).
Another interesting detail to emerge about the Cardiff group was that the three Cardiff men had served time in prison for petty drugs and theft offenses. According to a neighbor, the men "went to prison as petty criminals and came out expressing extreme views," suggesting some level of radicalization in prison – a problem that has long concerned British authorities (Telegraph, December 22, 2010). There was also confusion about one of the Cardiff men, Gurukanth Desai, whose name indicates an Indian origin, though it was reported that he had changed it recently by deed poll. The reason for this change was unclear, though his chosen name is the same as that of a fictional Indian character in a 2007 hit Bollywood movie (Calcutta Telegraph, December 30, 2010; Times of India, December 28, 2010).
The trial against the men is due to start in late January, 2012 and is likely to prove to be a major case in highlighting the potential danger of radical groups like al Muhajiroun providing a space for groups of radicals to congregate. In addition, much is likely to be made of the group's use of Inspire magazine as early evidence suggests they were attempting to use the magazine's bomb-making recipes to construct their devices. The fusion of these elements shows how the more traditional aspects of Britain's jihad continue to have strength: A hardcore of extremists still exists in the UK, eager to try to connect with radicals abroad and interested in planning attacks on the homeland. Absolute numbers are hard to come by, but with at least two large terrorist plots (including this case) and a number of terrorist support network cases currently working their way through the British legal system, British security services will have to remain on high alert through next year's London Olympic Games.
Raffaello Pantucci is an Associate Fellow at the International Center for the Study of Radicalisation (ICSR) and the author of the forthcoming We Love Death as You Love Life: Britain's Suburban Mujahedeen (Hurst/Columbia University Press).
Notes:
1. See: https://www.cps.gov.uk/news/press_releases/150_10/.
2. For more on the banning of al Muhajiroun and its successor groups, see: Terrorism Monitor, January 21, 2010 and November 23, 2011