Can Kazakhstan Rescue Europe Amid the Russian Oil Embargo?
Publication: Eurasia Daily Monitor Volume: 20 Issue: 6
By: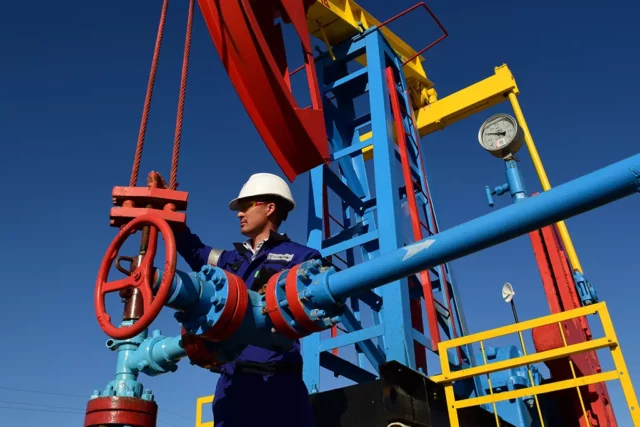 On December 29, 2022, Kazakhstani state-owned oil and gas company KazMunaiGaz announced plans to export oil to Germany starting in January 2023. Arrangements were made to export a total of 1.2 million tons of oil through the Druzhba pipeline via Russia and Ukraine (Informburo.kz, December 29, 2022).
Arriving shortly after the European Union's announcement of a partial embargo and price cap on Russian oil, this news prompted discussions about whether Kazakhstan can play a larger role in the European energy market. Previously, Kazakhstani President Kassym-Jomart Tokayev had assured EU officials that the country "is ready to use its hydrocarbon potential to stabilize the situation in the world and European markets" (Akorda.kz, July 4, 2022).
While Moscow has created its fair share of chaos in regional energy markets, it is impossible to discuss the export of Kazakhstani oil without mentioning Astana's neighbor to the north. Russia acts as the middleman for transporting Kazakhstani oil to global markets, as 96 percent of all oil exports go through Russian territory, meaning that Astana's ability to export oil is largely dependent on stable relations between the two countries (Eurasianet, June 6, 2022).
In 2021, Kazakhstan exported 65.7 million tons of oil, over 50 million of which went to Europe via the Caspian Pipeline Consortium (CPC) and Druzhba pipeline (Exclusive.kz, July 14, 2022). Under normal circumstances, this dependency has not been that problematic for Kazakhstan. However, in 2022, perhaps due to numerous abnormal circumstances, including Russia's all-out war against Ukraine, Kazakhstan felt the adverse effects of such dependence when the CPC's operation was temporarily suspended on four separate occasions. The Russian energy company operating the CPC, Transneft, provided bizarre explanations for halting the operations, including damages caused by unprecedented storms and floating World War II mines (Inosmi.ru, August 25, 2022).
The timing of these interruptions pushed many to accuse Moscow of attempting to coerce Kazakhstan into expressing explicit support for the war in Ukraine, a matter on which Astana has remained diplomatically neutral. However, a more plausible explanation for these suspensions is that Russia is attempting to limit the global supply of oil and thus inflate the global price of oil to discourage the West from implementing additional sanctions on Russian energy exports.
Nevertheless, despite the CPC debacles in 2022, several key reasons support the notion that Kazakhstani oil will continue to transit to European markets more or less steadily in 2023 and beyond. First, Kazakhstan is one of the few crucial allies Russia has left, and Moscow cannot risk alienating Astana by creating further obstacles, as Kazakhstan is a critical partner in bypassing Western sanctions. Second, Russia exports some of its oil to China via Kazakhstani pipelines, and Astana could suspend these exports in retaliation for any future disruptions. Although it is not likely, such an option remains a viable countermeasure. Third, and perhaps most importantly, Astana has Beijing's backing on this matter. Chinese authorities responded to the CPC's disruptions last year by freezing Sinopec's major petrochemical investment project in Russia and by increasing Beijing's zeal to adhere by anti-Russian sanctions (Eurasianet, August 15, 2022).
Yet, even if Kazakhstan manages to address the myriad of political complications in a way that allows for the uninterrupted flow of its oil to Europe via Russia, it still faces major logistical challenges. Although the CPC and Druzhba pipeline have the capacity to carry more oil, it is unlikely that Russia will allow Kazakhstan to take advantage of the oil embargo and ramp up exports at Moscow's expense. Thus, meeting increased European demand will require additional export routes via other countries.
The Kazakhstani government has already started diversifying its export routes and adding new ones. In July 2022, speaking at a special government meeting on developing transport and transit potential, Tokayev outlined that, for Kazakhstani energy exports, "the priority direction is the Trans-Caspian route" (Forbes.kz, July 7, 2022). Here, the Kazakhstani president was referring to the Trans-Caspian International Transport Route (TITR), or Middle Corridor, a transport and transit corridor that passes through Azerbaijan, Georgia, Kazakhstan and Turkey.
To this end, Kazakhstan has successfully completed negotiations on exporting around 5 million tons of oil in 2023 via the TITR. The plan is to use Kazakhstan's western Port of Aktau to send oil to Baku via tanker and then transport supplies to ports on the Mediterranean Sea using the Baku-Tbilisi-Ceyhan (BTC) and Baku-Supsa pipelines (Kapital.kz, August 12, 2022). This export route had been available to Kazakhstan for transit as early as 2006, but Astana had not needed to use it extensively for exports—until now.
Astana has continued to lean on routes running through Russia instead of utilizing the TITR route primarily due to severe logistical difficulties and higher expenses. The cost of transporting oil via the CPC is $38 per ton, whereas the cost for the BTC pipeline is at least $90 per ton. The higher costs are the result of logistical challenges, which involve transporting oil using train cisterns, tankers and pipelines, as well as loading and unloading shipments multiple times (Exclusive.kz, July 14, 2022).
Under these circumstances, the private companies that extract and export around 75 percent of all Kazakhstani oil are naturally inclined to wait out the war in hopes of a better future. Turning the TITR into a viable export route requires a tremendous amount of investment, continuous multilateral negotiations and a considerable amount of time, all things stakeholders are eager to avoid.
Thus, it would be naive to believe that Kazakhstan can fill the void left by the EU's oil embargo, especially in the near future. At the moment, Astana's prospects of playing a larger role in the European energy market remain largely dependent on Russia. While enough evidence supports the idea that Moscow will not hamper the export of Kazakhstani oil to Europe in 2023, the hope that Russia will allow the use of its pipeline infrastructure to increase foreign exports and enrich its neighbors is foolish. Kazakhstan can use alternative routes to export more oil to Europe, but the logistical difficulties and higher costs associated with them have, for now, caused stakeholders to shy away from their use and development.