Can the Far-Right and Liberal Hopefuls Challenge Ukraine's Leaders?
Publication: Eurasia Daily Monitor Volume: 6 Issue: 56
By: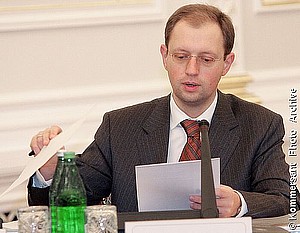 Recent opinion polls and a local election on March 16 have shown that two stars are rising in Ukrainian politics. The time remaining until the January 2010 presidential election should show whether the two, far-right Oleg Tyahnybok and liberal economist Arseny Yatsenyuk, will prove viable alternatives to the current Ukrainian political elite which has been losing its popularity. The two could hardly be more different, yet they share the same stronghold in the nationally minded western part of Ukraine which decided the fate of the previous 2004 election won by Viktor Yushchenko. Opinion polls show that society is being radicalized yet the liberal rising star is more popular than his far-right rival for the moment.
Tyahnybok's Freedom party sensationally won the local election to the Ternopil Region council with 34 percent of the vote. This was more than the combined votes cast for the parties that came second and third, respectively the pro-Yushchenko United Center with 14 percent and the Party of Regions (PRU) with 10 percent. Svoboda will control 50 seats out of 120 in the regional legislature (Interfax-Ukraine, March 16, 18). Freedom's result looks especially impressive compared to its own in the same election in 2006, when it scored under two percent. An enthusiastic Tyahnybok immediately announced that he would run for president, rather than backing Yushchenko as he did in 2004.
Freedom, is essentially a party of one man, the charismatic forty year old Tyahnybok, who has long been a pariah of Ukrainian politics – for a good reason. Its original name was the Social Nationalist Party whose symbols looked very much like those of Hitler's National Socialist Party. Tyahnybok believes there are too many Jews and Russians in Ukrainian politics and economy so he suggests re-introducing the Soviet-era ethnic origin entry in passports in order to increase the percentage of ethnic Ukrainians in positions of power. Tyahnybok was expelled from Yushchenko's caucus in parliament in the early 2000s for an anti-Semitic and Russophobic speech. In his most recent interview, Tyahnybok said that he did not regret making that speech (Ukrainska Pravda, March 16). As far as the economy is concerned, Tyahnybok is probably in favor of autarchy. In foreign policy, he is wary of both Russia and NATO and he calls for restoring the nuclear arsenal which Ukraine inherited from the Soviet Union and renounced in 1994. An influential liberal weekly compared Tyahnybok to Mussolini (Zerkalo Nedeli, March 21).
Freedom's victory is a worrying signal for democracy in Ukraine, yet it should not be overestimated. First, it won in only one of Ukraine's 27 regions, and this region is among the poorest and most nationalistic. Second, Freedom's campaign was reportedly supported by Yushchenko's team as a counterweight to Prime Minister Tymoshenko's party, which won the Ternopil election in 2006. It is hard to predict how Freedom will fare once this support is withdrawn. Third, Tyahnybok has a strong rival whose party if it chose to run in Ternopil would have been among the winners, as Tyahnybok himself admitted. This is thirty four year old Arseny Yatsenyuk, who is from the liberal camp. Despite his youth, like Tyahnybok this prodigy comes from western Ukraine and has managed to serve in a wide range of positions including as deputy CEO of a private bank, acting central bank head, foreign minister and parliament speaker. Yatsenyuk resigned from the latter post late last year to found his own party with an ambitious name, Front of Change.
Yatsenyuk's popularity has grown from two percent to double digits in less than one year. He is the third most popular presidential hopeful according to the most recent opinion polls by the pollsters Razumkov, Sofia, R&B Group and FOM. With his 10-13 percent popularity, he is rapidly closing the gap on the second most popular politician, Tymoshenko who has 16-18 percent while PRU leader Viktor Yanukovych is in the lead with 17-24 percent (www.ceemarketwatch.com, March 20). Moreover, if Yatsenyuk managed to get to the last round of the election and faced either Yanukovych or Tymoshenko there, he would likely emerge as outright winner, according to the R&B Group (ostro.org, March 10).
Like Tyahynbok, Yatsenyuk attracts mostly protest votes. They both use the advantage of not holding any top post at a time of economic crisis while Ukrainians are increasingly blaming Prime Minister Tymoshenko and the leader of the largest party Yanukovych for the poor state of the economy which is expected to shrink by as much as eight percent in 2009. Unlike Tyahnybok, whose views are widely known, Yatsenyuk has yet to clarify his attitudes to such divisive matters as relations with Russia, future NATO membership and the calls to make Russian the second official language, after which his popularity may decline.
Opinion polls also show that Ukrainian society is being radicalized in the current climate of political and economic uncertainty. This trend should favor Tyahnybok rather than Yatsenyuk. According to Razumkov, the percentage of Ukrainians ready to take part in violent protests grew from 10.8 percent in December to 14.4 percent in early March; 42.2 percent are ready to take part in legal protests or strikes, up from 26.6 percent in December; and 23.8 percent are ready to participate in rallies or demonstrations outlawed by the authorities (Ukrainska Pravda, March 12).