CCP Stealth War 138; Feature: Exporting the China Model: The Role of the CCP International Liaison Department
By: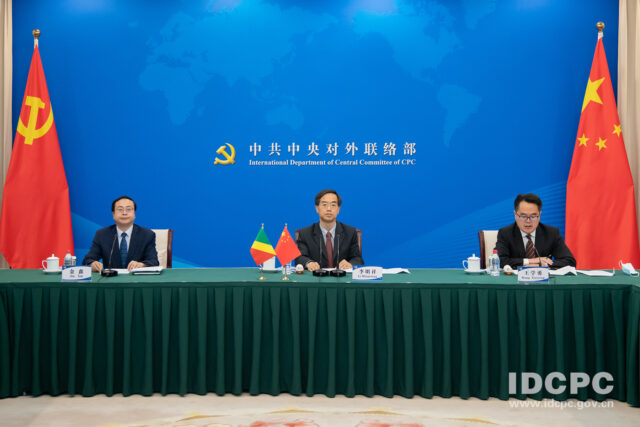 This Week: 
* Feature: Exporting the China Model: The Role of the CCP International Liaison Department
* Premier Li Qiang Begins European Diplomatic Tour
* Beefed-up National Security Legislation Tightens Beijing's Grip on Macau
* Goldman Sachs is Latest Wall Street Firm to Slash China Growth Forecast
* PLA Navy Ships Join Multilateral Exercises in Indonesia also Including U.S., Russian Ships 
---
Exporting the China Model: The Role of the CCP International Liaison Department
By Daniel Fu
It is widely held that Beijing does not export ideology abroad. Although such assessments, may have been accurate during China's reform and opening period and "hide and bide" era, they are likely outdated now. As Beijing's confidence and ambitions grow, so too has General Secretary Xi Jinping's willingness to emphasize the applicability of China's model abroad in official speeches and meetings with foreign leaders. Moreover, recent activity by the Chinese Communist Party's International Liaison Department (CCP ILD) demonstrates Beijing's increasingly robust desire to emphasize ideological factors in foreign exchanges. Both suggest that Xi sees ideology as more important than his immediate predecessors and portend that ideology will become a more prominent facet of U.S.-China strategic competition going forward.
It is evident from Xi's speeches and meetings with foreign counterparts that the CCP seeks to export Chinese ideology abroad. In speeches, Xi routinely stresses contributing "Chinese solutions" and "Chinese power" to the world and towards "closing the gap between the Global North and South" (Xinhua, March 16).  Moreover, he openly lambasts so-called "Western paths of development," stating that "Chinese-style modernization" does not "walk the old path of colonial plunder" or the "crooked road of hegemony." Such speeches are routinely published in English by state media, demonstrating that Beijing is not attempting to hide its ideological ambitions. For example, in 2017, China Daily published a speech by Xi in which he stated that China "offers a new option for other countries and nations who want to speed up their development while preserving their independence" (China Daily, April 11, 2017).  Furthermore, during meetings with foreign counterparts, Xi routinely emphasizes China's willingness to exchange experiences in "state governance." This formulation has appeared in readouts of Xi's recent discussions with leaders of countries such as Brazil (Xinhua, April 14), Gabon (Xinhua, April 19) and Eritrea (Xinhua, May 15).
The idea of exporting Chinese ideology abroad has not been limited to just rhetoric; rather, it has been actively carried out by the CCP ILD. Officials from the ILD have routinely participated in and delivered speeches in cadre training classes organized by foreign political parties in countries ranging from the Democratic Republic of Congo (CCP ILD, May 10, 2022) to Cambodia (ILD, January 11) to Lebanon (ILD, March 16). The CCP ILD has actively organized such seminars and classes itself. In June 2022, for example, ILD Head Liu Jianchao (刘建超) addressed a seminar organized by the PRC Embassy in Nigeria in which leaders of Nigerian political parties learned about the CCP's "successful [policy] experiences" in areas such as poverty alleviation, democratic development, and anti-corruption enforcement (ILD, June 22, 2022). Recent forums organized by the ILD, such as the sixth China-Africa Youth Leaders Forum and the second China-Arab Young Politicians Forum, entail rigorous discussion on how there is no "one size-fits all modernization model" for the world (ILD, November 15, 2022) and how countries can emulate Chinese approaches to issue management (ILD, May 24, 2022). Many of these seminars are multilateral, as exemplified by a May 2022 seminar the CCP ILD organized on China-Latin America relations attended by 60 politicians from more than 15 Latin American countries (CCP/ID, May 10, 2022). The ILD has also hosted numerous other activities oriented around promoting ideology, such as video competitions for Arab students focusing on the concept of "Chinese-style modernization" (ILD, January 13). Moreover, it routinely hosts delegation visits from foreign countries, during which officials discuss issues such as "Party-building" and "grassroots governance" (ILD, April 12). In a single week in April, the ILD hosted delegations from the ruling parties of Venezuela (ILD, April 10)  South Sudan (ILD, April 12) and numerous Caribbean countries, namely Barbados, the Bahamas, Grenada, Guyana, Trinidad and Tobago and Jamaica (ILD, April 13).  South Africa's ruling party, the African National Congress, has also dispatched delegations led by its chief treasurer to attend ILD training sessions.
Within its borders in Guangxi, the PRC has constructed leadership academies to train foreign government officials from Vietnam, Laos and Myanmar (SCMP, July 14, 2018). Training programs hosted by the Central Party School in Beijing have played a pivotal role in building cadre training systems in countries such as Ethiopia, where the ruling Party frequently dispatches delegations to Beijing to participate in training programs on organizational structure, ideological and propaganda work, and media management. Abroad in Tanzania, Beijing has spearheaded the construction of the Mwalimu Julius Nyerere Leadership School, where training seminars are frequently held for young and middle-aged cadres from various countries in Southern Africa (ILD, June 1, 2022).
Beijing itself has denied that the PRC seeks to export its political system, with Xi telling a forum for foreign political groups in 2017 that "we will not export the China model" (Reuters, December 1, 2017). Xi's remarks in meetings with foreign counterparts, however, coupled with the activities of the CCP's ILD, suggest otherwise. This is not to say that ideological considerations should reign supreme when formulating U.S. strategy towards China, but rather to note that it would be a grave mistake to completely dismiss them altogether when discussing Beijing's efforts to reshape the international order to its advantage. Indeed, Beijing's ideologically oriented efforts have already paid some dividends in terms of augmenting the PRC's international influence. For example, the Secretary-General of Kenya's ruling Jubilee Party, Raphael Tuju, has stated that the CCP provides an example for his own government (The Economist, December 10, 2020). Hence, dismissing ideological concerns altogether provides an incomplete picture of the PRC's growing power and influence abroad.
Daniel Fu is a Research Associate at Harvard Business School where he studies Chinese businesses, U.S.-China relations, and companies caught between the U.S.-China geopolitical crossfire.
---
BRIEFS
---
Premier Li Qiang Begins European Diplomatic Tour
This week, recently appointed Chinese Premier Li Qiang is beginning his tour of several European countries centered on increasing economic cooperation between China and the continent. Li begins his tour in Berlin, Germany, with talks with German Chancellor Olaf Scholz and President Frank-Walter Steinmeier on the agenda. Li is then scheduled to visit France, where he will meet with French President Emmanuel Macron. During his visit, Premier Li will attend the "Summit for a New Global Financing Pact," which is being organized at Macron's behest. The Premier's tour comes as Europe is becoming increasingly concerned about its economic dependence on China and Beijing's expanding global ambitions. The purpose of Li's trip is likely to quell some of the fears harbored by European nations while working to manage differences in order to set a cordial economic path going forward that benefits the world's second-largest economy. Li is also sure to emphasize the importance of European "strategic autonomy" in an effort to deepen the trans-Atlantic divide between the U.S. and Europe.
---
Beefed-up National Security Legislation Tightens Beijing's Grip on Macau 
Last month, an expanded National Security Law was implemented in the People's Republic of China's "Special Administrative Region" of Macau that broadened the scope of a National Security Law first imposed in 2009. The measures mirror the recent tightening of legislation in Hong Kong, where Beijing has essentially eliminated any real political autonomy for the city, despite assurances to the contrary. In an interview with the BBC, Jason Chao, former president of the pro-democratic New Macau Association, said: "Local journalists described the current situation as the ice age and unfortunately the ice age is going to get colder." Reporters Without Borders (RSF) slammed the expanded scope of Macau's national security law, stating it "increases the pressure on journalists and further threatens the residents' right to information." The moves to strengthen Macau's National Security Law follow the addition of a national security clause to the territory's gambling law last year that tightened state control over the city's huge gambling industry, including giving local authorities the right to strip land concessions from casinos.
---
Goldman Sachs is Latest Wall Street Firm to Slash China Growth Forecast 
Chinese tech stocks were hammered on Monday as yet another major Wall Street bank cut its growth forecast for the Chinese economy from six to 5.4 percent this year. Goldman Sachs's downgrading of the outlook for the PRC's economy follows that of UBS, Bank of America and JP Morgan. Goldman Sachs's forecast cast doubt on the PRC government's ability to leverage its old playbook with one analyst noting that "Going down the old route of boosting short-term growth with massive property and infrastructure stimulus goes against the top leadership's 'high-quality growth model." The report cited the slowdown in the real estate market as another drag on growth that is weighing on consumer confidence. This is particularly damaging as Chinese citizens are awash in savings but are largely holding back on major purchases like property, preferring to spend their cash on experiences like entertainment and dining out.
---
PLA Navy Ships Join Multilateral Exercises in Indonesia also Including U.S., Russian Ships 
Last week, the People's Liberation Army (PLA) Navy's destroyer Zhanjiang and frigate Xuchang returned to their home port, Zhanjiang, Guangdong Province, after participating in the "Komodo" multilateral naval exercises in Indonesia. The joint maritime exercises in the archipelagic Southeast Asian nation comprised over 40 ships from Indonesia, the US, Russia, Singapore, Pakistan and other countries. Over the course of the four-day naval exercise, Chinese forces participated in the International Fleet Review, civil engineering program, civil medical service, cultural exchanges, navy band show and other activities. They also completed live military drills during the maritime operations stage with multinational naval ships, which strengthened capacities such as responding to natural disasters or maritime threats. Participation in international military exercises is a key part of the PLA's efforts to learn from advanced foreign militaries and compensate for its limited operational experience.