CCP Stealth War 145; Feature: CCP Politburo Admits Chinese Real Estate Market in Trouble
By: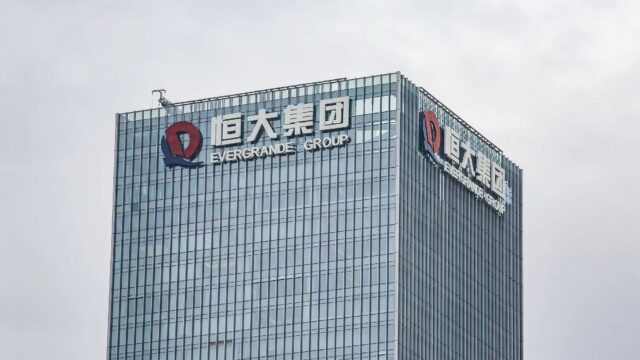 This Week: 
* Feature: CCP Politburo Admits Chinese Real Estate Market in Trouble
* China Airs Eight-Part Series About Its Preparations to Invade Taiwan
* South Africa Ignores US Warnings to Ban Huawei Network
* US-China Science and Technology Agreement Set to Expire August 27
---
Feature: CCP Politburo Admits Chinese Real Estate Market in Trouble
Alex Benetos
On July 24, a high-level politburo meeting of Chinese leadership acknowledged significant changes in the supply and demand of the property sector and stressed the need to use all policy tools available to rehabilitate the real estate market (Xinhua News Agency, July 25). The recent signals from the Chinese government come days after Chinese property developer Evergrande announced a net loss of more than $81 billion over the past two years (CNBC, July 18).
With the value of housing being equivalent to 59 percent of household total assets, and the real estate industry accounting for roughly 30 percent of total economic output, Evergrande's, as well as the broader real estate sector's failings threatening to spill over into the broader real estate market could have significant ramifications for China's post-pandemic recovery (People's Bank of China Survey, 2019; Caixa Bank, 2022).
Size of Aggregate Problem and Related Real Estate Assets
Evergrande was just the tip of the iceberg, with property developers across the country feeling the impact of the crisis. Stocks and bonds in the real estate industry fell to an eight-month low this past week as two other major developers, Country Garden and Dalian Wanda, stoked fears of a liquidity crunch. Country Garden's bonds felt the brunt of the impact, with their bonds suffering a steep fall in international markets, trading at only 10 percent-15 percent of their original value (Reuters, July 24). Similarly, Shimao Group Holdings posted a combined loss of 48.6 billion yuan ($6.8 billion) in an effort to resume stock trading (HKSE, July 28).
Additionally, a continuing slump in home sales shows how deeply the problem has metastasized. Home sales in June fell by 28.1 percent among the largest 100 developers compared to a year earlier when stringent COVID restrictions were still in place. Narrowing it down even further, the numbers become grimmer, with June sales falling by 38 percent year-over-year among the top 25 developers. "We think further sales declines since April will lead to more liquidity issues for the sector and hurt China's economic recovery as well as job creation … Typically, developers report double-digit growth of 10 to 20 per cent year on year or month on month for June, before the liquidity issues started," stated CGS-CIMB Securities' managing director Raymond Cheng (South China Morning Post, July 29).
Other assets have also been affected by the slowdown in the real estate sector, triggering a domino effect. For instance, a slowdown in property investment and construction activity led to a significant drop in residential projects, down 6.4 percent during the first five months of the year. Furthermore, the broader fixed-asset investments, which includes various assets like commercial properties, have also felt the heat, growing at a slower rate of 4 percent from January to May. The steel industry, a key component of construction activity, also was impacted, with steel output declining after the first quarter as investment in the property sector continued to drop (Caixin Global, June 16).
Trickle Down Effect
The real estate crisis also reverberates at the local level. The liquidity crunch has had a major impact on local governments and banks leading to a financial chain reaction that has ripped through various facets of the economy. Over the last decade, local governments established special financing units that served to borrow funds to cover expenses and invest in different infrastructure projects (South China Morning Post, June 4). These financing units were loosely regulated and, over time, amassed significant debt. As the real estate crisis worsened, profits from the sale of long-term leases for state-owned land to private developers declined. To compensate, local financing vehicles stepped in and borrowed heavily to purchase land at higher prices. However, with these borrowers not able to generate sufficient revenues, they continue to struggle to pay off their mounting debts (Nikkei Asia, September 19, 2022).
This debt burden is estimated to be roughly 30 percent of China's annual economic output for local governments. An inability to make payments is putting an unmanageable strain on local authorities, with dried coffers impacting local governments' ability to fund essential services, as well as sustain the pension system for retirees. The impacts do not stop there, as the crisis also affects local banks that have provided loans to these governments and their local financing units, potentially leading to an increased risk of loan defaults and financial instability in the local banking sector (Nikkei Asia, June 15).
Conclusion
The crisis of the Chinese real estate market is multi-faceted with far reaching implications. The financial strain has not been contained to major developers like Evergrande, Country Garden, and Shimao, but rather has impacted major developers of all sizes across all localities within China. As home sales continue to decline, liquidity issues compound, affecting not only the real estate sector, but also causing a trickle-down effect on local governments and banks. The chain reaction has significant consequences for financial stability within the real estate and banking sectors, warranting effective policy measures by the Politburo to mitigate future economic fallout.
Alex Benetos is a contributor to The China Guys newsletter.
---
BRIEFS
---
China Airs Eight-Part Series About Its Preparations to Invade Taiwan
In August, Chinese state broadcaster CCTV released an eight-part series documenting the People's Liberation Army's (PLA) preparations to invade Taiwan. Representing Beijing's latest move of escalating its aggressive posturing vis-à-vis the self-governed island democracy, the documentary—titled "Chasing Dreams" (逐夢)—features several military exercises and testimonials from PLA soldiers who express their willingness and commitment to die for their country in the event of a Taiwan invasion. The series offers a unique window into the PLA's operation scenarios prior to launching an amphibious landing. Notably, the release of the documentary coincides with the PLA's 96th anniversary.
To showcase the PLA's military modernization, the documentary included footage of China's Shandong aircraft carrier launching four J-15 jet fighters as the vessel sailed through the Taiwan Strait. Moreover, the PLA's "Joint Sword" drill—a military exercise intended to simulate precision strikes against Taiwan—was incorporated into the documentary. The series also featured a scene in which the PLA Air Force had triumphantly driven away foreign warplanes by deliberately maneuvering close to them, nearly risking a direct collision.
Ostensibly, the documentary series serves two purposes. The first objective is to promote Chinese nationalism domestically. The documentary's secondary—and more subtle—objective is to intimidate Taiwanese civil society into submission, namely by leading them to believe resistance against the PLA's highly advanced and formidable military is ultimately futile.
According to robust polling data conducted by National Chengchi University (國立政治大學) in Taipei, the vast majority of Taiwanese have little interest in independence or unification with the Mainland—rather, they prefer some variation of maintaining the status quo. However, a small yet vocal contingency of pro-unification politicians do exist within Taiwan's political spectrum. One common argument these politicians fall back on—referred to as "American Skepticism Theory" in Chinese (疑美論)—is that the US is an unreliable military partner who would fail to come to Taiwan's defense in the event of a Chinese invasion. A second frequently utilized argument posits that Taiwan has no prospect of effectively defending itself against the PLA's army, with or without American support. Therefore, even if integration with the Mainland is far from ideal, Taiwan should submit to unification now before a violent conflict breaks out and countless lives are lost. It is likely that China's recent documentary aims to sway a larger demographic of Taiwanese into embracing this narrative.
In short, Chinese military documentaries often have a psychological objective. Propaganda series such as "Chasing Dreams" serves to reinforce the perception in Taiwan that resistance against the PLA is a fruitless endeavor. Through intimidating Taiwanese society with propaganda documentaries—as well as frequently conducting military exercises in the Taiwan Strait—Beijing hopes to provide pro-unification advocates a greater platform in Taiwan's political discourse.
---
South Africa Ignores US Warnings to Ban Huawei Network
On August 2, South Africa's ambassador to the BRICS bloc Anil Sooklal resolutely stated that the country would not yield to American pressure to stop using Huawei Technologies equipment in its networks. In its ongoing effort to a mount a technology war against China, the US is increasingly pressuring its allies to reduce supply chain dependencies and technological acquisitions from the PRC. Noting that Huawei "is banned in the US and a major part of Europe has [also] banned Chinese technology," Sooklal revealed that the US has put "tremendous pressure" on South Africa to follow suit.
China and South Africa enjoy a close relationship anchored in strong economic ties. The PRC is South Africa's largest trading partner. Additionally, over the years Huawei has proposed numerous training and technology transfer opportunities for South Africa. Against this backdrop of heightened technological collaboration, South African President Cyril Ramaphosa recently welcomed the opening of a new "Huawei Innovation Center" in Johannesburg. As President Ramaphosa stated, "For South Africa, expanding digital infrastructure is one of the primary engines of economic growth." As such, the country is looking to rapidly grow its connectivity regardless of who the network provider may be. Furthermore, despite South Africa's high degree of industrialization relative to other regional actors, the country still suffers from an acute unemployment crisis. Ramaphosa stated that he hopes the Huawei Innovation Center would serve as an integral means to produce new jobs in the country.
Despite American pressure towards African countries to cut off technological collaboration with the PRC, many African leaders prioritize expanding connectivity over the national security concerns commonly cited by the US. As a country with a limited digital footprint in the continent relative to China, the US struggles to present a viable alternative to African stakeholders. Unless the US compliments its approach with sufficient capital and technological resources for investment, diplomatic efforts to dissuade the use of Huawei equipment will likely fail to sway African decision-makers.
---
US-China Science and Technology Agreement Set to Expire August 27
Without a renewal, the US-China Science and Technology Agreement (STA) will expire on August 27. The original agreement was signed in 1979 by Jimmy Carter and Deng Xiaoping within the context of the normalization of relations between the US and China. The STA sets a baseline for cooperation between the US and China in scientific and technological research on the individual, lab-to-lab, and inter-agency level.
The agreement has been extended roughly every five years since 1979, and the upcoming negotiation has drawn controversy among analysts and policymakers.
The House Select Committee on the Strategic Competition Between the US and CCP, chaired by Representative Mike Gallagher, urged Secretary Blinken to let the agreement expire in a June 27 memo. Their recommendation argues that cooperation under this agreement has furthered Beijing's military interests to the detriment of Washington's. The Committee cites the example of dual-use technologies used by the Chinese government as particularly troublesome, including balloon surveillance technology. The letter reads, "The United States must stop fueling its own destruction. Letting the STA expire is a good first step."
The US State Department can choose to let the agreement lapse, renew it, or amend it. Deborah Seligsohn at the Center for Strategic & International Studies highlights the importance of the agreement as a general framework, arguing that "getting rid of the entire arrangement would be akin to throwing the baby out with the bathwater." While there is risk that technologies emerging from STA projects could violate US interests, she suggests that these can be addressed by sub-agreements or amendments. Allowing the agreement to lapse as a whole would eliminate existing collaboration between American and Chinese individuals as well as organizations across the various scientific and technological fields. She also notes that this would extend beyond the more problematic areas of surveillance and dual-use technology; clinical studies into new medicine and geological research would both be prevented, for example, and the agreement's laps would also affect the ability for the two countries' laboratories to hire scientists from the other party.
One precedent for increased monitoring of projects enabled by the STA can be found in a 2016 GAO Report, which examined the benefits and results of one major program enabled by the STA, the US-China Clean Energy Research Center (CERC). The report covered the results of the research, of course, but also recommended more accurate performance metrics and targets for progress of the research.
The treaty is important to China for strategic reasons as well as pure technical or scientific interests, but experts suggest that permitting the agreement to lapse would also be injurious to the interests of both nations. Negotiations regarding a possible renewal and/or amendment of the STA would provide an opportunity for US policymakers to tighten restrictions in key areas like data sharing and intellectual property, while also opening the door to increased oversight in the many other individual projects the STA has enabled.