In Central Asia, Strategic Partnerships Growing Ascendant
Publication: Eurasia Daily Monitor Volume: 14 Issue: 59
By: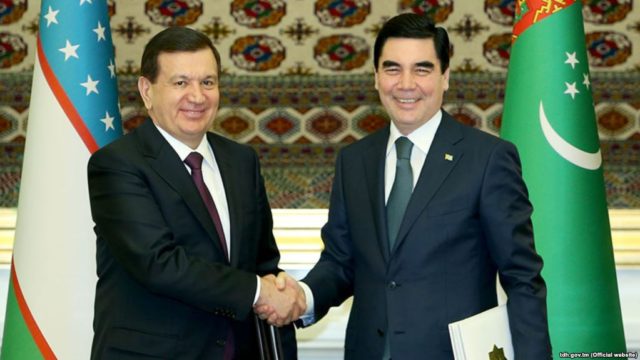 It takes three separate diplomatic efforts for three countries to sign three bilateral strategic partnership agreements. That is exactly what happened over the past four years in Central Asia: first Uzbekistan and Kazakhstan signed a strategic partnership in June 2013; then Uzbekistan and Turkmenistan concluded one during Uzbekistani President Shavkat Mirziyaev's first foreign trip to Turkmenistan on March 6, 2017; and a little over a month later, the latest agreement was signed between Kazakhstan and Turkmenistan (Tengri News, June 14, 2013; Gazeta.uz, March 6, 2017; Tengri News, April 18). Cumulatively, these two-way agreements have led to the emergence of a Central Asian strategic triangle—a first for the region (Kun.uz, April 22). What exactly does it mean for these countries to have elevated their cooperation to the strategic level, and why did they take such a step at this time?
Overall, in the global practice of diplomacy, strategic partnerships vary greatly in their specific intensity and content. They range from aligning the vital interests of the signatory countries in areas such as security, defense and the economy, to simply expressing a commitment to a greater degree of diplomatic engagement. For the three Central Asian countries in question, signing these strategic partnership agreements at this point has been akin to confirming the absence of major issues in their bilateral relations, the absence of disagreements, and a readiness to start building deeper relations focusing on economic cooperation. Indeed, while bilateral border issues, along with transboundary water issues, are major stumbling blocks in amicable relations across Central Asia, these three countries were able to resolve most of their border issues and are now even discussing simplifying cross-boundary procedures to ease the movement of people and goods (Tengri News, April 18, 2017; Gazeta.uz, December 26, 2016). In other words, the signed strategic partnership agreements announce that these three countries are each other's close partners and expect relations to continue to grow deeper.
The actual shape their relationships take will undoubtedly depend on the policy goals of the individual countries themselves. At this early state, transportation and trade seem most likely to result in closer cooperation (Tengri News, March 23; Altyn Asr TV Channel, November 5, 2016). Notably, these strategic partnership agreements may be particularly useful in ensuring that the ongoing progress being made in strengthening regional cooperation in Central Asia retains a lower visibility and appears less potentially provocative to some outside players.
The triangular web of strategic partnership agreements may be a conscious replacement for the failed earlier attempt to establish an intra-regional integrationist organization—the Central Asian Union. Kazakhstani President Nursultan Nazarbaev and then-President Islam Karimov launched the Central Asian Union in 1994; the organization functioned, though imperfectly, until its disbandment in 2005, following Russia's accession to the group (Cacianalyst.org, January 7, 2015). After burning their fingers on that experience, the Central Asian countries are, perhaps unsurprisingly, now eschewing similar high-profile endeavors. Instead, they are focusing on alternative bilateral cooperation options and, in particular, strategic partnership agreements.
Such strategic partnership agreements will likely be how all Central Asian countries move forward in terms of regional cooperation. Until that can happen, however, some of the region's most contentious bilateral disputes will still need to be resolved—particularly the ones between Kyrgyzstan and Uzbekistan, Tajikistan and Uzbekistan, and Tajikistan and Kyrgyzstan. That said, outside the strategic partnership triangle countries, Kazakhstan and Tajikistan had already signed a similar agreement in 2015. And all Central Asian countries have successfully concluded multiple strategic partnerships with countries outside the region with which they have close relations and similar interests (Asia Plus, September 21, 2016). For example, China had signed strategic partnership agreements with all five of these Central Asian republics (EurasiaNet.org, May 13, 2014).
As the strategic partnership triangle countries increasingly cooperate with each other, their interests can be expected to converge more and more. And in the future, the regional triangle will likely graduate to four- and then five-way strategic cooperation. For those watching these developments in the region from the outside, no one should expect the Central Asian states to move too quickly in this direction or for their regional cooperation efforts to necessarily culminate in a regional integrationist organization. The countries still have to do a lot of homework and relearn how to work with their neighbors after their relations atrophied following independence from the Soviet Union. Based on current trends, the cycle of strategic partnerships will likely lead to significant regional unity, but this will happen on the Central Asians' term—not according to the will or design of outsiders.
Although these above-mentioned strategic partnerships might seem like an insignificant or a nominal gesture between the countries, nonetheless in the regional context it illustrates an important level of bilateral trust and confidence. Also, the fact that the countries arrived at these strategic partnership as a result of their own volition is particularly noteworthy. Only a decade ago, the sovereignty of some of these countries was doubted and now they are comfortably signing multi-million-dollar trade agreements, easing joint border crossings, building bridges across their borders, and establishing not only interstate, but inter-regional road and transportation systems. These processes themselves are worthy of filling entire chapters in modern history books.