Central Asian Reset
Publication: Eurasia Daily Monitor Volume: 15 Issue: 43
By: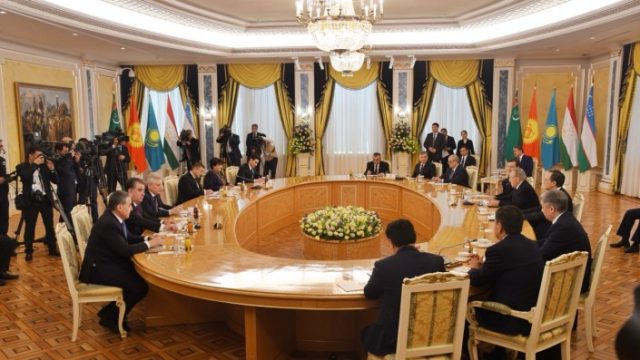 According to President Nursultan Nazarbayev of Kazakhstan, 2011 was the last time the leadership of the five Central Asian countries all sat together at the same table to discuss regional issues (Tengrinews, March 15). On March 15, 2018, Nazarbayev, President Shavkat Mirziyoyev of Uzbekistan, President Sooronbai Jeenbekov of the Kyrgyz Republic and President Imomali Rahmon of Tajikistan met in Astana. Turkmenistan's President Gurbanguly Berdimuhamedow missed this gathering for a visit to Kuwait to sign numerous energy agreements and instead was represented by the chair of the parliament, Akja Nurberdyeva (Turkmenistan.ru, March 14; see EDM, March 20).
The idea to hold recurring meetings with all the leaders of Central Asia belongs to Mirziyoyev. At the regional conference "Central Asia: Shared Past and a Common Future, Cooperation for Sustainable Development and Mutual Prosperity," held in Samarkand in November 2017, Uzbekistan's head of state mapped out six regional priorities the Central Asian countries should focus on: 1) increasing intra-regional trade; 2) developing transportation infrastructure that connects the region to world markets; 3) cooperating on security issues such as terrorism, religious extremism and illicit drugs trafficking; 4) completing border demarcation and delimitation; 5) regularizing trans-boundary water issues; and 6) developing close neighborly relations (President.uz, November 11, 2017).
Kazakhstan proposed to organize the first gathering in Astana, symbolically setting the meeting date for the eve of Navruz—the Central Asian celebration of the arrival of spring and awakening of nature (Tengrinews, November 27, 2017). That specific date also capped Mirziyoyev's 1.5-year-long "Central Asia First" diplomatic effort to hold breakthrough bilateral meetings with the leadership of each regional country. Over the course of 2017, President Mirziyoyev held 17 bilateral and multilateral meetings with Central Asian leaders—a stark contrast from the previous Uzbekistani leadership's meager foreign visits (First Channel of Uzbekistan, March 12, 2018). Mirziyoyev's 2017 endeavors, in fact, set an important foundation for the Astana meeting, without which the summit would have been just another ephemeral gathering.
The Astana meeting signals to the outside word that the region is working on solving their differences as equal partners, capitalizing on their economic cooperation, and emerging as a solid region (see EDM, March 20). Yet, the leaders are cautious and kept the gathering as low key as possible. The Astana meeting concluded without a declaration or communiqué typical to this type of summit. Moreover, from the outset, Mirziyoyev cautioned against institutionalizing their gathering, and the Central Asian leaders seemed to silently agree (President.uz, November 11, 2017).
Indeed, the leaders of Central Asia are approaching regionalism quite cautiously this time; their previous enthusiastic attempts to create stable regional forums were overtaken by large outside powers, which left Central Asia without any form of intra-regional coordinating body. In 1994, Kazakhstan, Uzbekistan and Kyrgyzstan set up a Central Asian Economic Community, which was joined by Tajikistan in 1998. In 2001, the body was reorganized into a Central Asian Union. But that inter-governmental organization ceased to exist in 2005, when it merged with the Russia-led Eurasian Economic Community, which was itself later transformed into the Eurasian Economic Union (whose members are Russia, Belarus, Kazakhstan, Armenia and Kyrgyzstan).
Intra-regional integration efforts within Central Asia—and even more so any form of integration with Western powers, such as the United States and the European Union—tend to bring out anxiety in the great powers of the Eurasian landmass. To this end, President Nazarbayev's comment at the March Astana gathering that no third country is needed to solve the region's issues is further testament to Central Asia's emerging political coherence (Tengrinews, March 15). In the past several years, either Russia or China was the leading convening country for regional meetings, be it within the Shanghai Cooperation Organization, the Commonwealth of Independent States, the Eurasian Economic Union, or the Collective Security Treaty Organization.
Another novelty in the current iteration of regionalism is the attempt to build a collective Central Asian identity.  Central Asian leaders are adroitly embracing their common history and heritage to serve as ideological backing for their regional plans. In the latest example, the presidents of Kazakhstan and Uzbekistan spoke about common religious scholars, writers, and scientists of the past (Kun.uz, March 16). Those historical  figures represent a common heritage and serve as a beacon for regional rapprochement.
This month's gathering of Central Asian leaders in Astana was a historically important event. The proposed six priorities for regional cooperation outline novel intra-regional synergies. It is true that, independently, those six priorities are not much different from the exigent issues mentioned repeatedly in the past 25 years. But due to prolonged inaction and, in some cases, backtracking, the urgency to solve them has greatly increased over time. And unlike with the regionalist attempts of the 1990s, the contemporary governments have the benefit of experience as well as a fuller awareness of the weaknesses and acute differences that must still be overcome. More than ever before, the five countries of Central Asia are realizing that to coexist in the region, they must be able to consistently work with one another.  Their leaders are not yet ready to institutionalize this renewed enthusiasm—both for practical reasons and so as to not jeopardize the whole process.  Nonetheless, if the Central Asian leaders maintain their current enthusiasm and pragmatism, the March 2018 Astana meeting could very well go down in history as a foundational meeting for the grander regional collaboration yet to come.