Cheaper Oil Price Pushes Kazakhstan Toward Limited Economic and Political Reforms
Publication: Eurasia Daily Monitor Volume: 13 Issue: 8
By: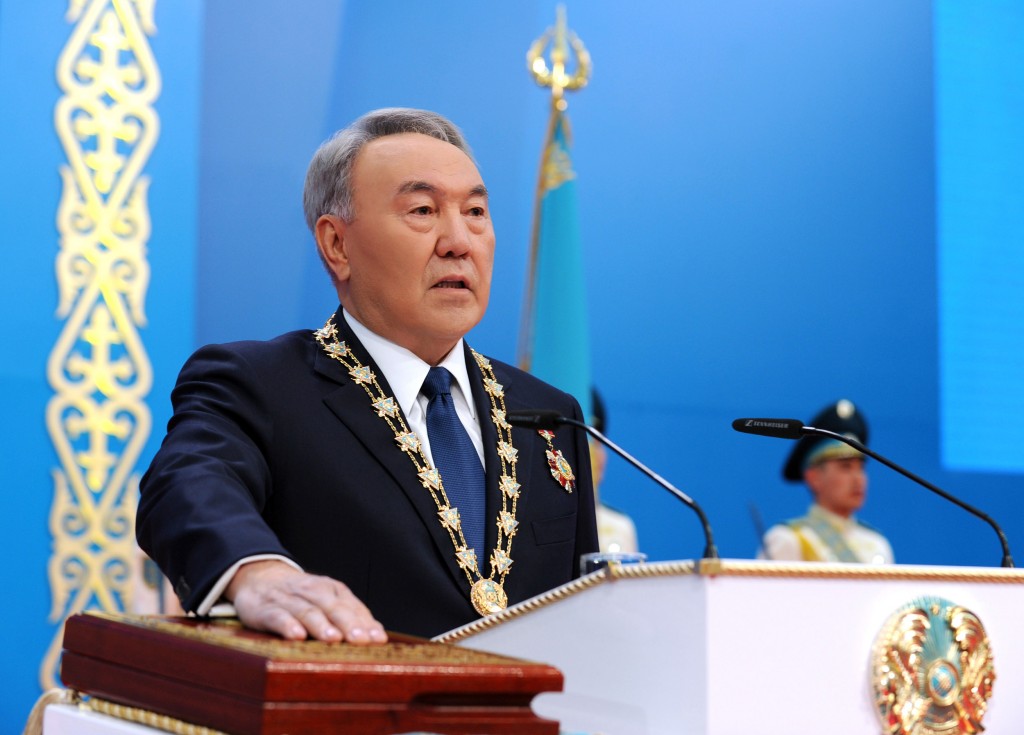 With the global oil price dropping to below $40 per barrel and the tenge showing the worst performance among the world's currencies in a year (Nur.kz, December 19, 2015), Kazakhstan is hastily adjusting to the dramatic change in market conditions by returning to more liberal policies and reducing state ownership across the economy. In early January 2016, Kazakhstan's President Nursultan Nazarbayev published a new article entitled, "Plan of the Nation—A Path to the Kazakhstani Dream" (Ak Orda, January 6, 2016). The article announces the start, as of January 1, of the practical implementation of the "Plan of the Nation"—Nazarbayev's new reform package, described as "100 steps to implement 5 institutional reforms." In 2015, Kazakhstan's parliament approved amendments to 59 laws to set up a more favorable environment to do business, reduce bureaucracy, reform the state's civil service, implement transport projects, and develop a non-oil-based economy.
"The development of the state requires that a number of state functions—which amount to almost 4,500 by now—should be transferred to a competitive environment," Nazarbayev writes in his article. In addition, starting this year, local self-governing bodies will receive more powers. Furthermore, the state's role in the economy will be reduced. In particular, the government is offering for sale its stakes in core economic assets: within four years, 65 large companies, including state oil firm KazMunayGaz, flagship carrier Air Astana, telecommunications giant Kazakhtelecom, state railways firm Kazakhstan Temir Zholy, mining company Tau-Ken Samruk, electricity producer Samruk-Energy, and uranium miner Kazatomprom, will be sold through public share offers (Tengrinews, January 6).
Kazakhstan faces new and serious challenges that combine an alarmingly quick drop in the price of oil as well as the ensuing brisk economic contraction. According to estimates, the state budget foresees a quadruple contraction of taxes from oil companies if the oil price stays at $40 per barrel (OpenAsia, December 15, 2015). Additionally, Kazakhstan's economy, which is closely tied to Russia's, has been negatively affected by the geopolitical tensions and resulting sanctions stemming from Moscow's ongoing standoff with the West. The Kazakhstani budget is now supported by loans from international financial institutions, including a $1 billion loan from the World Bank for the First Fiscal Management and Resilience Programmatic Development Policy Financing Project (World Bank, November 3, 2015) and a $1 billion loan from the Asian Development Bank's Countercyclical Support Facility (ADB, August 21, 2015).
Heavy state ownership of large domestic enterprises has done little good for the Kazakhstani economy, according to a recent report by the Agency for Civil Service Affairs and Anti-Corruption (ACSAAC). In fact, state-owned companies in Kazakhstan have become more inclined to conceal their real financial reports. According to ACSAAC's estimates for 2015, the number of "opaque" state companies increased by a third, and their borrowing from the banks rose by 500 percent (Nomad.su, December 8, 2015). State oil champion KazMunayGas alone has an outstanding debt of $18 billion, despite years of high oil prices prior to 2014 (Kapital.kz, October 12, 2015).
President Nazarbayev's rhetoric notwithstanding, his newly announced government plan in practice falls short of drastically reducing state control over both the economic and political spheres. Notably, potential investors will only be offered stakes in debt-burdened companies, while the rest will be reorganized to form new "compact holdings," according to Nazarbayev. In addition, new state structures are going to be formed, including the state corporation "Government for Citizens," tasked with providing state services on a consolidated basis, as well as the creation of the Ministry of Civil Service, which will include the recently set up National Anti-Corruption Bureau (Ak Orda, January 6).
The 100 Step Plan was hastily prepared to address the worsening external economic environment Kazakhstan was finding itself, and it became a main element of Nazarbayev's reelection campaign in 2015. But it still seems to lack a true reformist approach. The head of state has become the main public advocate on anti-crisis measures. His January 6 "Plan of the Nation" article is his fifth public statement on this subject as of the end of last November. He has also delivered a speech on the same topic at the extended government session on November 19, spoke on reforms during his Annual Nation's Address on November 30, talked about these issues at a ceremony launching 18 new industrial projects on December 11, as well as gave an extended interview about it on December 13.
In all his appearances and writings, Nazarbayev, who is widely associated with Kazakhstan's preceding years of remarkable growth, has sought to reassure the worried public about their country's economic sustainability and state capacities to address the new challenges. Although the government remains a target for public criticism regarding corruption, inefficient policies, and excessive spending, the president unambiguously supports his government and declines to make any specific personnel changes. Rather, Nazarbayev points to the relative youth of his ministers as an asset in implementing Kazakhstan's complex state infrastructure and industrialization program known as "Nurly Jol" (the New Economic Policy) (Zakon.kz, December 13, 2015).
Despite gloomy economic forecasts, the government in Astana has prepared for several difficult scenarios—even for oil falling to $20 per barrel—and does not believe that the current challenges will destabilize the political regime in Kazakhstan (Gazeta.ru, December 14, 2015). However, optimistic tones have noticeably dropped out of the government's narratives: "We have even more difficult roads ahead of us, than in the past. History cannot be a chronology of only victories," Nazarbayev has noted (Zakon.kz, December 15, 2015). Moreover, Prime Minister Karim Masimov has admitted that Kazakhstan missed an important opportunity to restructure the economy and the state when oil markets were at their peak. In November last year, he stated: "at a time when [oil] prices are high and there is a lot of money available, it is almost impossible to exercise reforms, since one can address any problem with money, and a desire to implement reforms diminishes" (365info.kz, November 13, 2015). It remains to be seen whether Kazakhstan's authorities will be more dynamic in pushing through needed reforms at a time when oil prices are bottoming out.