Chechen Leader Calls on Memorial Head to Proclaim his Innocence
Publication: Eurasia Daily Monitor Volume: 6 Issue: 137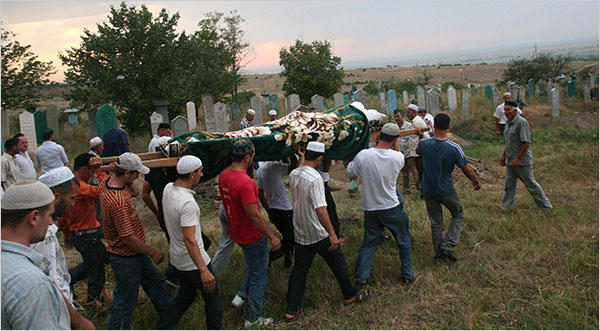 Chechen President Ramzan Kadyrov has denied charges that he was involved in the killing of Natalya Estemirova, the Memorial activist who worked in the human rights group's office in Grozny and was kidnapped and murdered on July 15. Memorial chairman Oleg Orlov told Interfax that he had a telephone conversation with Kadyrov during which the Chechen leader claimed that those who killed Estemirova were trying to discredit the leadership of Chechnya and Ingushetia. "Chechen President Ramzan Kadyrov called on July 16 and said that the death of Natalya Estemirova was disadvantageous to the Chechen authorities and that the human rights activist may have been killed by people who wanted to set up the leaders of Chechnya and Ingushetia," the news agency quoted Orlov as saying (Interfax, July 17).
Orlov and other Memorial activists – and Memorial collectively – have stated that they believe Estemirova was either killed on Kadyrov's orders or by those trying to please the Chechen leader (EDM, July 16).
Orlov told the Kavkazsky Uzel website that Kadyrov told him during their telephone conversation: "You are not right to accuse me of the murder of Natalya Estemirova. And you will be ashamed when it turns out not to be true. You are not a prosecutor or an investigator, to be making such statements." Orlov said he replied to Kadyrov that, as Chechen president, he is responsible for everything that happens in the republic, including kidnappings and the actions of the security forces. "Kadyrov said in response that he may be president of the republic, but that he does not have power agencies subordinated to him," Orlov said. The Memorial chairman said he urged Kadyrov to look into the human rights violations that Estemirova was investigating prior to her death in order to try and ascertain who might have wanted to killer her. Some of these cases, Orlov noted, involve illegal actions by "power structures" subordinated to the Chechen authorities (www.kavkaz-uzel.ru, July 17).
Kadyrov's press service, for its part, quoted the Chechen leader as telling Orlov during their telephone conversation: "Your claims about my guilt in what happened are, putting it mildly, unethical and look very strange. You are not a prosecutor, not a judge and not an investigator." It also quoted Kadyrov as saying he is not only the Chechen president, but the father of seven children and the son of a woman who lost her husband in "the fight against terrorism and Wahhabism." According to the press service, Kadyrov added: "I am sure that you should think also about my rights before stating to the whole world that I am guilty in the death of Estemirova." The Chechen leader said he was certain the crime will be solved and the perpetrators punished, but noted that "the statement with the accusations against me will remain on the internet."
According to his press service, Kadyrov also told Orlov that while it was the job of investigators, not him, to put forward theories concerning the perpetrators of and motives for the murder, the killers seem to have been "seeking to smear our peoples" and to raise doubts over claims that "peace and stability" have been achieved in the region. According to the Chechen president's press service, Orlov told Kadyrov that Estemirova's killing has raised the possibility of closing Memorial's office in Grozny, but Kadyrov responded that the office in Chechnya should remain open. "If the employees of Memorial leave Chechnya, then I and others who should protect the rights of citizens will leave," Kadyrov was quoted as saying. "Is not that the outcome that those who kidnap and murder people are seeking?" Kadyrov said, conveying his condolences concerning Estemirova's death and adding that her family would be given aid and support (RIA Novosti, July 17).
Asked by a reporter in Germany about Kadyrov's possible involvement in the Estemirova murder, Russian President Dmitry Medvedev said that those who committed the murder were hoping that the versions of the crime "most primitive and most unacceptable for the [Russian] authorities" would be voiced immediately. Medvedev also called the murder a "provocation." He said he was certain the crime would be solved and the perpetrators punished in accordance with Russian law (www.kremlin.ru, July 16).
Newsru.com reports that Estemirova was kidnapped outside her home in Grozny on July 15 as she was leaving for a meeting at Memorial's Grozny office with a journalist from Moscow, after which she had planned to stop by the regional office of the Investigative Committee of the Prosecutor General's Office. According to the website, Estemirova wanted to meet with the head of that office, Viktor Ledenev, to discuss the detention of Maskhud Abdullaev, the son of the Chechen rebel field commander who was apparently taken into custody after being deported from Egypt, where he had been studying at Cairo's al-Azhar University (www.newsru.com, July 17; EDM, June 19).