China and Pakistan: Evolving Focus on Stability within Continuity
Publication: China Brief Volume: 11 Issue: 22
By: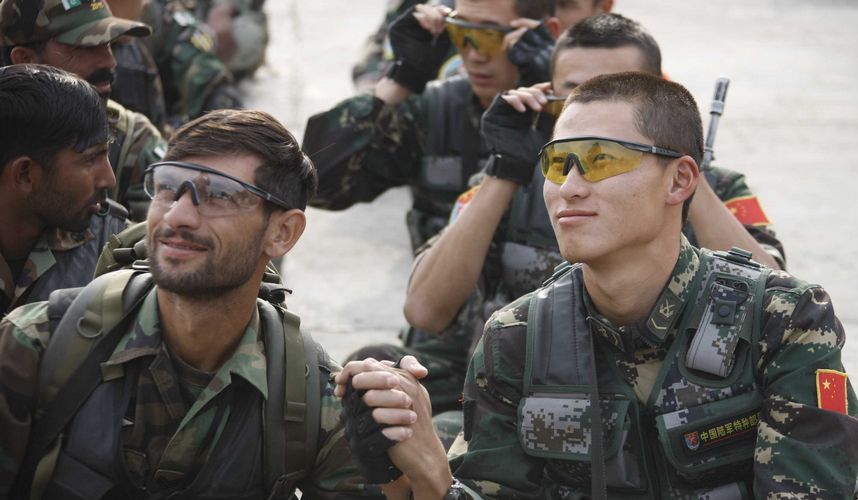 On November 16th, a two-week joint anti-terrorism exercise, Friendship-2011 (Youyi-2011), commenced between China and Pakistan. The exercise was the fourth instalment of the "Friendship" counter-terrorism series. The initial 2004 exercise took place in Xinjiang, China, near the border of Pakistan and Afghanistan, and marked the first time a foreign army was on Chinese soil for a military exercise. This year, the exercise took place in Mangla, Pakistan, not far from Islamabad (People's Daily, November 21). The anti-terror drills simulated low-intensity conflict scenarios and emphasized cooperation and information sharing (Xinhua, November 14; CNTV, November 15). Friendship-2011 included 260 Chinese soldiers, under deputy commander of the Lanzhou Military Region Zhao Jianzhong, and 230 Pakistani soldiers (Xinhua, November 18; People's Daily, November 15). In May this year, Pakistani President Yousaf Raza Gilani visited Beijing to mark the 60th anniversary of the China-Pakistan relations. During the visit, China agreed to give Pakistan an emergency supply of 50 JF-17 multirole fighter jets (Xinhua, May 21). Pakistan currently has 38 indigenously manufactured JF-17s, which first came into service in 2009, but these use a Chinese manufactured avionics system [1]. The new 50 will include a more advanced Italian avionics system (Xinhua, June 7). In a year where questions were often raised about the significance of the Sino-Pakistani "strategic partnership," these neither outstanding nor surprising events once again highlighted the complexities of this relationship. Friendship-2011 demonstrates China's more recent emphasis on counter-terrorism in its relationship with Pakistan, whereas the JF-17 agreement is just one example of China's continuing status as Pakistan's closest friend.
Following the U.S. attack on Osama bin Laden's Abbottabad compound in May, news reports frequently have discussed the U.S.-Pakistan relationship in contrast to the China-Pakistan relationship. Since the attack, Pakistan has attempted to draw China closer. In August, anonymous officials suggested Pakistan allowed China to access wreckage of the downed U.S. stealth helicopter left behind during the Abbottabad attack—a charge China emphatically denied as "groundless and ridiculous" (Xinhua, August 17; New York Times, August 15). Whether or not this accusation is true, China has pushed back against Pakistan's efforts—China does not benefit from negative U.S.-Pakistan relations (Xinhua, September 27; Caixun September 28; Xinhua, May 25). At the same time, China has continued to emphasize the strength of its ties with Pakistan. In his May meeting with President Gilani, Chinese President Hu Jintao said China is "willing to work with Pakistan to deepen the all-weather friendship and strengthen all-round cooperation and push bilateral strategic partnership to a new level" (Xinhua, May 21). While it remains reasonably clear why China is important to Pakistan, the reverse remains difficult to explain. Therefore, it is pertinent to pose two basic questions about the Sino-Pakistani relationship: (1) What does China hope to achieve in Pakistan? (2) What tactics does China use to meet these objectives and, in the future, how might circumstances force China to adapt these tactics?
As the counter-terrorism focus of the "Friendship" exercises suggests, China's immediate interests in Pakistan have evolved from the established framework of Sino-Pakistani relations. China has long been a primary supplier of military equipment to Pakistan and has long supported Pakistan on defense and security matters, including collaboration with the Pakistani nuclear program. China's defense-related assistance to Pakistan dates back to the 1960s, following the 1962 Sino-Indian border war and the 1965 Pakistan-India war [2]. India is the historical security issue driving the Sino-Pakistani relationship. Nowadays, regardless of the periodic continuation of inflammatory rhetoric between China and India about the other's military build-up, China does not appear to have an interest in using Pakistan to strategically offset India. Perhaps this is why reports emerged to coincide with Friendship-2011 that China was considering joint military exercises with India in 2012 (People's Daily, November 15). Some observers have argued China in the future will seek to use Pakistan as a transportation route for energy resources that would avoid the Strait of Malacca, which is perceived as a risk to China's energy security. After all the $1 billion Pakistani Port of Gwadar, where a pipeline could conceivably originate and cross into China via Xinjiang, was opened in 2007 thanks to substantial Chinese investment amounting to roughly 80 per cent of the project's cost [3]. Nonetheless, these suggestions are predicated on the idea that eventually the region will be stable enough for a pipeline to securely pass through. So at best this goal is secondary.
Instability in Pakistan probably is the most immediate security concern impacting China's policy toward Pakistan. Pakistan faces many sources of instability, including: terrorism and extremism; ineffective and/or fragmented government, military and security forces; economic turmoil; and unstable borders. Inside of Pakistan, Chinese citizens have been subject to terrorism and violence, where workers have been kidnapped and killed on several occasions in recent years. More importantly, addressing instability in Pakistan is linked to the Chinese domestic political goal of preventing instability and extremism from penetrating the already volatile Xinjiang province. Xinjiang province has a disputed history, and many of its Muslim Uighur residents do not identify themselves as being part of China. The province is home to the separatist 'East Turkistan Independence Movement' (ETIM), which actively foments unrest and some violence. ETIM and other Uighur dissidents threaten Beijing's declared core interest in territorial integrity and preserving the Chinese Communist Party (China's Peaceful Development White Paper, September 2011).
In recent years, China's Uighur problem has grown in importance for the all-weather relationship. Extremists within the ETIM are known to have received training in Pakistan before carrying out attacks in Xinjiang, creating a connection between Pakistani instability and China's ethnic tensions (Xinhua, August 1). Recently, the most substantial unrest was the July 2009 riots, known in China as the "7-5" incident, which left at least 197 dead and 1,700 injured (Xinhua, July 6, 2009; The Guardian [UK], August 24, 2009). A year earlier, just before the Beijing Olympics, 16 police officers were killed in the Xinjiang city Kashgar, which is located close to the Pakistan border. Reports said the ETIM-linked attackers were "all trained overseas" (Sina, August 6, 2008). Observers have since speculated that tension has emerged between China and Pakistan. The issue emerged once again this summer after attacks in the Xinjiang cities of Kashgar and Hotan left 12 dead and 31 injured ("Uighur Unrest in Xinjiang Shakes Sino-Pakistani Relations", Terrorism Monitor, August 19). This time Beijing publically stated some of the leaders of the attacks were trained in Pakistan (Terrorism Monitor, August 19; People's Daily, August 5; Xinhua, August 1). Despite these problems, it is evident that China has not allowed the Uighur issue to challenge its "all-weather" relationship with Pakistan, but rather has used it to drive further engagement.
China's concerns about Uighurs have translated directly into diplomatic action, increasing the number of already frequent exchanges. For Beijing, preventing and responding to Xinjiang's "terrorist" threats requires supporting Islamabad's counter-terrorism efforts. Furthermore, it is seen that working with South Asian countries to "jointly safeguard regional peace and tranquillity" is the best way to ensure stability in Pakistan and, by extension, Xinjiang [4]. In September, following the Kashgar and Hotan attacks, State Councilor and Minister of Public Security Meng Jianzhu made an official visit to Pakistan. In his talks with Pakistani President Asif Ali Zardari, Meng stressed the "'three forces of evil' – terrorism, extremism and separatism, drug trafficking, illegal immigration and transnational crime," and said that these problems are a real threat requiring Pakistan's "mutual support and cooperation" (www.gov.cn, September 27; Xinhua, September 27). Similarly, in May 2011 talks with President Gilani, Chinese Premier Wen Jiabao stressed the issue of fighting terrorism and instability in Pakistan. He said China's position has been firm and consistent in urging the international community to "understand and support Pakistan in maintaining domestic stability and achieving economic and social development," (Xinhua, May 18).
China's diplomatic strategy in Pakistan partially explains the direct focus of China's current military and economic assistance policy; on the other hand, military and economic aid also simply reflects China's long-term support. China has been and continues to be Islamabad's primary supplier of matériel. Much of this military equipment China provides does not directly serve counter-terrorism goals, but more broadly supports the needs of Pakistan. Beyond the JF-17 agreement, other more recent examples of China's role in providing military equipment to Pakistan includes assistance in the development of the Pakistan Navy's Sword-class (F-22) frigates and a contract for at least 36 CAC J-10 multirole fighter aircraft to Pakistan, first delivery expected in 2012 or 2013 [5]. China's status as the primary supplier of matériel is long-standing, and recent support is an unsurprising product of normal Sino-Pakistani military relations. Other aspects of China's military assistance to Pakistan are reflective of China's deep relationship with Pakistan, and also have a tangible link to China's goal of ensuring conditions of stability. In October the People's Liberation Army (PLA) sent a 50-member medical team on a humanitarian mission to the worst hit areas (People's Daily, October 23; Huanqiu, September 12; Xinhua, October 19). With this so-called "Flood Diplomacy" (kanghong waijiao), two aspects of China's policy can be understood. First, China has long offered "unconditional" and "enduring" aid to its "old friend", the Pakistani government, and will continue to do so since this is part of China's responsibility in the relationship [6]. Second, aid "more or less reflects national strategic needs", but for China pursuing long-term, not short-term, interests is the objective [7]. Flood aid to Pakistan, will not only address immediate needs of its long-term friend, but also have the side effect of contributing to long-term stabilization efforts.
For now, China's push for Pakistan's collaboration in efforts to secure the Sino-Pakistani border may be effective, especially so as Islamabad has been forced to look to Beijing for support over the past year. Worsening instability in Pakistan, deteriorating U.S.-Pakistani relations, and an eventual withdrawal of the U.S. from Afghanistan will leave a hole in security enforcement in South Asia. Given these future changes, China may eventually face a more difficult decision regarding how best to manage relations with Pakistan in order to ensure domestic and regional stability. The question is how.
Sometime in late 2009 a policy debate behind closed doors in Beijing questioned whether to change tactics in Pakistan, raising the question of whether China is willing to engage militarily in Pakistan in order to protect its interests [8]. In recent months, journalists have speculated—and China has denied—Beijing might be considering a military presence in Pakistan's Federally Administered Tribal Areas (FATA) that border Xinjiang and where Uighurs have received terrorist training (Asia Times, October 26). Whatever has been discussed behind closed doors, the Chinese media has picked up the question both this year and in 2009. One commentary in Xinhua concluded "If the violent forces in Xinjiang gain ground, China may be forced to directly intervene militarily in Pakistan and Afghanistan, but this is clearly not the situation China would like to see," (Xinhua, September 27).
For now, China has continued to choose support instead of intervention and Beijing has given little indication that it would be willing to use military force in Pakistan. Events of the past three years however suggest China is increasingly willing to use lmiited force to protect its strategic interests. In 2008, China first deployed PLAN vessels for "humanitarian" anti-piracy operations in the Gulf of Aden off of Somalia. More recently, China has indicated increased willingness to protect strategic interests in its response to the "10-5 incident" in the MekongRiver which left 13 Chinese sailors dead. China's efforts following the incident have resulted in a security agreement between China, Burma, Laos and Thailand, and speculation that China may contribute up to 1,000 security personnel to enforce security along the Mekong River ("Mekong Murders Spur Beijing to Push New Security Cooperation", China Brief, November 11). Pakistan would require a fundamentally different type of intervention and for the foreseeable future Beijing is highly unlikely to consider or desire to take part in any intervention.
China's immediate security interest in Pakistan is stability. This interest is limited to Beijing's need to control a small number of Uighur militants who threaten stability on China's far western border. Ensuring stability in Pakistan, particularly in the FATA, will help Beijing control separatism and extremism in Xinjiang province. For now, China's counter-terrorism concerns are directly addressed through goodwill and unconditional support of its long-term friend. If this year is any indication, the stability of Pakistan is worsening, not improving. So the question is how long will China's tactic continue to work if the situation in Pakistan continues to worsen? If China's efforts no longer succeed in the future what is China prepared to do to ensure its, rather limited, strategic interest in Pakistan?
Notes:
"Pakistan: Procurement" Jane's Sentinel Security Assessment- South Asia, August 10, 2011.

Isaac B. Kardon "China and Pakistan: Emerging Strains in the Entente Cordiale." Project 2049 Institute, March 25, 2011; Burr, William, ed., "China, Pakistan and the Bomb: The Declassified File on U.S. Policy, 1977-1997." The National Security Archive Electronic Briefing Book No. 114, March 5, 2005, <https://www.gwu.edu/~nsarchiv/NSAEBB/NSAEBB114/index.htm>.
Li Xiguang, "Li Xiguang: Zhongguo weilai libukai Bajisitan," December 17, 2010, <https://opinion.huanqiu.com/roll/2010-12/1349486.html>; Haider, Ziad. "Baluchis, Beijing, and Pakistan's Gwadar Port." Georgetown Journal of International Affairs, Vol. 6, No.1, 2005: pp. 95-103; "Pakistan launches strategic port" BBC, March 20, 2007. <https://news.bbc.co.uk/1/hi/6469725.stm>.
Li Qingyan. "Hou ladeng shidai Mei Ba guanxi zouxiang." China International Studies, June 8, 2011. <

https://www.ciis.org.cn/chinese/2011-06/08/content_4253169.htm>.

Guy Anderson, James Hardy, and Jon Grevatt. "Update: Pakistan: offsetting US reliance." Jane's Defence Industry, July 13, 2011.
Li Qingyan, "Cong Bajisitan shuizai kuan kan zhonguo waijiao de xintiaozhan". China International Studies,December 9, 2010. <https://www.ciis.org.cn/chinese/2010-12/09/content_3887155.htm>; "Zhongguo gao zhoubian kanghong waijiao jiefangjun jiang fu Bajisitan tigong." CNTV, 20 October 2011,

<https://news.cntv.cn/military/20111020/106214.shtml>.

Ibid.

Duch

â

tel, Mathieu. "The Terrorist Risk and China's Policy toward Pakistan: strategic reassurance and the 'United Front'." Journal of Contemporary China, Vol. 20, No. 71, 2011, pp. 543–561.