China and Sri Lanka: In Choppy Waters
Publication: China Brief Volume: 15 Issue: 10
By: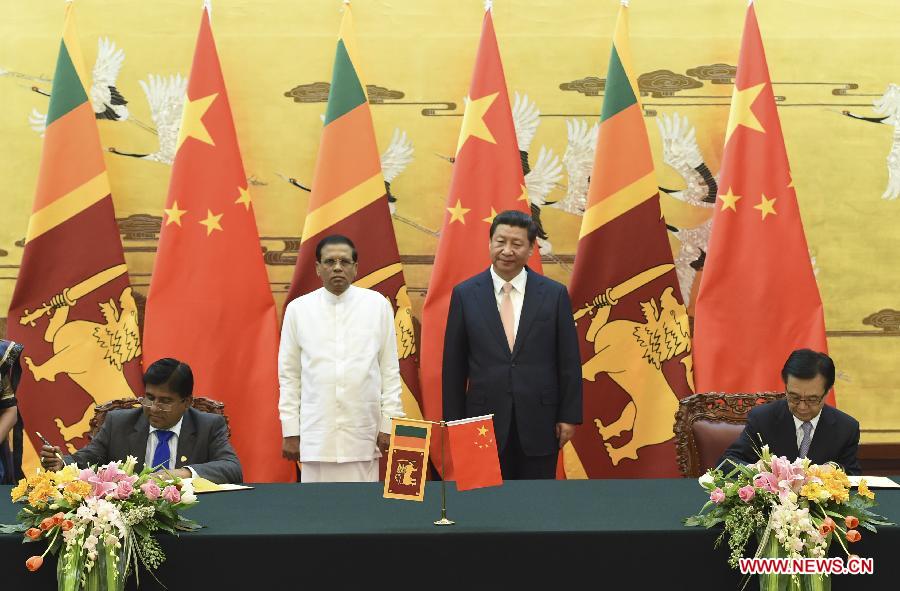 Sino–Sri Lankan relations are in a state of flux. Bilateral relations, which had surged significantly during the rule of Sri Lanka's former president, Mahinda Rajapaksa (2005–2015), are strained today. In January, Sri Lanka's new President Maithripala Sirisena suspended the $1.4 billion Colombo Port City (CPC) project, a centrepiece of Beijing-Colombo bonding during Rajapaksa's rule that China's President Xi Jinping inaugurated just months earlier during his visit to the island in September last year.
In the run-up to the January presidential election, Sirisena had targeted the pro-China tilt in Sri Lanka's foreign policy under Rajapaksa. He promised to establish "equal relations" between India, China, Pakistan and Japan. Without naming China, he criticized its role on the island over the past decade. Infrastructure projects built with loans from foreign countries were ensnaring Sri Lanka in a "debt trap," his election manifesto said (Asian Mirror, December 19, 2014). Not surprisingly then, Sirisena's victory in the election was widely interpreted in the Sri Lankan and international media as a "real setback for China" (Times of India, January 9 and Bloomberg, January 9). The suspension of the CPC project accentuated this perception and cast a shadow on other Chinese projects in Sri Lanka. It triggered debate in the Chinese and international media over the future of Chinese investment in the country (Caixin Online, March 10). Sri Lankan perception of China's role on the island is changing, but how substantially will Sino-Sri Lankan relations change? Can Sri Lanka afford to antagonize China? Tough decisions lie ahead for the Sirisena government.
Friendly Ties
Sino–Sri Lankan relations have traditionally been warm since the 1950s. Sri Lanka was among the first countries to recognize the People's Republic of China in January 1950. Support for each other's core concerns—such as territorial integrity, for instance—play an important role in their relationship. While Sri Lanka has consistently endorsed the "One-China" policy and avoided engaging Taiwan, Beijing was unequivocal in its support of the Sri Lankan government in the island's ethno-political conflict. Its robust support of the Rajapaksa government's no-holds barred military offensive against the Liberation Tigers of Tamil Eelam (LTTE) through the supply of weaponry, especially in the final years of the civil war, is widely credited in Sri Lanka for the government's victory over the LTTE. Post-war, Beijing has defended the Rajapaksa government from censure at various international human rights forums (The Hindu, March 23, 2012).
Economic cooperation has cemented bilateral ties. A mutually beneficial rubber-for-rice agreement reached in 1952, which assured Sri Lanka of a large export market for its rubber in return for cheap imports of Chinese rice, set the tone for such co-operation. Economic ties surged during Rajapaksa's presidency; indeed, during his first term as president, China became the second-largest source of Sri Lanka's imports, its largest aid donor and largest foreign investor. China's state-owned Export-Import Bank is reportedly funding 70 percent of Sri Lanka's infrastructure projects (Al Jazeera, August 26, 2014). Among the main Chinese projects in Sri Lanka are the $1 billion Hambantota Development Zone, the $855 million Norochcholai Coal Power Plant project and the $248 million Colombo-Katunayake Expressway, all initiated during Rajapaksa's presidency.
Indian Unease
China's growing profile in Sri Lanka has evoked enormous concern in India. Indian analysts warn that a Chinese presence so close to India's southern coast has implications for India's security. They have drawn attention, for instance, to Sri Lanka's emergence as a possible Chinese "listening post" in the Indian Ocean (South Asia Analysis Group, April 10). More worrying is China's mounting influence in the island via its funding of infrastructure there. India fears that China's building of ports, container terminals and expressways in Sri Lanka are aimed not just at securing lucrative contracts for its companies but at pulling Sri Lanka "closer to its orbit through economic leverage and soft power," thus "aiding its strategic penetration" of the island (Nikkei Asian Review, April 29).
It was China's role in the Hambantota deep-sea port project that set alarm bells ringing in Delhi. Strategically located at the south-eastern tip of the island, near vital international shipping lanes, Hambantota port is perceived as one of the "pearls" in China's 'String of Pearls' strategy, which Delhi believes is aimed at encircling India and facilitating Beijing's power projection in the Indian Ocean. The port project triggered intense discussion in India over the future military potential of this commercial port (Tehelka, May 23, 2009). Would a debt-ridden Colombo, unable to pay back its loans to China, cave in to its demand for a naval base in the island in the future? Sri Lanka giving in to such a demand from China is highly unlikely as it "would be such a clear red line for Sri Lanka to cross regarding India" (Author's Interview, Nilanthi Samaranayake, Strategic Studies analyst at the CNA Corporation in Arlington, Virginia, April 27).
However, fears of a Chinese military presence at Sri Lanka's ports gained credence last year when Chinese submarines docked twice at the new Chinese-built container terminal owned and operated by a consortium of Chinese companies at Sri Lanka's Colombo Harbor (Times of India, November 3, 2014). Added to this was Sri Lanka's enthusiastic embrace of China's Maritime Silk Road (MSR) project (The Island, June 1, 2014). Seen in India as a Chinese attempt at rebranding the "String of Pearls" strategy in "meretriciously benign terms," the MSR project is viewed with suspicion. It is expected to draw Sri Lanka even closer into the Chinese orbit and legitimize Chinese deployment of its warships to guard the harbours along the MSR route (Nikkei Asian Review, April 29). This, it is feared, would bring the Chinese navy closer to the Indian coast.
Sri Lankan Perceptions
Unlike India, Sri Lanka's perception of China's role on the island was largely benign until recently. Seen as a reliable friend, China's funding of Sri Lankan infrastructural development is appreciated on the island, especially in the context of the West's reluctance to do so (Pragati, March 31). Unlike India, which has focused on the geopolitical and strategic implications of China's economic cooperation with Sri Lanka, the latter sees this as development support that will propel the island into a major global trans-shipment hub (Bloomberg, July 13, 2011).
The high visibility of Chinese projects has created a favourable image of Beijing on the island. Although the majority of its projects are commercial, it has also gifted some buildings constructed in the capital. They include the Bandaranaike Memorial Centre and the Lotus Pond open arts theatre. These are massive and grand structures, which impress the public (Author's Interview, Amali Wedagedara, consultant at the Open University in Colombo, April 26).
Although some of the local media has been criticizing the Chinese projects over the years, it was only when the opposition used Rajapaksa's corrupt deals with Chinese companies as an election campaign tool and targeted his loan-dependent development that public opposition to China surged. People became aware that China's financial "assistance" was mainly in the form of loans and at high interest rates, making them "extractive investments" (Author's Interview, Amali Wedagedara). While loans from the World Bank or Asian Development Bank would had attracted interest rates ranging between 0.25 and 2 percent for short- and long-term loans, China's Export-Import Bank charges 3–6 percent for long-term loans and 2 percent for short-term borrowings (Sunday Leader, January 29, 2012). Sri Lankans are increasingly concerned over the likely consequences of their government not being able to repay the loans (Author's Interview, Amali Wedagedara).
Local media reports are drawing attention to uncertainty over ownership of the Chinese projects, the poor quality of construction, gross overpricing and underutilized infrastructure, among other issues (Sunday Leader, January 29, 2012; Sunday Times, October 19, 2014 and Sunday Times, November 30, 2014). The Norochcholai coal power plant, for instance, has broken down dozens of times since it began operation in 2011, and is incurring massive losses. Yet the construction of Phase II of this project was handed over to the same company, China National Machinery Import and Export Corporation, that constructed this plant in the first place, as this was a condition agreed upon in the original contract (Daily FT, January 24, 2014). Of all the Chinese projects in Sri Lanka, the CPC project has attracted the most criticism. Construction went ahead in September 2014 without a comprehensive project feasibility study on technical, socio-economic, environmental and financial aspects. More importantly, it seems that Sri Lanka will have to cede ownership of a significant chunk of the reclaimed land on which the project will be built. Of the 233 hectares of reclaimed land, China is to hold 20 hectares in perpetuity and 88 hectares on a 99-year lease. It could mean an infringement of Sri Lanka's territorial sovereignty, something both countries say they prize (Sunday Leader, February 15 and Colombo Telegraph, March 17).
China has responded swiftly to the surging public anger against its projects in Sri Lanka. Its diplomats and project officials there have sought to clarify issues and highlight project benefits to Sri Lankans (Daily News, March 11). It has adopted a carrot-and-stick approach. While courting Sri Lanka with more funds and signaling a willingness to compromise—during Sirisena's visit to China in March, Beijing pledged $1 billion in new grants and offered to cut the cost of a $520 million road project by $225.73 million—it is also warning Sri Lanka of legal consequences (Reuters, April 1 and Sunday Leader, May 7). In a bid to allay Delhi's anxieties, China has suggested a "triangular cooperative relationship" involving India, China and Sri Lanka (The Hindu, February 28).
Sri Lanka's Dilemmas
Besides suspending the CPC project pending scrutiny, President Sirisena has ordered a review of all Chinese-funded projects in Sri Lanka. He is under multiple pressures to scale down China's role on the island. India, for one, would like to see China's influence in Sri Lanka reduce. Delhi has raised the security implications of several Chinese projects in Sri Lanka for India with the Sri Lankan leadership (Business Line, March 11). There are domestic pressures as well. Political parties, like the nationalist Janata Vimukti Peramuna, which are Sirisena's allies, are protesting the Chinese projects infringing Sri Lanka's sovereignty (Sunday Observer, February 15). Also, the terms of contracts with Chinese companies are loaded against Sri Lanka's interests. After a high-decibel election campaign where public attention was drawn to the negative implications of Chinese projects for Sri Lanka, it would be difficult for Sirisena not to act upon these concerns.
But terminating contracts or canceling the Chinese projects will not be easy as it will have financial, legal and diplomatic implications (Ceylon Today, April 19). Importantly, Sri Lanka needs a massive infusion of funds for infrastructure development, and India is not in a position to meet its needs. It thus "depends on China for infrastructure support" (Author's Interview, Nilanthi Samaranayake, Strategic Studies analyst at the CNA Corporation in Arlington, Virginia, April 27). It needs Beijing's backing in the UN, as well, and is thus unlikely to antagonize China by canceling projects. It will seek more favorable terms in project contracts. It appears that Sirisena's suspension of the CPC project is aimed at gaining leverage to renegotiate the terms of this project and other unfavorable contracts with China. It appears to be "trying to empower itself by possibly renegotiating some loan terms for projects" (Author's Interview, Nilanthi Samaranayake).
However, Colombo cannot ignore India's concerns either. Geographic proximity, ethnic and other ties, and India's significant trade and defense relationship with Sri Lanka make it Colombo's most important partner, which it cannot afford to antagonize. Lessons from the past exist. In May 1987, when India violated Sri Lankan airspace to aerially drop food aid to beleaguered Tamils, the Sri Lankan government protested India's violation of its territorial sovereignty and sought military support from countries like the United States and China. Verbal support came, for instance, from China, which without naming India condemned the "bullying action of big powers." However, little military support for the government materialized. China reminded Colombo that "distant waters do not put out fires on your doorstep." It was proximate countries that were in a position to do so (Author's Interview, Dr. John Gooneratne, retired Sri Lankan diplomat, Colombo, August 10, 2010). Today, even after the end of the civil war, this advice remains relevant "especially for small countries, which might get carried away that the 'distant' big country will come to help against the neighboring 'big' country" (Author's Interview, Dr. John Gooneratne, May 4).
This was wisdom that Rajapaksa ignored while assiduously courting China over the past decade, especially when permitting Chinese submarines to dock in Colombo harbor. It is advice that Sirisena may need to bear in mind as he charts Sri Lanka's moves in the coming months. He has begun by setting out to establish equal relations with Asian powers. He followed up his India visit with trips to China and Pakistan. There is "a sense of balance in the foreign relations under Sirisena, which was lacking earlier." But he will need to follow this up more substantially. In its foreign relations, Sri Lanka would need to "stick to issues of a bilateral nature, and avoid getting mired in the fights, wars and strategies" of other powers. For example, it should support the MSR project but not so as to bottle up India" (Author's Interview, Dr. John Gooneratne, May 4).
Testing Times
Colombo's diplomatic skills will be put to a severe test in the coming months. It will need to conduct its relations with India and China in a way that does not draw China's ire or deepen India's suspicions. Decisions on the fate of suspended projects, especially the CPC project, are pending. These need to be made immediately as their suspension is causing huge losses. China can be expected to agree to soften repayment terms. Sirisena must also stand firm on issues undermining Sri Lanka's sovereignty. This, and the hiring of only local laborers rather than Chinese workers on these projects, could help Sirisena blunt at least some of the domestic opposition to Chinese projects. If Colombo is serious about rebalancing relations and keeping India as a friend, it will need to firmly reject any of Beijing's military-related requests, especially those that will raise doubts over the commercial nature of Chinese-built ports on the island. Responding to India's security and other concerns would be easier for Sri Lanka if, in its interaction with Colombo, Delhi would behave more like a generous giant than a hectoring, big brother.