China Learning From Russia's "Emerging Great Power" Global Media Tactics
Publication: China Brief Volume: 21 Issue: 7
By: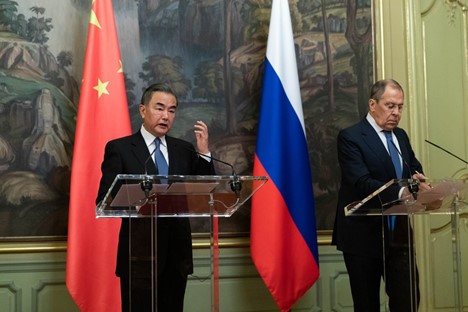 Following the outbreak of the COVID-19 pandemic, researchers observed that China has employed newly assertive tactics—including spreading widespread Russian-style disinformation—which suggested that "Beijing is increasingly seeking to shape the global information environment beyond its borders" (Alliance for Security Democracy, March 30, 2020). Chinese propaganda researchers and academics have closely studied the example of Russian media organs such as Russia Today (RT), and explicitly view the ongoing COVID-19 pandemic as an opportunity to improve external propaganda, including deepening cooperation with their Russian counterparts.
Overcoming a Persistent Discourse Deficit
China's leadership has long perceived that the country has a "discourse deficit," (话语赤字, huayu chizi) especially relative to its relative development and current standing in the world (Qiushi, May 25, 2020). At a 2013 National Propaganda and Ideological Work Conference, General Secretary Xi Jinping declared that China must strengthen its external propaganda (外宣, waixuan) for the new era and "tell China's story well," (讲好中国故事, jianghao zhongguo gushi), baptizing what has since come to be a catchphrase for China's foreign propaganda in the Xi era (Xinhua, August 21, 2013). Following this, the Xinhua news agency propagated a decision to "Strengthen the Construction to International Communication Abilities and Foreign Discourse Systems ­And Promote Chinese Culture to the World." But even though the authors noted that China's external communication capabilities had rapidly improved since 2010, with Xinhua opening up a record-breaking 171 overseas branches and China Central Television (CCTV) becoming the only television organization in the world to broadcast in all six UN working languages, "the overall situation has remained in a position where the West is strong and we are weak" (Gov.cn, January 31, 2014).     
Learning From RT's Example
A 2014 opinion piece in the People's Daily described RT as an "external propaganda aircraft carrier" (外宣航母, waixuan hangmu) that could penetrate into foreign mainstream media and leverage social media to influence "people who are easily influenced" (容易被影响的人, rongyi bei yingxiang de ren,), i.e., young netizens and audiences in developing countries in Latin American and Africa (People's Daily, May 19, 2014). RT's example was held up for emulation by Chinese media: a cursory search of open-source analysis returns a variety of studies about the "external propaganda strategies" of RT, which included detailed reports of its structure, funding, personnel and daily operations, as well as discussions of RT's creative use of Internet platforms and social media to improve agenda setting capabilities.[1] A 2018 article in People's Daily noted RT's successful penetration of the three major social media platforms, Facebook, Twitter, and Youtube, and its cooperative ventures with foreign and private media. This was held up as an example to follow as China's external propaganda shifted from the phase of "going out" (走出去, zouchuqu) to "walking in" (走进去, zoujinqu), using new (i.e., internet) media to successfully penetrate and influence foreign public opinion (People's Daily, August 2, 2018).[2]
A 2017 research paper published by the Academy of Contemporary China and World Studies (当代中国与世界研究院, dangdai zhongguo yu shijie yanjiu yuan) summarized Russia's external propaganda strategy as having two main parts. The first was to "express Russia's views, perspectives, and positions" using international media platforms such as RT and the establishment of norms-setting organizations such as the Valdai International Debate Forum promoting an "independent, objective and scientific" understanding of Russia. The second would "display the Russian culture and national spirit" through the dissemination of domestic "patriotic films" and the hosting of large-scale international sporting events such as the 2014 Sochi Winter Olympics and the 2018 World Cup (Accws.org.cn, accessed April 5).
The paper concluded that although Russia's foreign propaganda could not "substantially change its relationship with Western countries, it is of great and far-reaching significance to Russia." In other words, the biggest success of Russia's external messaging would be its ability to boost the country's perceived global competitiveness and image in the eyes of domestic audiences. Wang Weijia (王维佳), a journalism professor at Peking University, argued that RT had been able to exploit the weakening of the U.S.'s foreign propaganda system in the wake of the Cold War to create "horizontal divisions in international communication" and establish an "opposition media" (反对派媒体, fandui pai meiti) that presented alternative viewpoints outside of mainstream (Western) public opinion (Guancha.cn, January 19, 2017).
A 2018 article published in the media industry magazine TV Guide (电视指南, dianshi zhinan) similarly held RT as a model for the development of "how emerging great powers improve their external communication power," ­and argued that its success in effectively challenging the "hegemony of Europe and the U.S. in the field of international news" showed that system and ideology should not preclude non-Western "late-comer" countries from achieving external propaganda successes. The authors concluded that Chinese media should learn from RT's integration of resources, more relaxed working environment, and vigorous use of new media (CNKI, accessed April 5). A June 2018 article in the Military Correspondent (军事记者, junshi jizhe) observed RT's "negative tendency" in its reporting on the U.S. in particular and its creative use of automated bots to disseminate information on social media. The author also noted that by "raising more questions," RT's international reporting differentiated itself from mainstream Western media, and concluded that in the face of aggressive Western propaganda, presenting multiple angles helped the international audience to understand "alternative and different views of the world" (81.cn, June 14, 2018). For context, the Russian media expert Peter Pomerantsov has called such tactics a "propaganda of unreality" and "firehose of falsehood" (MIT, October 23, 2019).
The China-Russia Internet Media Cloud Forum
To promote cooperation and exchanges on information security and external messaging, China and Russia have held an annual joint Internet Media Cloud Forum since 2016. The most recent event took place on December 18, 2020, and featured keynote speeches by the editor-in-chief of China Daily, the chairman of the China Internet Development Foundation (a government-organized industry group), and the Russian Deputy Minister of Digital Development, Communications and Mass Media (Xinhua, December 19, 2020). Forum attendees discussed strengthening Sino-Russian cooperation using new information technologies, including artificial intelligence, big data, and 5G, and working together to improve international discourse power. They also discussed strengthening media cooperation through the creation of media innovation research centers and talent exchange products (China Daily, December 19, 2020).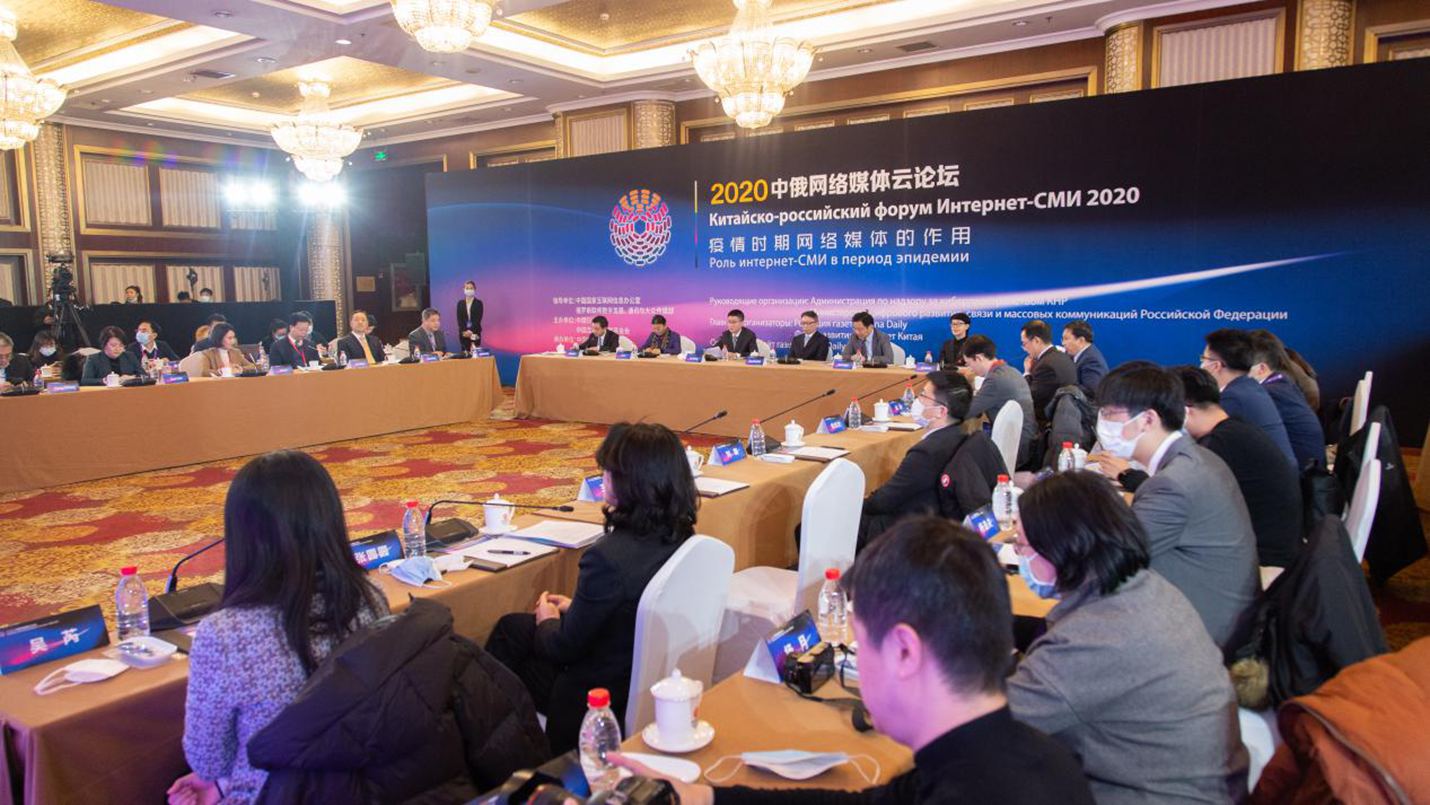 Conclusion
A recent study by the Center for European Policy Analysis (CEPA) found limited cooperation agreements between Chinese and Russian state media and the circular amplification of disinformation narratives during the pandemic, but concluded that the available evidence did not (yet) amount to evidence of strategic Sino-Russian media coordination (CEPA, March 15). Meanwhile, the intelligence experts Jean-Baptiste Jeangène Vilmer and Paul Charon have argued that because, broadly speaking, Russia operates as a rogue in the international sphere while China is a peer, disinformation researchers should not apply the Russian model to Chinese activities too enthusiastically. Among other differences, China has so far avoided tactics like hack-and-leak operations and has primarily focused on image-centric positive messaging to shore up its international reputation, while more narrowly targeting the so-called "five poisons" (aka: Taiwan, Tibet, Xinjiang, Falun Gong, and pro-democracy activists, 五毒, wudu) and the Chinese diaspora. Instead Jeangène Vilmer and Charon suggest that, despite some signs of the "russianization" of Chinese information operations, the two countries' different approaches to information warfare should be viewed as: "Russia as a hurricane, China as climate change" (War on the Rocks, January 21, 2020). Camille François, Chief Innovation Officer at the disinformation research firm Graphika, has also argued that broadly applying a so-called "Russian playbook" trope to describe information operations risks obscuring "a complex and evolving network of actors and techniques" that continuously experiment, evolve and adapt (Lawfare, September 15, 2020).
Although both states view information control as a key strategic issue, they have different institutional frameworks and different approaches to controlling information domestically. At the same time, Chinese researchers show a willingness to closely learn from Russian external propaganda and a strong sense of shared adversity against the "hegemony of Western propaganda." They have taken a particularly close look at the success of RT to present "alternative" views to global audiences—particularly in the developing world. And as both countries dramatically expanded disinformation operations over the last year, they have also signaled a deepening of their quasi-alliance and a desire to cooperate in leveraging "new opportunities" presented by the COVID-19 pandemic (163.com, January 8). For this reason, it is worth taking a closer look at the specific lessons that China is choosing to learn from Russia's external propaganda. 
Elizabeth Chen is the editor of China Brief. For any comments, queries, or submissions, feel free to reach out to her at: cbeditor@jamestown.org.
Notes
[1] For examples, see: Zhao Xiaohang (赵晓航), "'RT' Television Platform's External Propaganda Strategy, ["今日俄罗斯" 电视台的对外传播策略]" National Institute of Strategic Communication, Peking University [北京大学国家战略传播研究院], February 3, 2016, https://www.360doc.com/content/16/0203/18/30529733_532536895.shtml; Guo Jinfeng (郭金峰), "Russian Media External Propaganda Strategy Research—Taking RT As an Example [俄罗斯媒体国际传播策略研究—以RT电视台位列], Social Sciences Abroad [国外社会科学], 4, 2020, https://www.ssaj.org.cn/UploadFile/Issue/hqvwk3c1.pdf; "Russian External Messaging and Propaganda's Experience and Lessons Learned," [俄罗斯对外舆论传播的经验与借鉴], April 14, 2020, https://fjlib.net/zt/fjstsgjcxx/zbzl/rdzt/202004/t20200414_432091.htm.    
[2] For more details on the history of China's media transformation, see: Jiang Fei (姜飞), Zhang Nan (张楠), "The Three Waves of Chinese External Propaganda (1978-2019)[中国对外传播的三次浪潮 (1978-2019)], November 6, 2019, Global Media Journal (全球传媒学刊), https://www.huxiu.com/article/325011.html.