China-Myanmar Economic Corridor Ambitions Meet Hard Reality
Publication: China Brief Volume: 18 Issue: 15
By: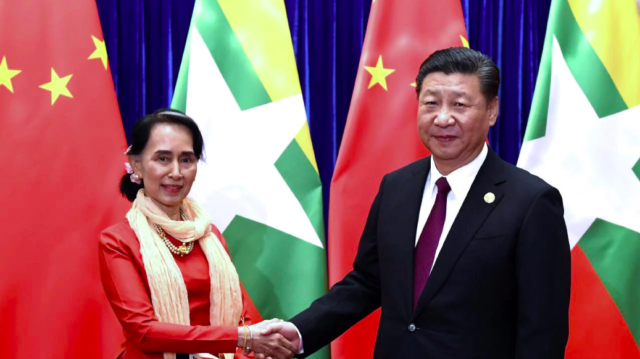 China and Myanmar have been widely expected to sign a 15-point Memorandum of Understanding on the China-Myanmar Economic Corridor by the end of this year (Global Times, June 26). However, this mega project, a key component of China's Belt and Road Initiative (BRI), may have hit a rough patch. Apprehensive over being saddled with massive debt that it may not be able to pay, the Myanmar government is considering scaling down one of the project's central elements over concern it will land the country in the sort of 'debt trap' that has ensnared other sovereign borrowers from the PRC (Myanmar Times, July 12). A recent study warns of "potential local resistance" to Chinese projects if "investment strategies do not consider the local context carefully" (The Irrawaddy, June 22). The CMEC may also exacerbate ethnic conflict in a country already riven by serious inter-ethnic strife.
CMEC's Significance
An Indian Ocean littoral state, Myanmar provides China with overland access to the sea. Its position within the larger BRI schema is therefore unique; it is the only BRI participant—other than Pakistan—that is part of both the 21st Century Maritime Silk Road and the Silk Road Economic Belt, the BRI's main overland and sea-going legs, respectively. The China-Myanmar Economic Corridor (CMEC) is planned to run from Kunming in China's Yunnan province, cross the Sino-Myanmar border at Muse and continue to Mandalay, where it will split into two. One section will run westward to Kyaukpyu on the Bay of Bengal in Rakhine state, while the other will run south to Yangon. The route to and from Kyaukpyu port runs parallel to gas and oil pipelines built by China that have been operational since 2013 and 2017, respectively. Although they were planned prior to the BRI's rollout, like many PRC projects overseas they have been rebranded as part of the Belt and Road (Xinhuanet, May 10, 2017).
The CMEC is of considerable economic and strategic significance to China. The Kyaukpyu link with the Indian Ocean cuts 5,000 km off the travel distance for shipments from Africa, West Asia and South Asia to China. Both it and the Yangon link are expected to facilitate China's oil and other trade with Africa and West Asia, and to boost the economy of underdeveloped and landlocked Yunnan Province, which borders Myanmar. Importantly, CMEC would also enable Chinese ships and oil tankers to bypass the Malacca Straits, making it more difficult for potential adversaries to squeeze China's oil supply by blocking the Straits during a conflict.
The government of Myanmar views participation in the BRI and the CMEC as an opportunity for the country to modernize its decrepit infrastructure. Many local and international businesses based in Myanmar have likewise welcomed the CMEC (Myanmar Times, June 7, 2017). As a part of the BRI, China will extend Myanmar "much-needed funds" for developing its infrastructure. Besides, with the "promised investment by Western businesses not materializing" and Myanmar's handling of the Rohingya conflict deepening the West's reluctance to invest in Myanmar, "the value of Chinese funding to Myanmar under the BRI has grown," according to an Indian businessman based in Yangon [1].
Chinese Approach
Despite obvious reasons for optimism, according to Khin Khin Kyaw Kyee, lead researcher at the Institute for Strategy and Policy – Myanmar, many in Myanmar have "mixed feelings" about CMEC. While they "welcome investment in infrastructure," they are concerned about "the negative consequences of massive development projects" envisaged under BRI, she said, pointing to the "poor record" of China's previous investments in Myanmar [2].
Indeed, to date non-consultation and exclusion of local communities from the benefits of projects have been the hallmark of many major Chinese investment projects in Myanmar. Farmers in Rakhine—a state on Myanmar's northwest coast home to the country's persecuted Rohingya minority, among others—are protesting environmental damage to their land by a China-backed oil pipeline (Economic Times, July 9). Protests also greeted the $3.6 billion Myitsone hydropower project, an enormous dam that was planned for Kachin State, near Myanmar's northern border with China. Even as it deprived local farmers and fishing communities of their livelihoods, 90% of the dam's power generated was to be sent to China. Myitsone triggered mass protests that forced the Thein Sein government to suspend the project in 2011. The project was so unpopular that the mere discussion of its revival imperiled the survival of the ruling coalition in 2016 (The Irrawaddy, October 20, 2016).
Apprehensions over Debt and Sovereignty
Kyaukpyu has triggered similar apprehensions over sovereignty, control, and indebtedness to China. The project has two components: a deep-sea port and a 1,000-acre industrial park. The cost of the port was originally pegged at $7.3 billion, versus $2.7 billion for the industrial park.
The price tag for the port project has been described as "artificially high" (The Irrawaddy, June 8). Experts have questioned whether Myanmar needs such costly projects. Sean Turnell, an economic advisor to Myanmar's State Counselor Aung San Suu Kyi observed recently that the cost for development of Kyaukpyu port was "way, way, way beyond what [Myanmar] needs" (Myanmar Times, June 13).
Myanmar's government is concerned about the large loans that such a massive port project would entail. The country's external debt at the end of 2017 was $9.1 billion, 41% of which is owed to Beijing (The Irrawaddy, July 10). Although at present the debt load is relatively manageable (total government spending was $13.4 billion in 2017 alone), it could grow enormously were CMEC to proceed in its original form.
Myanmar's government has no desire to repeat the mistakes of other countries that have borrowed heavily from China. Sri Lanka's experience with the China-built Hambantota port has been followed closely in Myanmar. Colombo borrowed heavily from China for the Hambantota port's construction, and, unable to afford loan repayments, ended up handing over the port to the Chinese on a 99-year lease. Myanmar fears a default on its part could lead to a similar outcome with Kyaukpyu (The Irrawaddy, June 8).
This fear has prompted Myanmar to scale down the size of the Kyaukpyu project. Myanmar officials are in talks with a Chinese consortium led by state-owned investment company Citic Group to reduce the project's original $7.3 billion pricetag to $1.3 billion. The revised port project would include two berths instead of the originally proposed ten (Sina, August 3).
CMEC and Myanmar's Conflicts
While many of Myanmar's concerns about CMEC center around the potential for unsustainable debt, on the Chinese side it is threats to the security of PRC workers and Chinese-built infrastructure that could potentially hamper cooperation. Kyaukpyu is located in the restive Rakhine state, and although the mega-project is not in the Rohingya conflict zone, the potential threat that Rohingya militants pose to the Kyaukpyu infrastructure cannot be easily dismissed. The magnitude of such a threat would increase if Rohingya militants established links with Uighur militants or Islamic State jihadists.
China is also apprehensive over the security of infrastructure along the corridor, which runs through strife-torn areas like the Kachin and Shan states. The Muse-Mandalay highway, which China is upgrading, is critical to CMEC's success. However, clashes between Myanmar's military and the Northern Alliance (an umbrella organization of armed groups that did not participate in Myanmar's 2015 nationwide ceasefire agreement [NCA]) have disrupted trade on this road (Frontier Myanmar, June 16, 2017).
To ensure stability and security, especially in the Sino-Myanmar border regions and in Rakhine State, China has taken on a role as a mediator in Myanmar's numerous internal conflicts. In November 2017, for instance, China put forward a three-phase plan for ending the Rohingya refugee crisis and restoring stability in the region (China Brief, November 22, 2017). It has also contributed to the reconstruction effort by setting up poverty alleviation projects in Myanmar, and is working towards repatriation of Rohingya refugees who had fled to Bangladesh (Global Times, April 2; Global Times, June 29).
China is also involved in the NCA peace process. According to Myanmar officials, Beijing is pushing the Myanmar government to keep the ceasefire alive. Simultaneously, it is talking to the armed groups outside the NCA, such as the Arakan Army, the Kachin Independence Army and the United Wa State Army (USWA), and also hosting secret talks between the Myanmar military and the armed militias on Chinese soil (Frontier Myanmar, March 16).
A Peaceful Corridor?
China often portrays BRI as "a road for peace" (Xinhuanet, May 14, 2017). But analysts in Myanmar doubt that CMEC will bring peace to their country.
"CMEC will have huge implications for the Myanmar peace process," observes Khin Khin Kyaw Kyee. Its projects "extend across many of Myanmar's conflict-sensitive areas and affect the livelihood of local people," she says, warning that if the projects exclude locals, they could deepen existing conflicts, and trigger new ones "by enlarging the grievances of local communities."
Conversely, a deeper PRC involvement in the peacemaking process could also be beneficial. Describing China's efforts in the ceasefire agreement as "a positive development," Khin Khin Kyaw Kyee, however, noted that "an NCA brought about through pressure from an external party would not be conducive to ushering in long-term peace."
However, China's approach to peacemaking in Myanmar is deeply problematic in some ways. Third-party peace-brokers are more likely to be successful when they do not have vested interest in the outcome of the peace process, but China is deeply invested in the outcome in Myanmar. Importantly, it appears to be more interested in stability than in tackling the underlying causes of the conflict and building a sustainable peace.
Additionally, China has taken sides in conflicts in Myanmar, instead of behaving as a disinterested mediator. It has "strongly welcomed" the Myanmar government's brutal crackdowns in Rakhine, describing these as "counterattacks" against Rohingya "extremist terrorists" (The Global New Light of Myanmar, September 14, 2017). It is also known to supply weapons to outfits such as the USWA, which is made up largely of ethnically Chinese members, and whose leadership contains numerous individuals from mainland China. China has not been shy about using its ties with the ethnic militias to pressure Myanmar's government. The possibility of Beijing using such pressure to wring concessions from Myanmar on issues relating to CMEC cannot therefore be ruled out.
The Way Forward

Clearly, Myanmar is deeply skeptical about the benefits that CMEC will bring its people. "Transparency, accountability and public participation in decision-making are key to CMEC's success," says Khin Khin Kyaw Kyee. Importantly, CMEC "should not be supply driven" or focused on what China wants but should be demand driven or based on what Myanmar needs.
CMEC's journey is unlikely to be easy or smooth. Myanmar's troubles with CMEC mirror many of the issues China faces with BRI investment other countries. As with elsewhere, China may have the capital to spend on infrastructure in Myanmar, but it needs to adjust its approach and be more sensitive to needs and grievances on the ground if it wants CMEC to succeed.
Dr. Sudha Ramachandran is an independent researcher and journalist based in Bengaluru, India. She has written extensively on South Asian peace and conflict, political and security issues for The Diplomat, Asia Times and Jamestown Foundation's Terrorism Monitor.
Notes
[1] Author Interview with an Indian businessman, Yangon, August 25.

[2] Author Interview with Khin Khin Kyaw Kyee, lead researcher at the Institute for Strategy and Policy – Myanmar, August 14.