China Showcases Expeditionary Military Power in Peace Mission 2010
Publication: Eurasia Daily Monitor Volume: 7 Issue: 174
By: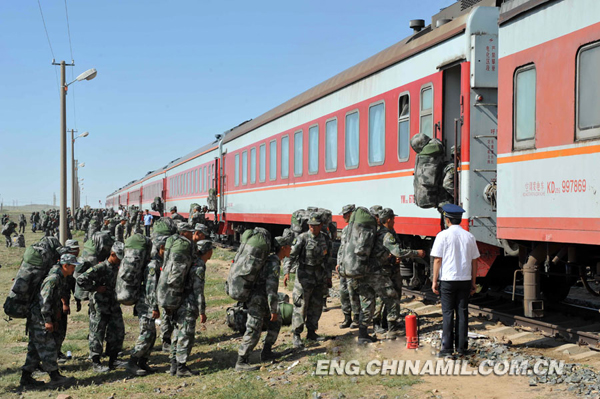 On September 9-25, Kazakhstan hosted the Shanghai Cooperation Organization (SCO) Peace Mission 2010 military exercise, at the Matybulak training range in Zhambyl region, designed to showcase the organization's capabilities against extremism, separatism and terrorism. Among its member states (China, Kazakhstan, Kyrgyzstan, Russia, Tajikistan and Uzbekistan) one country (Uzbekistan) has frequently chosen only to participate symbolically by sending officers to the command post exercise; Tashkent rejected any level of participation in Peace Mission 2010 mirroring the manner in which Uzbek non-participation in key aspects of the Collective Security Treaty Organization (CSTO) exposed the limits of multilateral consensus within that organization (ITAR-TASS, September 9). Nevertheless, despite Uzbek non-participation, Peace Mission 2010 assembled 5,000 servicemen, aimed at displaying advances in the series of exercises and portraying the SCO as an organization with the potential to counteract emerging security challenges on the territories of members.
The various vignettes that formed the overall scenario centered upon neutralizing terrorist formations, while the extent of equipment, firepower and weapons systems used appeared contradictory. General Chen Bingde, the Chief of the General Staff of the Chinese People's Liberation Army (PLA), told a press conference that the SCO is not a military bloc and that the exercise was not aimed against any country. As the exercise entered its second phase on September 13, it became clear that the joint command concentrated on improving the coordination of forces and enhancing the effectiveness of its command and control capabilities. In its final active phase, combat readiness, urban warfare, deploying reservists, combat conducted at night involving raids on "enemy bases" featured among the efforts to demonstrate a higher level of antiterrorist cooperation at strategic and tactical levels (Xinhua, September 25).
On September 24, Russian defense ministry controlled Zvezda TV, showed footage of the exercise which exemplified the dichotomy between the forces used and the unfolding "counter-terrorist" scenario: Su-25 fighter jets, soldiers in trenches, use of an antiaircraft missile system (Strela), commanders at an observation post, tank maneuvers, all apparently aimed at encircling a town to block the escape route of the "terrorists." It appears that the exercise scenario in this instance envisaged the arrival of several massive groups of militants supported by "combat aviation," gradually penetrating the territory of an SCO member state. Moreover, on September 22, Zvezda TV broadcast footage of a combined "massive strike" against "terrorists" using airpower and missiles launched from the Russian Tochka U complex (Zvezda TV, September 22, 24).
The two most powerful SCO members, China and Russia, emphasized different aspects of the exercise which revealed nuances between Beijing and Moscow in terms of their use of military power. Russian Defense Minister, Anatoliy Serdyukov, while noting that the scenario followed the most probable events that might result from a SCO intervention in Central Asia, singled out the teamwork of the "group of forces" and said the results of the exercise would be thoroughly assessed. Serdyukov stressed that the threat of terrorism in Central Asia meant that SCO members needed to act jointly, "Terrorism has become a transnational crime, so we must pool our efforts," the Defense Minister said (ITAR-TASS, September 24; Interfax, September 25).
Senior Chinese officials stressed the importance of the exercise, sending a clear signal to potential enemies designed to intimidate and show the unity of action that would ensue from the SCO during a real crisis. However, Chinese defense officials said that the Peace Mission provided an opportunity to conduct joint training, suggesting a stratified approach to the strategic nature of the exercises allowing all players to pursue extra-organizational interests (ITAR-TASS, September 24).
Indeed, Chinese defense officials highlighted the invaluable experience gained by the PLA in carrying out long-haul rail transportation of troops, involving changing trains, loading and unloading equipment, as well as successfully switching between the rail track gauges on either side of the Sino-Kazakh border (2.98 meters in China, 2.87 meters in Kazakhstan). The PLA, for instance, built two 80 ton top-fixed platforms at the Alashankou checkpoint on the Chinese border with Kazakhstan to facilitate the movement of tanks and other armored vehicles. All train carriages were air-conditioned, and each contingent of troop carriages had an attached dining carriage (Xinhua, September 22).
Chinese sources noted that the legal basis for these exercises has developed incrementally since 2005, when a bilateral agreement was signed between Beijing and Moscow allowing the temporary deployment of forces from either country on their territory for the duration of an exercise. In June 2007, SCO defense ministers signed an agreement on future joint military exercises. Each Peace Mission followed a predictable pattern of being conducted in three stages progressing from planning to live firing. At the military level, further improvements have occurred during the Peace Mission exercises in recent years, principally in command and control, logistics, including replacing field tents with temporary barracks, and tactical engagements more closely matched to real combat scenarios (Xinhua, September 22).
Equally, across a range of indicators, Peace Mission 2010 exposed the widening gap between the conventional armed forces of China and Russia, and especially the former's capability to conduct expeditionary operations. Comparing PLA and Russian strategic military exercises over the past three years, it is clear that the PLA can move troops over large distances mush faster, outperforming their Russian counterparts in the areas of logistics, planning, coordinated action, use of airpower and possessing network centric options currently lacking in the "new look" Russian military. Peace Mission 2010 underscored these growing disparities providing a subtext for allowing China to showcase its ability to intervene in Central Asia at a level unmatched by Russia. Nowhere was this more obvious than in the high profile and unparalleled demonstration of Chinese strategic airpower during the exercise.
Xinhua boasted that the non-stop flight of Chinese fighters and bombers, during Peace Mission 2010, taking off from airbases in Urumqi, in western China and returning after conducting air operations in Kazakhstan, was the first of its kind (Xinhua, September 20). At 9:00 a.m. on September 20, six aircraft, four H-6H bombers and two J-10 fighters, supported by an early warning aircraft and refueled in mid-air, crossed into Kazakh airspace to simulate cross border precision airstrikes. They were tasked with conducting long-distance "sudden strikes" during the SCO exercise. Major-General Meng Guoping, the Deputy Commander of the PLA forces participating in the exercise, explained that the Chinese air force (PLAAF) is developing an integrated air battle group encompassing early warning, command, long-distance bombing, escort and air refueling. Therefore, the SCO exercise was utilized as an opportunity to test this capability. Later on the same day, a second batch from the PLAAF carried out joint maneuvers with the Russian and Kazakh air forces. However, the simulated cross border air strikes were a milestone in the demonstration of Chinese airpower and highlighted China's growing capability to rapidly intervene during a future crisis in Central Asia (Jiefangjun Bao, September 23).