China Takes Steps Toward Realizing Silk Road Ambitions
Publication: China Brief Volume: 14 Issue: 11
By: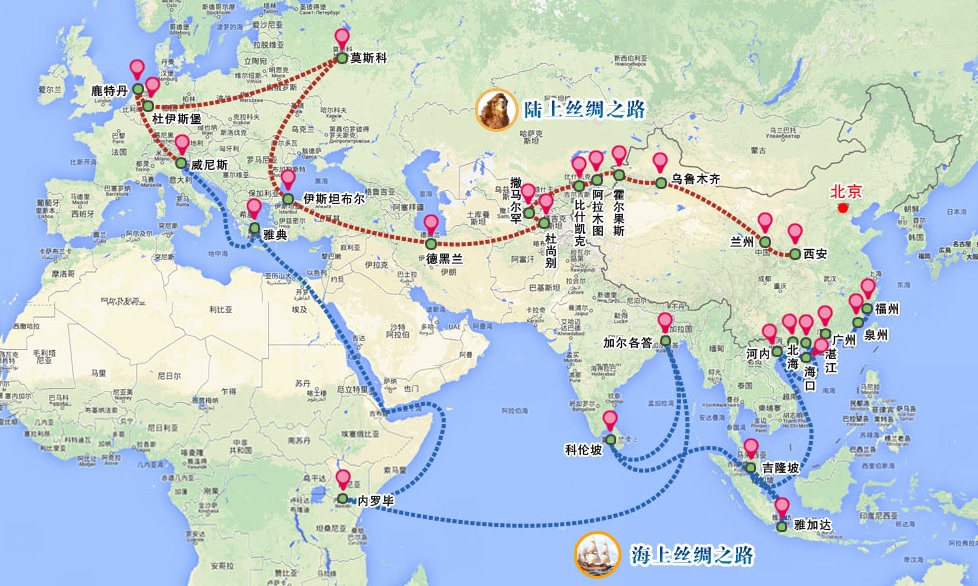 China's vision for a new "Silk Road economic belt," as recently announced by Xinhua, is establishing regional integration around China as an attractive economic direction for Central Asian countries. With a series of strategic agreements between Chinese President Xi Jinping and leaders of central Asian countries inked over the last month, the vision for the land- and sea-based Silk Roads is fast becoming reality. As a key component of China's diplomacy, Beijing is careful to ensure that its bilateral agreements with Central Asian leaders have multilateral implications. Not only are Central Asian states drawing closer to one another, but Beijing's Silk Road strategy will ultimately link three continents, generating geopolitical reverberations around the world.
Little detail is known about China's plans for two Silk Roads. Official maps highlight Beijing's aspirations of an east-west trade route that will reinvigorate Chinese historical and cultural legacies while spreading awareness of China's friendly policies towards its neighbors (Xinhua, May 8). According a map published by Xinhua, the land-based Silk Road Economic Belt will begin in Xi'an, stretching west through Lanzhou, Urumqi, and Khorgas before running southwest across Central Asia, the Middle East and Europe where it will meet up with the maritime Silk Road in Venice (Sohu, May 2014). The sea-based Maritime Silk Road, hitting Quanzhou, Guangzhou, Beihai, and Haikou en route to the Malacca Strait and Indian Ocean, will traverse the Horn of Africa before entering the Red Sea and Mediterranean. Once complete, the Silk Roads will bring "new opportunities and a new future to China and every country along the road that it is seeking to develop."
China's recent shift in focus toward countries along the new Silk Road route offer clues to better understanding what exactly the Silk Roads entail. Russian President Vladimir Putin's trip to China last week was the capstone of weeks of strategic agreements for Beijing. The successes of Putin's meetings with Chinese President Xi Jinping in Shanghai—most notably a $400 billion gas deal to transport thirty-eight billion cubic meters of gas yearly into China beginning in 2018—were preceded by equally significant meetings between Chinese leadership and their counterparts from Turkmenistan, Kazakhstan and Azerbaijan. These bilateral meetings point to Beijing's commitment to the development of the Silk Road economic belt; taken in sum, they are a major step toward making China's Silk Road economic belt more than just talk.
In the lead up to the Shanghai Summit of the Conference on Interaction and Confidence Building Measures in Asia (CICA) the first central Asian leader to signal the strategic depth of central Asia's ties with China was Turkmenistan's President, Kurbanguly Berdymukhamedov. One week before Berdymukhamedov's mid-May visit to China, China opened a new $600 million processing plant at Bagtyarlyk gas field, the location of a 4,375 mile China-bound pipeline (Reuters, May 7). Turkmenistan's gas exports to China have increased in recent years, with officials aiming to reach 40 billion cubic meters by 2016 thanks to China's financial backing of Bagtyarlyk. Upon arriving in China, Mr. Berdymukhamedov signed a gamut of deals with Beijing, formalizing Turkmenistan's ascension as the last central Asian nation to sign onto a "strategic partnership" with Beijing (EurasiaNet, May 13). The two countries agreed to strengthen cooperation in areas ranging from natural gas extraction to cross-border infrastructure development and cultural exchanges (Xinhua, May 13).
Next to have a strategic tête-à-tête with President Xi was Kazakhstan's President Nursultan Nazarbayev. Like his Turkmen counterpart, Nazarnbayev signed a series of energy agreements and agreed to further strengthen bilateral security cooperation, with particular attention to the situation in Afghanistan (Xinhua, May 19). In addition to mutual support for the peace, stability, and development of both Afghanistan and the region, Nazarbayev expressed Kazakhstan's enthusiasm for providing energy support to China's economic development, welcoming any resulting Chinese investment in his country (PRC Ministry of Foreign Affairs, May 19). Memorandums of understanding were signed between China's ExIm Bank, China National Petroleum Corporation (CNPC), and state-owned investment company CITIC Group for development loans and pipeline construction (Azernews, May 20). China even reiterated an interest in helping Kazakhstan acquire warships (EurasiaNet, May 24).
A day before China signed nearly fifty agreements with Russian President Vladimir Putin, Xi met with Azerbaijan's President Llham Aliyev to ink deals on energy, infrastructure, technology and banking (Azernews, May 22). Azerbaijan, like the other central Asian nations, is a key transit country linking Asia to Europe. Azerbaijan is currently building the largest port on the Caspian Sea, the International Trade Seaport, in Alat near Baku. Once complete, this port will increase the volume of cargo ultimately to 20 million tons per year, no small number for Chinese eying markets in Europe and elsewhere.
With this series of meetings and strategic agreements in mind, it is hardly surprising that Putin continued his pivot eastward, pushing through the Gazprom-CNPC deal and 49 other agreements with Beijing (China Daily Europe Online, May 21). Were Putin to have declined agreements with the Chinese on trade and economic issues, in particular, he would have effectively been cutting off Russian access to the Silk Road economic belt. Now, Beijing and Moscow are positioned to increase bilateral trade to $100 billion by 2015 (and $200 billion by 2020) as well as expand local currency settlement and cross-border investment and deepen mutually beneficial macroeconomic policies.
Beijing's agreements with Turkmenistan, Kazakhstan, Azerbaijan and Russia, are exactly what is needed to make the Silk Road economic belt a reality for China. For Beijing, the economic belt leverages regional energy cooperation to ensure energy security, sustainable economic growth and to fight against threats to Chinese domestic stability (Xinhua, May 25; Huanqiu, May 21). Bilateral agreements between Beijing and the Central Asian states require that each country cooperate with its neighbors, particularly in the energy sector. Now, Central Asian capitals will be looking at their neighbors in supporting the development of the new Silk Road, as dictated by Beijing. So while these Central Asian countries have successfully signed on to a spectrum of economically enriching deals with Beijing, they have also become game pieces in China's overarching Silk Road grand strategy.
Thus, as the new Silk Roads continue to develop, it is probable Russian and Central Asian focus will continue to look east—these countries would face crippling economic losses otherwise. Trade routes linking three continents, once complete, will challenge both the longevity of the Eurasian economic zone as well as preexisting North American trade networks. Clearly, China's aspirations for a land- and sea-based Silk Road should no longer be thought of as merely another round of orations from Chinese leadership. Bilateral agreements from the past month show that China is making fast progress on its development of the Silk Road vision and offer opportunity for better interpreting what the Silk Roads will ultimately do.