China's Contribution to Peacekeeping Operations: Understanding the Numbers
Publication: China Brief Volume: 16 Issue: 18
By: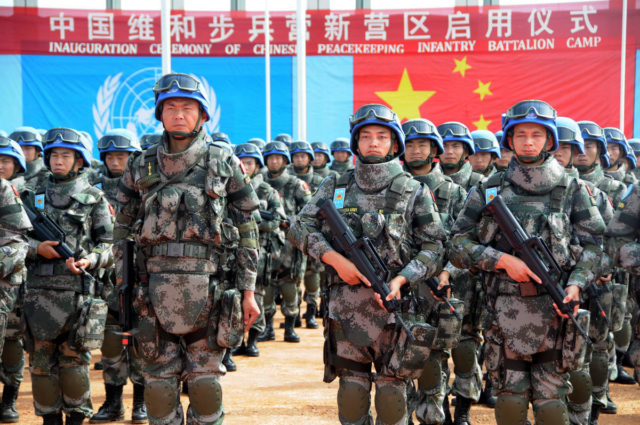 China's participation in UN Peacekeeping Operations (PKO) has received considerable media attention for the past several years as Beijing's international profile has expanded. To be sure, of the five permanent members of the UN Security Council (UNSC), China contributes the largest number of military and civilian personnel to these missions. According to UN statistics as of August 31, 2016, China provides 2,436 troops, 30 military experts, and 173 police for a total of 2,639 personnel out of just over 100,000 uniformed and civilian personnel from all countries performing PKO duties. [1] But this is not a new development and when the details below these surface numbers are examined, it becomes clear that, with the help of the foreign media, Beijing has garnered maximum political and propaganda value from a minimal investment in personnel and money.
This is Not New
Despite recent media headlines, China has been the largest contributor among the five UNSC members for well over a decade. China attained that position in March 2004 when it contributed more personnel than the previous UN Permanent Five leaders, the United Kingdom and United States. At that point Chinese personnel numbered 648 compared to 577 for the UK, 482 for the US, 330 for France, and 320 for Russia. Though numbers vary from month to month, the overall trend is clear as Chinese contributions have roughly quadrupled in size over the past 12 years while numbers for the UK and US have fallen to 337 and 68, respectively.
Though China may lead among the Permanent Five members, it currently ranks number 12 among all contributors to UN PKO missions, following Ethiopia, India, Pakistan, Bangladesh, Rwanda, Nepal, Senegal, Burkina Faso, Ghana, Egypt, and Indonesia. The top five contributors each provide more than twice as many personnel as does China, with Ethiopia's total of 8,326 being more than three times China's contribution. As such, China's participation is important and welcomed, but not essential in manning the UN's PKO force.
Overall, China provides about three percent of the total UN PKO force and participates in 11 of the UN's 16 missions. People's Liberation Army (PLA) troops presently are dispatched on six missions: 397 in Mali (MINUSMA), 219 in the Congo (MONUSCO), 230 in Darfur (UNAMID), 412 in Lebanon (UNIFIL), 127 in Liberia (UNMIL), and 1,051 in South Sudan (UNMISS). Chinese police take part in three missions and Military Observers/"Experts on Mission" are found in six missions. Military, observers, and police personnel are combined in three of the total 11 missions (UN, August 3).
Analysis of each individual mission to which China contributes indicates it does not provide the majority of troops to any of them. For example, even the largest PLA contingent of over 1,000 personnel in South Sudan is less than eight percent of the total number of 13,723 military personnel assigned to that mission. In all other cases, China's contributions are an even smaller proportion of the total force. As significant and important as they may be, the success any of individual UN PKO mission does not depend on PLA involvement.
PKO and MOOTW
The Chinese government is understandably proud of its work in this area and publicizes China's contributions in its internal and the international media. For example, in April 2015 the Chinese Defense Ministry predicted, "By the end of 2015, the total number of Chinese peacekeepers will increase to 3,100 from the present 2,700, and China will rise to the 7th position in the 121 contributing countries of UN peacekeeping operations from the current 11th" (MOD, April 8, 2015). A noble goal indeed, and UN statistics show it almost achieved those marks in December 2015 with a total personnel contribution of 3,045 and an overall ranking of number nine, but by June 2016 its numbers dipped below 3,000.
President Xi Jinping also attracted a lot of attention when he announced at a meeting of the UN General Assembly in September 2015 that, "China will contribute 8,000 troops for a United Nations peacekeeping standby force" (Reuters, September 28, 2015). However, no details of who would man that force and exactly what it will do were released publically. A year later, the Defense Ministry spokesman could only report that China was still in the process of registering these 8,000 personnel (ChinaMil, September 30). Whatever the status and mission of that 8,000 standby force actually turns out to be, it is not the same as "raising [the number Chinese peacekeepers] to 8,000" as has been reported by some foreign media (see for example, Financial Times, November 22).
Nonetheless, for the past decade the Chinese government and military have been serious in their commitment to supporting UN peacekeeping operations. PKO missions are considered among several other tasks the PLA categorizes as "non-traditional security" or "military operations other than war" (also known as MOOTW). According to the 2013 edition of The Science of Military Strategy published by the Chinese Academy of Military Science, MOOTW is now considered to be one of the three basic ways to use force along with warfighting and military deterrence. [2] In addition to the political benefits accrued by the Chinese government, the PLA senior leadership obviously sees military benefit to having its forces participate in UN PKO missions and other "non-traditional security" tasks.
A Very Small Percentage of the PLA Conducts PKO Missions
Even with the growth in Chinese participation to UN PKO missions over the past decade, the total number of PLA personnel deployed at any one time is an extremely small fraction the total force: between 2,600 and 3,000 or roughly one-tenth of one percent of the 2.3 million active duty force. (After the on-going 300,000-man reduction is completed, if the numbers of soldiers on PKO remains approximately the same, that percentage will rise to about .12 percent). The overwhelming majority of personnel sent on PKO missions have been from the Army and many officers and noncommissioned officers have conducted multiple PKO deployments.
In the 1990s the PLA designated an engineer brigade located in Beijing to be the primary unit for PKO missions. In 2002, the PLA committed itself to provide one standard UN engineering battalion, one standard UN level II hospital, and two standard UN transport companies to these operations. The Chinese government soon thereafter, however, volunteered for missions far beyond that level of commitment. As China's participation expanded, Army units from most of the country (except from the former Nanjing and Guangzhou Military Regions) were tasked to participate in these high-profile missions. For example, units from the Shenyang Military Region's 16th and 39th Group Armies provide troops to the mission to Mali; units from the Beijing Military Region, including the 27th and 38th Group Armies, have provided units for the missions in Liberia, Congo, and South Sudan; Lanzhou Military Region's 21st GA and Xinjiang Military District units have also provided units for the Congo; elements from Yunnan and the 13th and 14th Group Armies have been sent to Lebanon; and all group armies from the former Jinan Military Region, plus most recently the 65th Group Army, have participated in deployments to Sudan, South Sudan, or Darfur.
The vast majority of units and personnel deployed to UN PKO missions have been from engineering, transport, and medical units. Their main tasks have been to construct and maintain infrastructure, such as roads, bridges, airports, water, and power facilities, perform mine clearing activities, and provide medical (including sanitation and epidemic prevention operations), search, rescue, and evacuation, and logistics support in their mission areas. While they are authorized to protect themselves if attacked, most deployed troops have not been combat troops.
However, in January 2012 the PLA sent a "security unit," likely an infantry platoon (of about 50 men) from the 162nd Motorized Infantry Division of the 54th Group Army in the former Jinan Military Region to South Sudan. [3] In late 2013 it deployed a "guard detachment," a company-size unit of 170 personnel, from the Shenyang Military Region to Mali (MOD, April 10, 2015). These units were tasked to protect other Chinese peacekeepers and protect their field base locations. One Chinese peacekeeper was killed and five other soldiers were wounded (all from the 16th Group Army) in Mali after a car bomb attack on May 31 (ChinaMil, June 3).
In December 2014, the Army deployed its first infantry battalion to the South Sudan. This 700-strong force was actually a composite force composed of personnel from a motorized infantry brigade in the 26th Group Army and two companies from a division of the 54th Group Army both in the Jinan Military Region (ChinaMil, December 23, 2014). Under the UNMISS mandate, the battalion's main mission is to "protect civilians, UN personnel and facilities, protection of humanitarian relief operations and support [Intergovernmental Authority on Development] supervision verification and other tasks in the future as needed" (Sudan Tribune, December 26, 2014). The second rotation in December 2015 apparently was a combined arms infantry battalion, reinforced with armor, artillery, and reconnaissance units, of about 700 people from the 20th Group Army (ChinaMil, December 3, 2015). Two Chinese soldiers from this force were killed in during a fight between South Sudan government and anti-government forces in July 2016 (ChinaMil, September 8). After this incident, the UN conducted a review of the action and was critical of the PLA battalion commander's performance, which was due in part to a confused command relationship. More ominously, however, there were at least two instances in "which the Chinese battalion abandoned some of its defensive positions." No further details were released to the public. The Chinese Ministry of Defense spokesman denied the allegations. [4]
To date, whether they have been engineers, transportation, logistics, medical, or infantry forces, the PLA has deployed only small units (分队, fendui), from platoon to battalion size, and not larger units of regimental or brigade size. Oftentimes these small units are composite organizations composed of elements from multiple units and headquarters. Personnel and units spend several months training in preparation before deployment at their home bases, in military academies, or at the PLA's Peacekeeping Center in Huairou, established in 2009 (China Daily, June 29, 2009). [5]
Units usually deploy in multiple, sequential "batches" by commercial, not military, aircraft and use commercial ships to transport heavy equipment like armored personnel carriers and engineering bull dozers and earth movers. Tours of duty have been extended from 8–12 months. In October 2015, the PLA sent its first contingent of four helicopters and 140 personnel to the UN mission in South Sudan traveling by sea from the commercial Tianjin port to arrive in January (Xinhua, October 10).
PKO deployments have multiple benefits for the personnel and units involved and their higher headquarters. Engineering, logistics and medical units deployed on PKO perform functions similar to those that they may be tasked to undertake in combat. Combat forces conduct patrols, armed escort, and local security in a hostile environment. Deployed PLA forces receive UN scrutiny and the attention of the Chinese and foreign media. These tasks, in unfamiliar territory surrounded by locals who do not speak Chinese, challenge small unit leaders and give them, and their troops, confidence and a sense of esprit de corps when missions are accomplished successfully. By assigning PKO deployments to so many different units, the senior PLA leadership spreads out the opportunity for multiple higher level headquarters at corps and theater level to plan for, execute, and support overseas missions, still a relatively rare assignment for most of the PLA. At the strategic level, the PLA acquires intelligence on the areas it deploys forces, learns to interact with foreign militaries and non-governmental organizations, and burnishes its reputation as contributor to "peace and stability." Because of their UN-mandated missions, however, PLA forces generally are not tasked to protect Chinese citizens, commercial entities, and investments in these foreign lands.
Other Contributions to Peacekeeping Operations
The Chinese Ministry of National Defense Peacekeeping Affairs Office establishes policies, oversees PLA participation in UN PKO missions, and interacts with foreign governments and non-governmental organizations. The Central Military Commission's Joint Staff Department Operations Bureau Overseas Operations Office conducts the actual coordination of PKO activities (81.cn, March 31).
In addition to deploying units, China has assigned two senior officers to command PKO missions: Major General Zhao Jingmin served as commander of the troops of the UN Special Mission for the Referendum in Western Sahara in 2007 and Major General Liu Chao was appointed as commander of the UN Peacekeeping Force in Cyprus in 2011.
The Chinese government also contributes funds to PKO operations expenses. According the UN statistics, the U.S. is the largest contributor, providing 28.57 percent of UN PKO operating funds, followed by China at 10.29 percent, and Japan at 9.68 percent. In dollars, out of a total $7.87 billion budget for the fiscal year ending in June 2017, that amounts to about $2.25 billion for the US and about $810 million for China. As a side note, "Countries volunteering uniformed personnel to peacekeeping operations are reimbursed by the UN at a standard rate, approved by the General Assembly, of a little over $1,332 per soldier per month," which means China gets approximately $39 million back for its personnel contributions.
Conclusion
The PLA's contributions to UN PKO missions are an excellent example of the "Three Warfares," consisting of media (or public opinion) war, psychological warfare, and legal war, in practice. By participating in UN-mandated missions, the Chinese government can maintain it has a legal basis for its actions and is not violating its long-held national policy of non-interference in the internal affairs of other countries. Both China's own media and the foreign media report on these missions, especially if PLA forces receive accolades from the host country or UN officials and when PLA soldiers are killed or wounded in the performance of their duties. The level of media attention also permits the PLA to conduct psychological operations demonstrating its commitment to UN principles and the creation of a peaceful international environment.
Yet the number of PLA participants in UN PKO is miniscule compared to the overall size of the present and future PLA. While the units involved and their higher headquarters receive benefits from these missions, these experiences, for the most part, do not replicate actual combat experience and are distributed within an extremely limited subset of the entire PLA, mainly engineering and logistics forces. The number of infantry and other combat personnel deployed on all missions over the past four years probably amounts to less than 2,000 personnel. Likewise, the amount of funds the Chinese government contributes to these efforts (less than one billion dollars) is a minor fraction of overall government expenditures ($1.4 trillion in 2014) (theglobaleconomy.com, [Accessed November 25]).
Nevertheless, China gained significant propaganda value out of its minimal investment. The trends in Chinese participation in UN PKO missions have been evident for well over a decade. They are a significant element of the PLA's long-term modernization process, but need to be kept in proper perspective. While providing some PLA units the still comparatively infrequent opportunity to operate beyond the borders of China and enhancing the PLA's confidence in itself and its prestige both at home and abroad, peacekeeping missions do not substitute for the kind of warfighting experience necessary for future mid- or high-intensity combined arms and joint operations.
Dennis J. Blasko, Lieutenant Colonel, U.S. Army (Retired), is a former U.S. army attaché to Beijing and Hong Kong and author of The Chinese Army Today, second edition (Routledge, 2012).
Notes
Unless otherwise noted all statistics are drawn from UN publications available here: https://www.un.org/en/peacekeeping/resources/statistics/contributors.shtml, https://www.un.org/en/peacekeeping/resources/statistics/factsheet.shtml, https://www.un.org/en/peacekeeping/resources/statistics/contributors_archive.shtml, accessed November 25.
The 2001 edition of the book included only two "basic functions of the armed forces," warfighting and deterrence, so the addition of MOOTW is an important modification to previous doctrine.
Daniel Hartnett, "China's First Deployment of Combat Forces to a UN Peacekeeping Mission—South Sudan," US-China Economic and Security Review Commission, March 13, 2012. https://origin.www.uscc.gov/sites/default/files/Research/MEMO-PLA-PKO_final.pdf
"Executive Summary of the Independent Special Investigation into the violence which occurred in Juba in 2016 and UNMISS response," UN, November 1, 2016, https://www.un.org/News/dh/infocus/sudan/Public_Executive_Summary_on_the_Special_Investigation_Report_1_Nov_2016.pdf
Civilian police forces are trained at the China Peacekeeping Police Training Center in Langfang.