China's Development Plans in Xinjiang Threaten Kazakhstan's Water Security
Publication: Eurasia Daily Monitor Volume: 10 Issue: 160
By: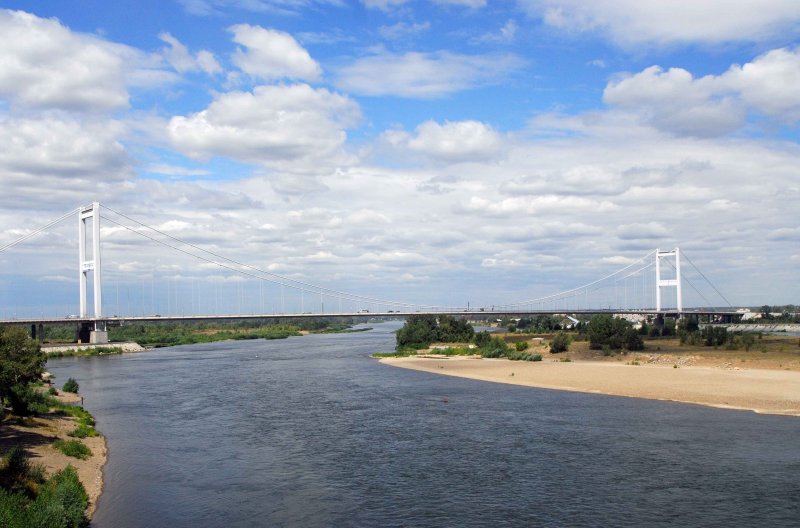 Water security and sustainability represents one of the foremost challenges facing China's development plans, including in its western region of Xinjiang, which serves as the origin of two trans-border rivers that flow into Kazakhstan. China's rise, though in many ways beneficial to the developing economies of Central Asia (see EDM, August 16, February 4), has also fueled regional fears about China's alleged selfish approach to its use of the trans-border rivers originating on its territory.
Water problems in Central Asia are not new, though few have considered them in the context of China's development plans in Xinjiang—which have reportedly exacerbated water security challenges for Kazakhstan. This past August, the former ambassador of Kazakhstan to China, Murat Auezov, issued a statement alleging that Jiang Zemin had issued a secret order during his leadership term (1993–2003) to use trans-border rivers to China's benefit and raised concern about the slow pace of talks on the joint use of the Irtysh and Ili rivers. After years of talks seemingly delayed by Beijing, Astana can only hope that the deal will be completed by 2015 (en.tengrinews.kz, August 7).
The Irtysh and Ili originate in China's Altay and Tian-Shan mountains, covering about 4.3 kilometers and 1.4 kilometers, respectively. The Ili River flows into eastern Kazakhstan's Lake Balkhash, while the Irtysh River passes through Kazakhstan and flows into the Ob River in Russia where it contributes to 90 percent of water consumption of Russia's Omsk oblast. China, in fact, is home to the largest number of trans-border river overflows in the world, making it a near "hydro hegemony" regionally (waterpolitics.com, February 9; russiancouncil.ru, May 23).
However, China's water and development challenges and active attempts to address them have made Beijing blind to the side effects of these very policies at home and abroad. China has only 5 percent of the world's renewable freshwater but has to support 20 percent of the world's population. Furthermore, 75 percent of China's water is unfit for human consumption, while 90 percent of its ground water is polluted. More than 400 Chinese cities faced water shortages in 2012. China's surging water demand has led it to invest $635 billion in water control infrastructure over the next decade (e-ir.info, February 15; waterpolitics.com, February 9; July 25).
China's water demand in Xinjiang is growing rapidly because it is developing cotton and oil industries in the province as part of the "Great Development of the West" plan and because it is encouraging an inflow of ethnic Han Chinese into the province as part of its "Go West" campaign that contributes to the world's largest migration in history. China's National Petroleum Corporation (CNPC) alone plans to spend $30 billion in Xinjiang by 2020 to boost its oil production by more than 60 percent; other companies have either built or consider building a number of dams. The projected increase of Xinjiang's population from 20 million to 100 million is, in turn, expected to increase the use of water by a factor of two by 2030. But as an unintended consequence, the pressures on the Irtysh and Ili rivers are expected to exert a negative impact on the environment and agriculture of Kazakhstan (waterpolitics.com, April 15, 2011; voprosnik.ru, February 13).
Agriculture accounts for 75 percent of Kazakhstan's water consumption, while industry and municipal use make up for 18 and 7 percent, respectively. This is when water inflow into Kazakhstan reportedly declines by 2–3 percent annually, contributing to a water deficit of 20 percent in the country last year. Kazakhstan already ranks at the bottom within the Commonwealth of Independent States (CIS) in terms of water provision and has to rely on neighbors for about half of its water needs (Russia supplies 8 billion cubic meters [bcm] of water, China—19 bcm, Uzbekistan—15 bcm, Kyrgyzstan—3 bcm). China's projected increase in water demand from the 555 bcm to 818 bcm annually by 2030 threatens to cause a major decrease of water inflow into Kazakhstan. Experts suggest that a 10-percent increase in water intake from the Ili River alone will lead to the separation of Lake Balkhash into two, creating conditions similar to the ones that made the drying Aral Sea a grave reality years ago (cawater-info.net, voprosnik.ru, February 13; UNDP-Kazakhstan, 2004; Ooska News, February 17; exclusive.kz, February 14).
In 2001, Kazakhstan and China agreed to cooperate in trans-border river use. They even signed an agreement on water quality in 2007. However, the deals lack commitment for the joint use of the rivers. Meanwhile, China declines to sign the 1997 and 1992 conventions governing the use of non-navigable water and trans-border water flows. Just as with its other partners in Southeast Asia, China prefers to address water issues with Kazakhstan bilaterally. Astana has tried to engage Moscow, but Russia has not thrown its full weight behind Kazakhstan's water security initiatives, reportedly because of growing economic ties with Beijing (waterpolitics.com, May 5; e-ir.info, February 15; rfa.org, June 24; chinadaily.com, October 7, 2007).
Kazakhstan and China are both rapidly developing countries. The former is an emerging regional power, while the latter is a rising global force. The development and security of each depends increasingly on the other. China's global ascendance calls for responsibility and the need to heed calls of its neighbors to address critical water security issues. Kazakhstan and Central Asia's development, in which China too has a stake, needs to rely on a sustainable use of water resources that cannot be exclusively directed by the policies of a single country. As it engages China on these issues, Astana might view its growing economic ties with Beijing as leverage rather than a vulnerability. But just as important for Kazakhstan will be efforts to build new water reservoirs, improve water quality and related regulations, and spearhead international efforts to promote institutional infrastructure in Asia ensuring the sustainable use of trans-border rivers.