China's European Satellite Launch Sets New Milestones; South Africa-China Deals Court Controversy; Putin Visits Beijing; New Sino-Kazakh Pipeline Deal Signed
By: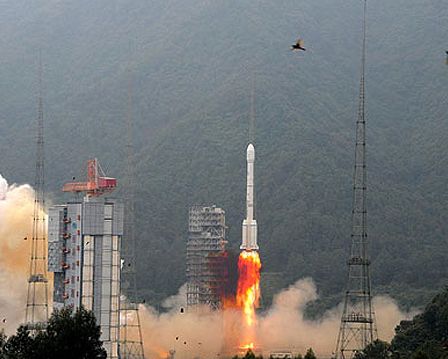 China's European Satellite Launch Sets New Milestones
On October 7, a Chinese Long March-3 rocket blasted off from Xichang Satellite Launch Center, Sichuan Province, delivering a French Eutelsat communications satellite into orbit. This marked the first Chinese launch of a Western communications satellite since the United States banned the sale of satellite-based communications to China in 1998 (Xinhua, October 7; China News Service, October 7). In addition to proving China's long-term competitiveness in the launch market, a Western communications satellite launched legally by China demonstrates U.S. export controls on satellite technologies have been circumvented.
Great Wall Industry Corporation, China's state-owned defense conglomerate that markets the Long March rockets, announced the Eutelsat launch set a new milestone as it was the heaviest load put into space by one of the Long March rockets. The French-made Thales Alenia Space communications satellite weighed 11,880 pounds, just over 200 pounds shy of the rocket's estimated maximum payload. This variant carried an additional four liquid-fueled, strap-on boosters, making it the most powerful in the Long March rocket family (China News Service, October 7).
The Eutelsat launch also demonstrated China's capability to meet market demands for greater payload capacity, and its ability to play a substantial future role in the global launch market. Long Lehao of the China Aerospace Science and Technology Corporation (CASTC) said this launch showed Chinese rockets are internationally competitive and provided practical data on ways to expand payload capacity (China News Service, October 7). Knowledge already enhanced the week before by the successful launch of the more than nine-ton Tiangong-1 Space Station ("Tiangong-1 Launch Makes China's Space Station Plans a Reality," China Brief, October 14). An engineer at the China Academy of Launch Vehicle Technology, Jie Jiang, noted potential customers were looking for heavier rockets capable of putting larger payloads in to space, due to the decreasing availability of satellite orbital positions (China News Service, October 7).
The U.S. ban on exporting communications satellite technology stems from legislation passed in 1998, it was the result of a series of China-related scandals in the mid- to late-1990s. The legislation defined U.S.-created satellite communications components as exports controlled under the International Traffic in Arms Regulations (ITAR). Detailed in the so-called Cox Committee investigation, Hughes Space and Communications International and Space Systems/Loral faced allegations stemming from their activities. Both companies appeared to have shared sensitive details about rockets and satellites after several Chinese satellite launch attempts ended in failure and caused losses for the U.S. companies who had made significant investments in the projects. Close military connections to CALVT and CASTC, as well as Great Wall, made Hughes and Loral's disclosures appear to be in violation of the U.S. ban on arms sales to China following the June 1989 Tiananmen Massacre. The ubiquitous use of U.S.-manufactured, hence controlled, satellite components meant a widespread commercial blackout involving European companies who were closely linked with U.S. contractors, a relationship which had developed during the Cold War.
Since that time, China has attempted to circumvent the U.S. controls, whether through illicit acquisition or diplomatic pressure on Europe to break with the United States over arms embargo ("The Evolution of Espionage: Beijing's Red Spider Web," China Brief, July 17, 2008; "A Prisoner's Dilemma: The EU's China Arms Embargo," China Brief, June 23, 2004). The latest satellite launch demonstrates European companies have developed new components not based upon U.S. export-controlled technologies and not governed by ITAR. Thales Alenia Space has already signed contracts with China agreeing to launch at least two more communications satellites in the coming years (China News Service, October 7).
South Africa Inks China Deals Amid Controversy over Dalai Lama's Cancelled Visit
On September 30th, President Hu Jintao met with South African Deputy President Kgalema Motlanthe in Beijing. The two sides highlighted the "Beijing Declaration" signed by Hu and South African President Jacob Zuma last August, and reiterated plans for improved relations by increased high-level exchanges, cooperation in international and regional affairs, expansion of bilateral trade, increased investment and promotion of cultural exchanges (Qiushi lilun wang, October 1). On the previous day, Motlanthe met with Xi Jinping and an agreement worth $2.5 billion between the China Development Bank and the Development Bank of South Africa came for investment projects in South Africa was signed. Other cooperation documents were also signed, including a memorandum of understanding on "geology and mineral resources" (People's Daily, September 29; Reuters, September 29). Following the visit, the Dalai Lama cancelled a highly charged visit to South Africa to attend Archbishop Desmond Tutu's 80th birthday celebration (Reuters, October 4). The cancellation demonstrated, as South Africa's economic relations with China improve, Pretoria has been put in an increasingly difficult political position.
Putin Visit to Beijing Makes Progress on Economic Tensions
Russian Prime Minister Vladimir Putin travelled to Beijing to meet with President Hu Jintao and other Chinese leaders on October 11-12. The leaders discussed bilateral relations and issues of international and regional concern. During the visit, the two countries reportedly came closer to resolving price disagreements over the long debated gas pipeline from Russia to China, which could see up to 68 billion cubic meters (bcm)/per year of gas exported to China (Bloomberg, October 11; Reuters, October 9). In a joint-interview with Xinhua and CCTV, Putin said that "bilateral economic and trade cooperation has reached unprecedented levels," he said that trade this year is expected to reach between $70-80 billion, but by 2015 the figure should reach $100 billion and by 2020, $200 billion (Xinhua, October 12). However, these trade targets are ambitious, and the past has left such targets unmet ("Sino-Russian Relations: Renewal or Decay of a Strategic Partnership?" China Brief, September 30). The leaders also agreed to further strengthen areas of strategic cooperation including, energy, technology, aviation and aerospace (Xinhua, October 12). The visit however came just after Russia announced that for the previous year it had been holding a Chinese national on espionage charges related to Chinese attempts to illegally purchase documents related to a Russian S-300 anti-aircraft system (Moscow Times, October 6). This event suggests Sino-Russian ties continue to face difficulty despite the friendly rhetoric displayed during Putin's visit and the proclaimed Sino-Russian "comprehensive strategic cooperation and partnership" ("Sino-Russian Relations: Renewal or Decay of a Strategic Partnership?" China Brief, September 30).
New Sino-Kazakh Pipeline Deal Signed
On September 26th, the China National Petroleum Corporation (CNPC) announced that it had signed an agreement KazMunaiGas (Kazakhstan) to build the Kazakhstan-China section of a new "Line C" gas pipeline. At the beginning of September, the Chinese and Kazakh governments had reached an agreement on the construction of the pipeline (CNPC.com.cn, September 8). "Line C" will form part of the Central Asia Gas Pipeline which was completed and first started transporting natural gas to China in December 2009/January 2010. Earlier this year, CNPC signed similar agreements with Uzbekistan and Turkmenistan, where the pipeline also will run (Silk Road Intelligencer, September 9). Construction will begin in 2012 and the pipeline should be operational by January 2014. Line C will be approximately 1,150 miles and will transmit an additional 25 billion cubic meters (bcm) per years to China by 2015, meaning the Central Asian gas pipeline network will transport approximately 55-60bcm/year of natural gas to China by 2015 (Silk Road Intelligencer, September 9).