China's First Overseas Base in Djibouti, An Enabler of its Middle East Policy
Publication: China Brief Volume: 16 Issue: 2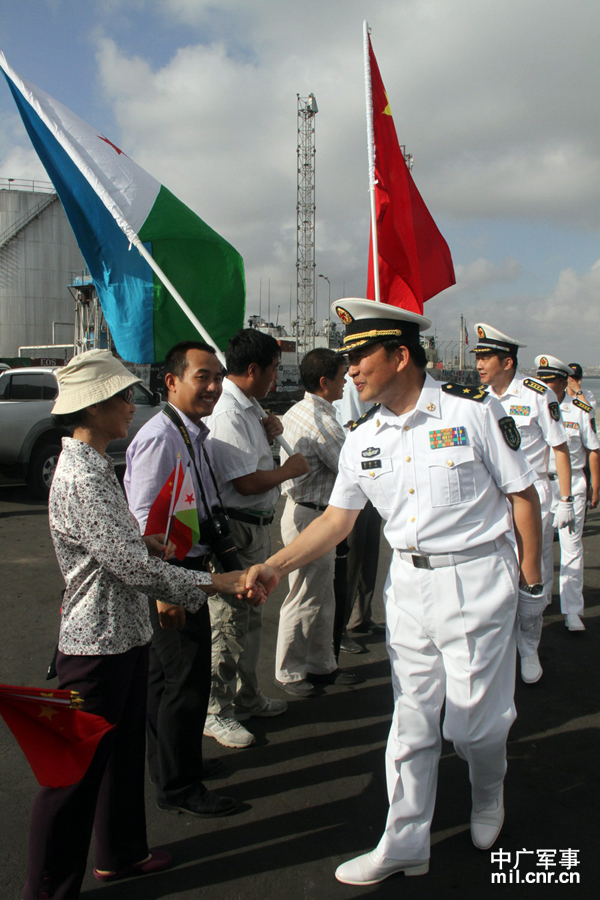 Although China has yet to achieve superpower status in the realm of security, it is certainly making concerted efforts toward becoming one. On November 26, Chinese Ministry of Defense spokesperson Wu Qian confirmed that China and Djibouti are holding negotiations over the construction of a logistic military base in the Horn of Africa (China.com, November 26, 2015). Observers both in China and abroad have long awaited an announcement of this kind. The visit of the People's Liberation Army Chief of General Staff Fang Fenghui to the East African country in early November last year was taken as a strong indication that a deal was being negotiated (Global Times, November 14, 2015; The Diplomat, November 14, 2015; 81.com, November 9, 2015). Many believed it was just a matter of time, although Beijing had dismissed rumors as attempts to fuel the so-called "China threat theory" (Global Times, November 10, 2015).
Djibouti currently hosts U.S., French, Italian and Japanese troops close to Djibouti City, where both the Doraleh Multipurpose Port and the country's only international airport are located. This begs the question of where China would locate its own base within the small country. U.S. Army Gen. David Rodriguez, head of U.S. Africa Command, indicated that uncertainties remain as to where the base will be located, to the north in Obock or at the port of Doraleh to the west of Djibouti City (USNI, November 25, 2015). Yet, for the time being, China Merchant Holding International—part of the state-owned shipping conglomerate China Merchant Group—has announced it will provide a large share of a $590 million investment necessary to upgrade the Doraleh Multipurpose Port (portstrategy, September 7, 2015). U.S. analysts Andrew S. Erickson and Gabe Collins have suggested that building a logistics base in Obock may best serve China's interests in the region (China Signpost, July 11, 2015). Yet, for the time being, China Merchant Holding International—part of the state-owned shipping conglomerate China Merchant Group—has announced it will provide a large share of the $590 million investment necessary to upgrade the Doraleh Multipurpose Port (portstrategy, September 7, 2015).
Symbol or "Stepping Stone"
Just as China's first aircraft carrier, the Liaoning, acted as a both a symbol of China's rise and a platform to practice more complex operations, the future base will have a highly symbolic value as China's first "protective facility" abroad (保障设施) in the definition provided by the People's Daily (People's Daily, November 26, 2015). Although it might be seen as a mere rhetoric exercise, usually the term "facility" is used to indicate a small base mainly used for logistic purposes, rather than for attack operations like those established by Western countries. The attention payed by Chinese officials to this matter is part of the efforts to present the country as a peaceful one. However, what the facilities will consist of and what they will be used for is still unclear. According to spokesperson Wu's brief statement, the base will "provide better support to the Chinese armed forces to carry out peacekeeping operations, conduct anti-piracy operations in the Gulf of Aden and Somalia, and coordinate search-and-rescue humanitarian operations. It will help the People's Liberation Army fulfill its international obligations, and to play a more active role in ensuring peace and stability at a regional and global level." In regards to better support for Chinese military operations abroad, it should be emphasized the fact that China is not only securing a stable foothold abroad, but it is also boosting its logistic capabilities with a growing fleet of both large and modern supply ships (China Defense Blog, January 3, 2016).
Most Chinese media outlets have not published extensively on the issue. Commentators either quoted Wu Qian's statement, or repeated the usual theme—that China does not aim to achieve the status of a global hegemon, while also focusing on how it does not seek to compete against other state actors to carve a sphere of influence in the Middle East (Global Times, November 26, 2015). Nevertheless, a recent article of the PLA Daily about peacetime military operations stressed the importance of "strengthening every kind of protective facilities and, in particular, speed up the construction of logistic footholds and facilities for joint antiterrorism training, with the main objective of protecting the troops while they carry out their tasks" (81.com, January 12).
Journalist Xing Linan provided a number of interesting insights on how the PLA could make use of its new base in Djibouti (China.com, November 26, 2015). The establishment of a new base must be understood in the context of China's military reforms toward the creation of a more agile a globally capable force. According to Xing, as well as providing the long-sought supply point for the PLA Navy, the base will be crucial to expand China's intelligence gathering capabilities in the area, and will offer to the PLA Air Force the long-sought opportunity to go global.
Indeed, the deployment of Shaanxi Y-9, Y-8 and Y-9 reconnaissance aircraft should not be ruled out. Yet, it should be pointed out that this would require an airstrip, forcing China to either establish the base close to Camp Lemonnier, or to build a new landing strip wherever the base is built, adding to the economic and political cost of the project. Moreover, Xing's article mentions the possibility of stationing 1,000 troops in Djibouti, mostly veterans from the contingents that participated in past UN peacekeeping operations.
The Japanese Model of Overseas Basing
Were 1,000 troops to be deployed in Djibouti, it would mean that the Chinese base is likely to be similar to Japan's base in the area; the Japanese base was established in 2011, and hosts between 600 and 700 troops. A further hint that Japan offers the most fitting model for China's new base can be found in a detailed study carried out by Chinese scholars on lessons learned from the process that led Tokyo to establish its first overseas military base since the end of World War II. [1] The article emphasizes the role of anti-piracy escorts and counterterrorism as reasonable justification to establish a military base abroad without attracting international criticism. Moreover, both Asian countries share the common trait of having only limited experience in carrying out overseas operations. Thus, it would make sense for China to emulate the Japanese model, rather than looking to states like France or the United States who have deployed many more troops overseas.
China's military involvement in the region is backed up with a number of recent policies. The "China's Arab Policy Paper" released in early December 2015 places an unprecedented emphasis on military and counterterrorism cooperation with Arab countries (State Council, December 13, 2015). Moreover, these policy guidelines have been preceded by the creation of a new national security and antiterrorism law, as both lay down solid foundations for Chinese overseas military operations. In a rare interview, the officer in charge of the Central Military Commission's Legal Affairs Bureau clearly stated that for the first time, a Chinese law clearly allows for "carrying out UN-led peacekeeping operations, international disaster relief, maritime escorts and military operations to protect China's overseas interests" (81.com, July 15, 2015). This series of developments comes at a critical moment for the Chinese presence in North Africa and the Middle East. The tragic killing of a Chinese hostage captured by the Islamic State and the death of three executives of China Overseas Engineering Group—among the casualties of a bloody November 2015 terrorist attack in Bamako, capital of Mali—are just the most recent reasons for China to strengthen security cooperation with the region. Indeed, growing concern for the fate of Chinese citizens who work and live in unstable areas is clearly present in some articles appearing on the Chinese web in the aftermath of these tragedies.
Non-Hegemonic Power Projection
Yet, assessing the impact of a larger military presence on the security of Chinese nationals is still difficult. Firstly, Chinese foreign policy is characterized by strong official opposition to permanent bases and military presence abroad. As stated by Professor Wang Hongwei from Renmin University: "China has a duty to protect its citizens and national interest from dangers and threats overseas, but the [commitment to] no military interference will not be easily abandoned" (Global Times, November 19, 2015).
Secondly, even considering the increase of Chinese peacekeepers promised by Xi Jinping at the United Nations and the logistic "tail" provided by the base in Djibouti, the use of peacekeeping troops for such purpose is extremely difficult to organize due to logistic and bureaucratic reasons. Indeed, a former peacekeeper and security expert, Qian Liyan, regards the use of private security companies as more likely, although the Chinese companies in that sector are still unprepared for such a role (China.com, November 22, 2015). Yet, as recent academic articles in Chinese journals have shown, it is unlikely that in the future Chinese companies will play a more prominent role in this regard. [2] Beyond the protection of its citizens abroad, China could use the base to play a more constructive role in the fight against global terrorism in general, and the Islamic State in particular. Andrew Small, Wei Zhu and Eric Hundman have already pointed out that China has supported a tougher stance against terrorist groups; a larger military contribution more likely in the form of logistic support as opposed to direct intervention in the fight would be imaginable if the political pieces of a grand coalition could be put together (Foreign Policy, November 24, 2015). Chinese media outlets have observed the possibility for China to establish a base in Djibouti could be conducive for carrying out operations of this kind, and scholars affiliated with the People's Armed Police and Ministry of Public Security have examined the role played by the new National Security Commission in leading China's antiterrorism efforts, creating the necessary conditions to allow Chinese soldiers to operate in other countries (Global Times, November 10, 2015). [3] Since the newly enacted counterterrorism law provides the legal authority for PLA and PAP soldiers to be sent abroad under command of the Central Military Commission, it can be argued that a base in Djibouti will prove to be of fundamental importance to China's efforts. However, having voted in favor of UNSC Resolution 2249 (2015) in November 2015, it is difficult to imagine China using this "ticket to Syria"—as Chinese netizens call the Resolution—to proactively intervene in the region (Tieba.com, November 21, 2015).
Conclusion
The establishment of a logistics base in Djibouti puts an end to the debate about the relationship between the People's Liberation Army and the One Belt One Road—Xi Jinping's flagship diplomatic initiative—thereby providing new options to China's policymakers and strategists (China Brief, October 19, 2015). However, China's role in the region is still minute in comparison to traditional powers for whom operations in the area in large numbers and multiple regional bases are routine.
With Taiwan remaining the Chinese military's most important strategic mission, and maritime disputes in the East and South China Seas still far from being resolved, military operations in the Middle East will persist as an important learning tool for China's armed forces. However, the country will hardly engage in high intensity fights in the region. Rather, it is likely that China will seek to conduct some sort of "win-win global operations" with other countries, and its global military power projection capabilities will remain relatively limited compared to those of the United States. [4] The base will certainly assist the PLA Navy by providing a stable supply point for its anti-piracy task forces; more importantly, however, it should be considered as an important enabler of a more active Chinese engagement in the region, together with the larger contribution of troops and funds that China has secured for further UN peacekeeping operations. As of December 2015, UN peacekeeping data reports that China already has some 2,800 troops deployed in Africa under the UN's aegis, roughly 1,000 more than the number of troops sent the same month in 2014. The base represents the same mix of self-interest and desire to be perceived by other countries as a rising provider of public goods that motivated China to begin anti-piracy operations in late 2008.
If China's involvement in anti-piracy operations have helped the Chinese navy prepare for long-range operations, then the establishment of Djibouti can viewed as yet another stepping stone to extend the reach and endurance of Chinese maritime strength.
Andrea Ghiselli is a Ph.D. candidate at the School of International Relations and Public Affairs of Fudan University, and a non-resident Research Assistant for the Torino World Affairs Institute (T.wai), Italy. His research areas include the PLA's approach to Missions Other Than War (MOOTW) and China-Middle East relations.
Notes
1. 孙德刚Sun Degang 陈友骏 Chen Youjun, "试析日本在吉布提军事基地的部署与影响" (Japan's Military Base in Djibouti and Its Implications), 国际展望 Global Review, No.3 (2015), pp.142–61.
2. 赵可金 李少杰 Zhao Kejin Li Shaojie, "探索中国海外安全之力市场化" (On the Privatization of China's Overseas Security System), 世界经济与政治 World Economics and Politics, pp.133–55; 刘波 杨甜娜 Liu Bo Yang Tianna, "私营军事公司及其对国际安全的影响" (Private Military Companies and Their Influence on International Security), 现代国际关系, No.9 (2015), pp.28–36.
3. 李本先 梅建明 凌云翔Li Benxian, Mei Jianming, Lin Yunxiang, "建立国家安全委员会主导的中国反恐机制" (On Building a Chinese Counterterrorism Mechanism Led by the National Security Commission), 国际展望 Global Review, No.4 (2015), pp.70-84.
4. For more about the potential evolution of the PLA in the next decade: Bernard D. Cole, "The People's Liberation Army in 2020-30: Focused on Regional Issues" and Oriana S. Mastro, "A Global Expeditionary People's Liberation Army: 2025–30" in Roy Kamphausen and David Lai (eds.), The Chinese People's Liberation Army in 2025, (Carlisle Barracks, PA: United States Army War College Press, 2015), pp. 165–206 and pp. 207–234.