China's Floods and Party Priorities
Publication: China Brief Volume: 23 Issue: 15
By: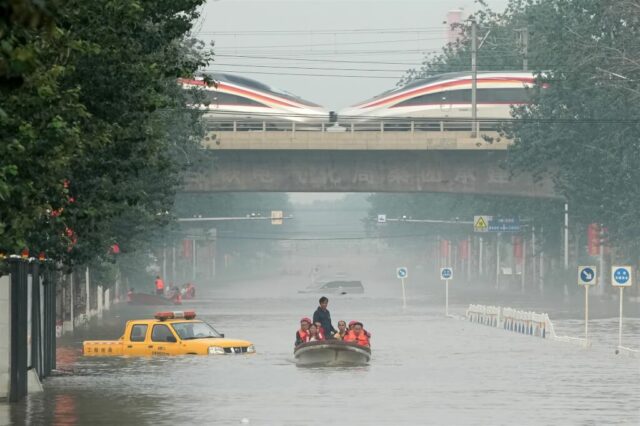 Introduction
Typhoon Doksuri (杜苏芮) crashed onto the Chinese mainland over Fujian Province on Friday, July 28. From there it pushed northward, where a constellation of meteorological factors led it to slow down over North China, where it unleashed huge volumes of rain over the Beijing-Tianjin-Hebei region. Over 1600 weather stations in Hebei Province, which surrounds Beijing, recorded rainfall in excess of 250 mm across a 72 hour period, with one station in Xingtai City recording a maximum of over 1003 mm. Beijing saw the highest rainfall since its meteorological records began in 1860 (Xinhua, August 9).
The storm was the proximate cause for severe flooding. Already by Tuesday, August 1, state media was reporting that 20 people had been killed in the floods, and 127,000 had already been evacuated from the capital (Global Times, August 1). However, the full-scale of the human impact is unlikely to be clarified by the government any time soon: much information about the floods has already been censored or deleted from China's internet, and official statistics, when they have been released, are almost certainly underplaying the costs. [1] Perhaps most unhelpfully, the website for China's Ministry of Water Resources, has been inaccessible all week (水利部, Ministry of Water Resources).
Nevertheless, drawing on the information that has been forthcoming from China's central and regional governments, as well as firsthand accounts posting on Chinese social media and Twitter (X), we can make a preliminary assessment of the potential political and economic consequences of this event.
Mismanagement
In the immediate emergency response to the floods, it quickly became apparent that the protocols in place were not adequate to the task, and that a lack of leadership stymied the speed, and therefore the effectiveness, of the relief efforts. This was abundantly clear from the principal state media outlets, which were slow to report the news as events unfolded: Only on Saturday, August 5, did the People's Daily mention the floods on its front page (People's Daily, August 6). As of Friday August 18, President Xi Jinping (习近平) is yet to reappear in public, and only issued a statement demanding an "all-out search and rescue effort" on the fifth day of Typhoon Doksuri's arrival (China Meteorological Administration, August 1). This has been paralleled by laments online that Party Secretaries in some of the hardest-hit areas, such as Zhuozhou (涿州), did not appear in public, with locals receiving minimal guidance or assistance from official channels (Twitter, August 5). To compound matters, it appears that several private rescue missions were delayed from entering Zhuozhou because of paperwork issues (The Paper, August 5). When citizens have come to municipal buildings to protest or seek compensation, they have been documented being met aggressively by riot police. In one instance in Bazhou (霸州), police threw chili water into the eyes and faces of protesters (Twitter, August 8).
The apparent Neronian indifference of China's leader—which many have contrasted unfavorably with the actions of former leader Jiang Zemin in response to floods in 1998 (China News, July 24, 2021)—have led some to articulate their grievances towards the government (Twitter, August 5).
The Xiong'an Question
A sympathetic interpretation of events would point to the fact that this natural disaster was anomalous in its severity, and was unleashed on a portion of the North China Plain which has been prone to flooding for centuries. Mao Zedong, for example, took a train to Hebei in 1963 to inspect severe flooding in the province (Handan City Culture Website, accessed August 18). However, it has not escaped notice that one of Xi Jinping's pet projects, the Xiong'an New District (雄安新区), is likely part of the story and may be related to Xi's ongoing absence.
Xiong'an, a "techno-utopian" city conceived of as an ideological representation of Xi's new era, has been under construction on Hebei's wetlands since the project was initiated in 2017 (Central Government, April 20, 2018). As authorities noted on August 1, the city is vulnerable to extreme weather (Central Meteorological Administration, August 1).  Back in 2017, honorary chairman of the Chinese Academy of Engineering Xu Kuangdi ( 徐匡迪), gave a speech in which he noted that "General Secretary Xi Jinping once profoundly pointed out during his research in Xiong'an that 'the planning and construction of [Xiong'an is an] historic choice, a millennium plan and a major national event.' He went on to note that the reason the area was sparsely populated was because it was on "the lowest terrain in the North China Plain," and that flood risk meant development was prohibited for decades. Xu speculates, "People may wonder if there will be further flooding in this floodplain in the future?" but dismisses the notion as unlikely (Zhidao News, June 8, 2017).
In the recent floods, it appears that Xi Jinping's ideologically-driven project emerged unscathed relative to surrounding areas. However, questions are being asked about distorted political priorities given that Xiong'an's elevation—which is below that of cities such as Zhuozhou that have been devastated—should have seen it affected at least as severely. Ni Yuefeng (倪岳峰), the leading Party official in Hebei, stated that Xiong'an represented "the top priority of flood control in our province" (Xiong'an Government, August 11), and argued for cities in the province to "resolutely play a good role of moat for the capital" (rfi China, August 4). Meanwhile, the Ministry of Water Resources has said that residents located in flood retention areas have put the collective interest before their own (The Paper, August 2), and the vice dean of the college of water sciences at Beijing Normal University is quoted as saying that China's flood control system must consider the overall balance of interest in order to minimize the damage caused by floods (Sixth Tone, August 4).
Downstream Impacts
The first hurdle for the government will be the financial blow. Various government departments have announced funds. Most recently, the Ministry of Finance and the Ministry of Emergency Management earmarked an additional 350 million RMB ($50 million) to assist flood-hit regions, bringing the total to 520 million RMB (over $71 million); the State-owned Assets Supervision and Administration Commission (SASAC) has also "mobilized central enterprises to support emergency rescue and relief efforts," including helping relocate displaced persons, fix electricity and provide emergency food and water to flood victims. Private companies too, such as Alibaba, have donated considerable sums (163.com, August 3). This financial support will no doubt be welcome, coming at a time when local governments are severely distressed (though Hebei is in a safer position than most). However, the longer-term climate impacts on the region will now need to be considered more carefully. In July, the government released a Blue Book on Climate Change in China for 2023 (China Meteorological Administration, July 9), which noted that rainfall has increased by an average of 4.2% every 10 years between 1961 and 2022. Events like Typhoon Doksuri are only likely to increase in frequency, and thus the public funds available for preparation, mitigation, and disaster relief will need to reflect this.
A corollary of such an increase is the potential effect on food security. This was highlighted  in May 2022 in the government's National Climate Change Adaptation Strategy 2035, which called for greater efforts to ensure food security and mitigate supply chain risks, among other demands (Ministry of Ecology and Environment, May 2022). It is even something that was alluded to on the CCTV evening news on August 7 (China Story, August 7), where images of  flooded fields suggest that there may be an impact on the autumn harvest this year. Already prices for medium grain rice have increased slightly due to the floods, as much of the farmland in the northeast of the country is dedicated to growing this cereal (Dim Sums, August 15). As such, China's reliance on American and other countries' food exports is set to continue.
In terms of China's economy more broadly, the plight of hundreds of thousands of people who will be largely unable to contribute to the consumption-based growth that the central authorities are pushing for is not an insignificant problem: On the contrary, recent experiences will likely emphasize the need to save for another rainy day. While compensation, insurance claims, and resettlement plans are in the process of being implemented, they will inevitably take time: A senior Hebei water resources official told China Central Television (CCTV) that it would take up to a month for the floodwaters to subside from land in the zones that had already been inundated (SCMP, August 3). The timeline for reconstruction, let alone the rebuilding of the lives of ordinary citizens, will take much longer.
Conclusion
The impact of Typhoon Doksuri in the first half of August has been significant, and the full effects are yet to run their course. The most problems for the regime center on questions of legitimacy. The public absence of Xi Jinping, whose discourses on management of water resources were just published in July, and who state media laud as having been "personally involved in the planning, arrangement and advancement of the cause of managing water resources in the country" (Xinhua, July 18), is one such glaring issue. Coupled with the recent disappearance of foreign minister Qin Gang (秦刚), whose ascendance was widely attributed to Xi, the Chinese President's commitment to Xiong'an, apparently to the detriment of cities with higher populations, adds to Xi's domestic problems. Similarly, the economic effects, both in terms of the billions of dollars worth of damages to property and infrastructure, as well as the looming damages to the rice harvest, come at a time when there is growing unease and unrest about China's ability to provide food and jobs for its people in line with its stated priorities (China Daily, February 13).
However, analysts and commentators must be cautious before overinterpreting these events. In the context of the last year, the popular anger against the state's latent response does not compare to that seen following the collapse of China's Zero COVID policies, most vividly expressed in the "white paper protests" of December 2022. Moreover, the victims in this case are a much smaller subset of the total population, and will now have more immediate priorities than finding the energy to oppose their government. China's helmsman has faced choppier waters in the past, and will almost certainly face more in the future.
Notes
[1] the Chinese government's lack of transparency when it comes to releasing unsavory statistical evidence has worsened during Xi Jinping's time in office. Most recently, China's youth unemployment figures for July were withheld on Monday (Yicai, August 15).