China's Growing Car Exports and Central Asia's Future
Publication: Eurasia Daily Monitor Volume: 8 Issue: 129
By: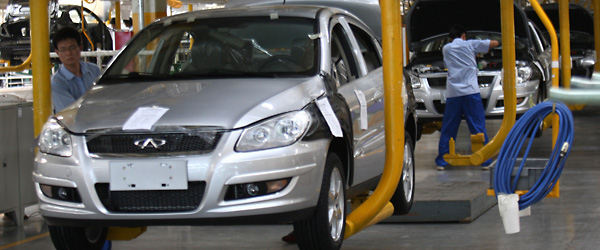 Only two decades ago this would probably have been unimaginable, but today China's car exports are targeting consumers in the industrialized and emerging countries worldwide. This dramatic car export expansion has also been clear in the adjacent Central Asian region. As China evolves its manufacturing and export base of value-added goods in the coming years, Central Asia's economic landscape is set to change even more drastically. This raises speculation about risks and opportunities that Central Asia may experience in the long run, by either becoming a Chinese dependency or establishing itself as an integrator of power shifts and flows in Eurasia.
Indeed, in the 1990's massive scrap metal exports from Central Asia partially fed emerging manufacturing industries in China. Today, Central Asia receives its scrap metal back, but this time increasingly in the form of value-added goods, ranging from electronic appliances and heavy machinery to telecommunications equipment and cars. Machines, cars, and equipment constitute 65 percent of Chinese exports to the region, with food and consumer goods accounting for 30 percent (https://www.journal-neo.com/?q=ru/node/4899). And it is not just the region's consumption that is driving this process, however sluggish it may be. It is also the emerging Central Asian economic infrastructure that facilitates the exchange of goods and services between dynamically developing South-East Asian countries and rich consumers in Western Europe and the Middle East.
In 2009, China already became the world's largest car producer, beating the US in quantity, if not yet quality (www.russia.mofcom.gov.cn/aarticle/counselorsreport/201001/20100106749942.html). Chinese Chery and Geely cars are now recognized in Central and South East Asia, Russia, Eastern Europe, Latin America, and Africa. The Chery Automobile Company Ltd built its first car in 1999 and started exporting it in 2001. In 2008, the company had already produced one million cars, expanding its exports of up to ten different car models to as many as 60 countries. Another Chinese car company, Geely Group Co. Ltd, has been in business for a decade now, producing about 30 car models and extending its export reach to Central Asia in 2004 (https://www.vostok-auto.com.ua/china-auto.aspx; https://www.smotors.com.ua/readnews_1_116.html).
Chinese car exports to Central Asia grew by a massive 93 percent in the period from January through April, 2011 compared to the previous year. About 3,213 cars worth $127 million have been exported to the region from Xinjiang, with the transit point at Khorgos on the Kazakh-Chinese border accounting for 70 percent of all exports. The Xinjiang region is the export point for China to markets in Central Asia and beyond (https://www.chinapro.ru/rubrics/12/6324/).
For some, growing prosperity in Central Asia drives the demand for what are cheaper yet medium quality Chinese car brands (https://www.chinapro.ru/rubrics/12/6324/). In Kazakhstan, for instance, a new Chinese car would cost about $15,000. Increasingly, car buyers in the region are allegedly replacing Japanese, European, and Russian brands with Chinese models, though complaints about the poorer quality of the Chinese cars still persist (https://www.yk.kz/news/show/4248/4249). So far, Kazakhstan, Kyrgyzstan, Uzbekistan, and Turkmenistan have all seen a boost in car imports from China. In 2010, car exports to Uzbekistan and Turkmenistan grew by 200 percent and 160 percent respectively, with the two regional countries accounting for 43.5 percent of all car exports from Xinjiang (https://preview.russia.mofcom.gov.cn/aarticle/counselorsreport/201007/20100707017541.html).
The prosperity argument may be true for some segments of the region's societies, and even countries overall, like in the case of Kazakhstan. The GDP per capita incomes in Kazakhstan, standing at $12,700 in 2010, are higher than those of the many regional countries combined (https://www.cia.gov/library/publications/the-world-factbook/geos/kz.html). In 2010, Kazakhstan accounted for 36.6 percent of all Xinjiang car exports to Central Asia (https://russian.people.com.cn/31518/7062204.html).

But what is underemphasized is that Central Asia is also increasingly becoming a large conduit for China's exports to the rest of the continent. For some time China has been developing its maritime export routes. Now, it is preoccupied with developing land-based export arteries through Central Asia into the Middle East, Russia, and Europe. And it does so more and more for exports of higher value-added goods. Cheaper manufacturing, expanding relative wealth and trans-continental economic infrastructure are facilitating China's cars exports to Central Asia and beyond.

This, of course can come with new risks and opportunities for Central Asian countries that have only recently acquired their independence following the collapse of the Soviet Union twenty years ago. They are pressed to build their own manufacturing capacity, boost employment and reduce poverty, have access to various internal and external markets, and develop ties with diverse foreign partners. Yet, they are also fragile and fearful of any economic, political, and military presence that may burden their fledgling sovereignty. How regional states manage their growing dependencies on China is a process worth observing closely for many years to come.