China's New Aristocracy: Red Cadres and Red-Hat Businessmen
Publication: China Brief Volume: 10 Issue: 13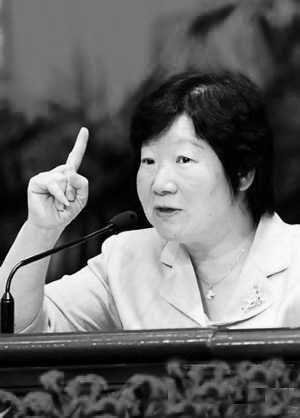 The scandal of Li Qihong, the female mayor of the Guangdong Province boom town of Zhongshan, highlights a backsliding of corruption in Chinese politics. Particularly, the increasing collusion between party cadres and businessmen has made the issue more acute. Even as the Chinese Communist Party (CCP) leadership ratchets up the rhetoric on fighting graft, more national wealth than ever has been flowing into the coffers of these powerful so-called "clans" (jiazu). Members of a typical clan consist of cadres as well as businesspeople, whose symbiotic relationship has enabled these savvy members of the new aristocracy to accumulate wealth at an astounding speed.
Li, 56, who is from a peasant family, spent her entire political career in Zhongshan, which is just a couple of hours' drive north of Hong Kong. In late May, she was detained by the CCP's Central Commission on Disciplinary Inspection (CCDI), the nation's highest graft-buster. Local media reported that Li, her husband Lin Yong'an, and the couple's siblings owned assets of at least 2 billion yuan ($293 million). Particularly after she became director of the Zhongshan party committee's Organization Department in 1997, Li allegedly used her connections to help the real estate and other businesses set up by her husband and other relatives. After Li was named mayor in 2007, her clan reportedly made repeated killings in the Shenzhen Stock Market based on insider trading and other illegal practices (Xinhua News Agency, May 30; People's Daily [English], June 2).
The Li case has drawn scrupulous attention for various reasons. Zhongshan is the base of thousands of foreign enterprises, including those run by Hong Kong, Taiwan, Japanese and American interests. In speeches made over the past year, President Hu Jintao and other Politburo members have issued tough new warnings against cadres using their connections to help relatives get rich. For example, Hu vowed at a CCDI conference early this year to redouble efforts to combat "power abuse" and related misdemeanors. Hu also urged, "the promotion of a corruption-free working style among senior cadres" (Xinhua News Agency, January 12; People's Daily, January 13). Yet in spite of the CCP's well-publicized anti-graft campaigns, Li's superiors in Guangdong Province kept on promoting the cadre-businesswoman, even though she did little to hide her clan's lucrative enterprises. According to the Chinese media, Li had on public occasions tried to exculpate herself by claiming she adopted a "Four Nos" policy regarding her kins' businesses: "No participation; no help provided; no instructions; and no provision of [inside] information." Yet even as the central government started cracking down on real estate speculation early this year, Li defended the property market by saying a housing boom would benefit myriad related sectors and provide huge revenue to the government (Ming Pao [Hong Kong] June 17; Shenzhen Daily, June 1; Global Times, June 1).
According to recent reports by the People's Daily and Nanfang Daily, 3,000 families nationwide control assets worth 1.70 trillion yuan ($248.9 billion), meaning that each of these nouveau riche clans is worth an average of 565 million yuan ($82.72 million). People's Forum magazine conducted an opinion survey on the phenomenon of super-rich clans, finding that 91 percent of respondents indicated that "the newly rich have benefited from networking with government officials" and 69 percent said they had a "bad impression" of the well-heeled families. While 75.56 percent noted that "collusion between officials and businessmen" was the "most serious factor" that contributed to the masses' negative image of the government, 86.5 percent expressed worries about the prospects of weaning business away from political authority (China Daily, February 9; People's Forum [Beijing journal], April 1). Yet, in light of the fact that ex-president Jiang Zemin decided to allow "red capitalists" to join the CCP in 2001, it might be too late to reverse the process of the perceived "bondage" between politics and business.
People's Daily or other official media have not discussed whether these mighty clans include those headed by current or former Politburo members. This is despite well-documented evidence that the children of famous cadres, such as late patriarch Deng Xiaoping, ex-president Jiang Zemin, ex-premiers Li Peng and Zhu Rongji, President Hu and Premier Wen Jiabao, are successful entrepreneurs. According to liberal economist Luo Tianhao, a researcher at the Beijing-based Changjiang Business School, "red families," meaning those of top cadres, figured prominently among the country's affluent clans. "These business clans boast deep political and economic capital," Luo said. He added that due to their political connections, these families do particularly well in trade, energy and infrastructure, which are sectors that are still wholly or partially controlled by the state (Sina.com May 2; China Mobile Weekly [Beijing], March 22). Take, for example, the Li Peng clan. Li's wife and two children have been active in the energy sector since the 1990s. Son Li Xiaoping is the former chairman of China Huaneng, an energy conglomerate; and daughter Li Xiaolin is the CEO of mammoth China Power International Development (China.org March 2; Reuters, June 8).
The CCDI, the party's Organization Department and other units have since the mid-2000s issued numerous instructions and codes of practices against the so-called "marriage of power and money." For example, the CCP passed in August 2006 a series of rules on the "avoidance system," meaning cadres should avoid situations leading to conflict of interests. It warned senior party and government officials against "allowing or conniving at spouses and children engaging in businesses within [the cadres'] jurisdiction" (Xinhua News Agency, August 6, 2008; Wuhan Evening Post, June 17). This was followed by what official media call a watershed set of rules published earlier this year, namely, "Certain Regulations on Clean Governance of Leading CCP Cadres." The document listed 52 areas of pitfalls that could result in corruption and other economic crimes. Section Five of the code says cadres must not allow spouses or children, as well as children's spouses, to "pursue private gain" by using the former's privileged positions. Moreover, senior officials must not "provide beneficial conditions" for the business activities of relatives (Xinhua News Agency, February 23; BBC News, February 24).
There is evidence, however, the CCP leadership has balked at perhaps the most efficacious way of battling graft: a "sunshine legislation" obliging cadres who have attained a certain seniority to publicize their wealth—as well those of their spouses and kids. According to reports in China and Hong Kong papers, a number of progressive cadres had proposed just such a "sunshine policy" at the Fourth Plenum of the CCP Central Committee, which was held in September of last year. The idea, however, was not adopted at the plenary session (People's Daily, September 27, 2009; Hong Kong Economic Times, December 4, 2009; Apple Daily [Hong Kong], September 17). Thus far, only individual provinces and cities have come up with less stringent financial disclosure regulations affecting local-level officials. For example, the Shanxi Province branch of the CCDI issued a ruling early this year saying that senior cadres in the central-China province must report their properties, investments and other assets to superior anti-corruption units. They must also submit a file on the professions and business dealings of spouses and offspring. There was no specification, however, about public disclosure of such information (Xinhua News Agency, February 1; Shanxi Evening Post [Taiyuan], February 1).
Even more significantly, Politburo members in charge of discipline and personnel have continued to put priority over "personalities"—meaning picking trustworthy candidates for high office—instead of introducing institutional safeguards. The emphasis on nurturing "virtuous" officials of exemplary moral rectitude of course goes back to the Confucianist ethos. In speeches the past two years, Director of the CCP Organization Department Li Yuanchao as well as Vice-President Xi Jinping—who also heads the Central Party School—have contended that the party's headhunters must look for "officials who have both de ["morality"] and competence, with priority given to de." Li said famously that "if a cadre were to go astray, the problem is usually not competence but morality" (China News Service, November 30, 2009; People's Daily, December 1, 2009).
With the cessation of political reform—and the resultant concentration of powers in the CCP—there are no checks and balances to prevent putatively virtuous officials from abusing their powers. This is despite President Hu's pledge during his early 2010 CCDI address that the CCP would work harder at "the construction of an anti-corruption mechanism." Thus, Hu called for "intensified and improved publicity on anti-corruption measures, reform and improvement of intra-party supervision, expanded supervision channels, and the establishment of an anti-corruption information database and network" (Xinhua News Agency, January 12; CCTV news, January 13). Owing to the lack of an independent anti-graft agency, however, what Hu called "intra-party supervision" has amounted to little more than "the CCP investigating itself."
The party's refusal to grasp the nettle has resulted in the worsening of the corruption scourge. There has been a proliferation of cadres becoming the silent partners, patrons—and accomplices—of unscrupulous businessmen. The recent scandal surrounding Wang Guangyu, former chairman of Gome Electrical Appliances and once China's richest man, is particularly alarming. Wang, who was last month given a 14-year jail term for crimes including bribery and insider trading, allegedly paid off a dozen-odd senior cadres, including the Assistant Minister of Public Security Zheng Xiaodong. The fact that investigations had taken one-and-a-half years and that the trial was shrouded in secrecy has raised suspicions that CCP authorities were reluctant to come clean on the identities of cadres who were in Wang's pockets. Wang's case is typical of a growing number of prominent business "clans" whose affiliates include not only family members but also senior officials from a plethora of party and government departments (Reuters, May 28; The Age [Melbourne], May 25; Ming Pao, May 21).
Even more disturbing is the fact that corruption has extended to the courts, deemed the last line of defense against endemic graft. High-profile judicial cadres who received hefty jail terms this year have included the Vice-President of the Supreme People's Court Huang Songyou and the Director of the Justice Department of the directly administered city of Chongqing Wen Qiang. Both Huang and Wen allegedly offered "protection umbrellas" to shield the crimes of cronies who were businessmen in Guangdong Province and Chongqing, respectively (Xinhua News Agency, January 10; Global Times, June 10). The shocking extent of judicial corruption was exposed earlier this month when three judges in Lingling District, Yongzhou City, Hunan Province were gunned down by Zhu Jun, a post office security guard who claimed he was the victim of the miscarriage of justice. Zhu killed himself after the shootings. One day later, several hundred local residents held a demonstration outside the Lingling court office. Holding placards saying "Zhu Jun is a people's hero," the protestors called upon provincial and central authorities to investigate how Yongzhou judges had colluded with corrupt officials and businessmen to suppress the members of disadvantaged sectors (Ming Pao, June 3; Wen Wei Po [Hong Kong] June 2). In the final analysis, unless the Hu leadership is willing to bite the bullet on the scourge of corruption—especially that perpetrated by the country's new aristocratic clans—the angry masses could one day converge outside Beijing's Zhongnanhai Party Headquarters.