China's Russian Far East
Publication: China Brief Volume: 9 Issue: 16
By: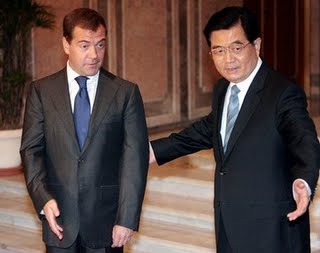 On April 21, 2009, China formally concluded an agreement to lend $25 billion to Russian state-owned oil company Rosneft and pipeline monopoly Transneft in exchange for the completion of an oil pipeline from Skovorodino in Russia to Daqing in China. Russian commentators claim that the deal was not commercially favorable to China [1]. That contention, however, is arguably misplaced. Admittedly, the price of the oil was set at the floating price of Brent crude oil when it arrives at the projected Kozmino Bay terminal and Russia has finally gained an Asian entrée for its energy exports. Yet, while Chinese leaders may cringe at the deal's price tag, Beijing has gained serious geopolitical advantages over Moscow in the Russian Far East (RFE) because of the effect that the global economic crisis is having on the latter's economy and on Moscow's ability to control the RFE. Moscow also now looks favorably on China's investments in Central Asia. By opening up the RFE to Chinese investment and blessing similar investments in Central Asia, Moscow is reversing its policies toward both the Far East and Central Asia. In effect, this and other similar deals opens the door to a huge expansion—with Moscow's assent—of China's strategic profile in both regions. The creation of a new regional order in the RFE and Central Asia is beginning to take shape and China is set to become the region's security manager, ensuring foremost that its portfolio investments are safe and secure.
The deal provided the impetus for significant increases in Chinese access to the development of Russian energy assets in the RFE that has hitherto been blocked (Asia Times Online, February 24). Since Moscow failed to develop the RFE under present economic conditions, it had to invite Chinese participation starting in late 2008 when it began to negotiate this loan. Although the direct cause of this move is the global economic crisis, the root cause is the mismanagement of the Russian energy industry, which is Moscow's main—if not only—trump card in the Far East. Yet, in doing so Moscow is undermining what experts say has been the strategic rationale behind its East Asian policy. That policy operated on the premise that Moscow would use its energy revenues to develop the RFE and Eastern Siberia further and promote Russia's full integration into Northeast Asia as a major great power [2]. The failure of this policy does not bode well for Russia's quest to be recognized as an independent and key player in Asia.
On May 21, Russian President Dmitry Medvedev admitted in a rare public acknowledgement that unless China invested in large-scale projects in the RFE, Moscow's plans to develop the region could not materialize. The acute decline of the Russian economy is clearly illustrated by the contraction of foreign trade, which had contracted by one-third since the start of the year to May 2009. As of June 2009 forecasts predict an 8 percent decrease in GDP, and the government is now cutting the budget and being forced into ever more crisis-driven polices [3].
Medvedev candidly stated that the economic development of the RFE cannot depend on Russia's ties with Europe but rather its ties with Russia's main Asia-Pacific partners. He also stressed that the RFE's regional development strategy must be coordinated in tandem with China's regional strategy of rejuvenating its old industrial base in Northeast China (e.g. Heilongjiang province) (People's Daily Online, May 21; Kremlin.ru, May 21). Other officials quickly followed suit. Army General Nikolai Patrushev, secretary of the Russian Security Council, subsequently conceded the weaknesses of the RFE's infrastructure and outlined the RFE's most important priorities: "The development of cross border cooperation with neighboring countries, enhancement of transit possiblities, development of infrstructure and capacities for wood processing, seafood processing and output of products competititve on the world market" (ITAR-TASS, July 3. While liberal and other critics of the regime continued to warn about Chinese encroachment in the Far East, the government's leading spokesmen praised Russo-Chinese relations as being at their highest point ever. Russian Deputy Foreign Minister Sergei Rybakov actually lauded Chinese investment in Central Asia for its "transparency" [4]. Furthermore, Rybakov declared that,
"We believe that our friends and partners in Central Asia are appropriately meeting the situation and solving the task facing them in the sphere of economic and social development using the opportunities that present themselves as a result of cooperation with China. Hence this can only be welcomed" [5].
The Russian leaders' statements constitute a reversal of Moscow's past policy of trying to prevent Chinese economic penetration of Central Asia, which was meant to avoid economic competition, and probably confrontation, with China in the region. Moscow's elite has hitherto regarded any gain by Beijing in Central Asia with unease, and the Russian media has repeatedly speculated about China's economic "conquest" of Central Asia (Nezavisimaya Gazeta, November 28, 2007) [6]. As a 2007 report of the Russian-Chinese Business Council observed,
Being a member of the SCO (Shanghai Cooperation Organization), China views other members of the organization as promising markets. It is China that wishes to be the engine behind the trade and economic cooperation within the framework of the SCO … China's intentions to form [a] so-called economic space within the SCO are well known. Owing to that fact, experts have been speaking about greater Chinese economic expansion in various parts of the world, including Central Asia … Beijing has activated ties with all Central Asian countries and strives to comprehensively strengthen economic relations and the dependency of these countries on its market (Interfax, November 15, 2007).

Rybakov's remarks reveal a significant change in Russian policy and a major concession to China. Yet the real payoff to both sides—although primarily to China apart from this unprecedented concession—can be found in the new and recent energy deals.
Beijing naturally welcomed this initiative. At the June 16-17 summit with China, Medvedev admitted that, "we riveted much attention to investment breakthrough." Medvedev stressed both sides' acceptance of the need for a qualitiative breakthrough and the readiness of Chinese firms to make sizable investments in energy facilities, timber processing and transport infrastructure in the RFE (ITAR-TASS, June 17; Xinhua News Agency, June 15 & 17). Russia's Bank for Development and Foreign Economic Affairs, Vnesheconombank (VEB), had to borrow money from China. As a major stockholder in Russia's largest oil company, Lukoil, China also indirectly has leverage over that firm. After having excluded foreign firms from bidding on the huge Udokan copper mine in Southeast Siberia, Moscow had to reopen the bidding to Chinese, South Korean, and Kazakh mining and refining enterprises. All these moves constitute a major reversal of past Russian policy in energy and mineral investment dating back to 2003 (Asia Times Online, July 1; Interfax Russia & CIS Oil and Gas Weekly, June 17; Forbes, June 29). Similarly, under the terms of the new agreement, Russian companies may invest in oil exploration and natural gas distribution in China (for which they lack the captial at present) but that Chinese firms (who have huge amounts of capital for investment) may also invest in developing oil and gas fields in Russia along with liquefaction plants (Bloomberg News, June 30). It appears that the following deals were consummated at the June 16-17 Sino-Russian summit in Moscow, some of which were listed above. More specificially,
"On June 17, Medvedev and Hu signed a joint statement. Both sides also signed memoranda of understanding (MOU) on gas and coal cooperation, trade promotion, an investment cooperation blueprint, a framework agreement on [a] $700 million loan from China's Export-Import Bank to Russia's VEB (Vnesheconomobank), and an additional MOU between Renova and China's state gold mining corporation" (Asia Times Online, July 22).
Also on June 17, Lukoil and Sinopec signed a contract to supply 3 million tons of crude oil from the South Hylchuyu deposit in Nemets Autonomous Region in Russia between July 1, 2009 and June 30, 2010 (Asia Times Online, July 22). Since then the Liaoning Xiyang group announced that it will invest in the development of a 1 billion-ton iron ore deposit at the Berezov deposit, 20 kilometers (km) north of the Inner Mongolian border town of Shiwei (Caijing Online, July 20). Aside from these events, China has become Russia's largest trading partner as a result of the current crisis. Russia and China are discussing co-production arrangements in oil, gas, and electric power settlements and deals totaling $100 billion, the use of their national currencies in mutual settlements, and Russian officials are even promoting both the ruble and the Renminbi as new international reserve currencies (ITAR-TASS, June 17; Interfax, June 16 & 17; Interfax Russia & CIS Oil and Gas Weekly, June 17).
On June 17 Medvedev claimed that he had clinched deals with China on energy totaling $100 billion by a "special mechanism," a reference to the April 21 deal.
China's Strategy Triumphs Due to the Economic Crisis
China has naturally welcomed these opportunities for expanding its influence over Russian and Central Asian energy and other assets and is moving to take advantage of them through these deals and energy purchases in Russia, Turkmenistan, and Kazakshtan, and by expanding its loans and investments in the Central Asian states. Given the subtlety that characterizes Chinese policy toward the region, Beijing will not loudly proclaim a new order in Asia, but it is finally in a position to realize the goals it set out to achieve in 2002-03 when it first began to invest in Russian and Central Asian energy in anticipation of beocming an energy importer.
China first sought to buy into the Slavneft oil firm in 2002 and to deal with Yukos under Mikhail Khodorkovsky's leadership in 2002-03. After those deals were rebuffed by direct state interference, Moscow played a game with China and Japan, first promising one and then the other that it would build a pipeline to their Asian destination of choice, but failing to deliver on any of these proposals. Russia failed to live up to many of its previously-announced commitments to China in energy through 2008 [7]. Now we can expect considerably more Chinese investment in both the Russian Far East and Central Asia as Moscow is in no position to object and desperately needs the captial that China can provide.
Conclusion
These deals demonstrate not just the failure of Russian policy in the RFE, but also China's growing dominance, through its economic power, of Russia's policy toward Asia—a situation facilitated by the global economic crisis. Russia has seemingly renounced its autocratic dreams in the Far East and solicited Chinese investment. Courting Chinese power has forced Russia to reverse long-standing Russian policies in the RFE. For all those who are watching for the emergence of China as a dominant economic and political player in Asia, these new deals with Russia have a profound significance that we overlook at our peril.
Notes
1. Alexander Lukin, "Russia to Reinforce Asian Vector," Russia in Global Affairs, Vol. VII, No. 2, April-June, 2009, p. 90.
2. Sergei Lavrov, "The Rise of Asia and the Eastern Vector of Russia's Foreign Policy," Russia in Global Affairs, Vol. 4, No. 3, July-September, 2006, pp. 70-77.
3. "Russia Faces GDP Decline of 7.9 Percent This Year, World Bank Says," from Bureau News, June 24, 2009, https://blog.taragana.com/n/russia-faces-gdp-decline-of-79-percent-this-year-world-bank-says-90732/.
4. Open Source Center, OSC Feature, Russia, OSC Analysis, "Russian Officials Laud Ties with China; Observers Express Concerns," Foreign Broadcast Information Service Central Eurasia, (FBIS SOV), July 20, 2009.
5. Ibid.
6. Bulat Abdulin, "For Kazakhstan's Army – a NATO Heading," Marketing I Konsalting Internet Version, in Russian, January 9, 2008, FBIS SOV, January 15, 2008.
7. Stephen Blank, "At a Dead End: Russian Policy and the Russian Far East," Demokratizatsiya, Vol. XVII, NO. 2, Spring, 2009, pp. 122-144.