China's Uranium Quest Part 2: The Turn to Foreign Markets
Publication: China Brief Volume: 11 Issue: 16
By: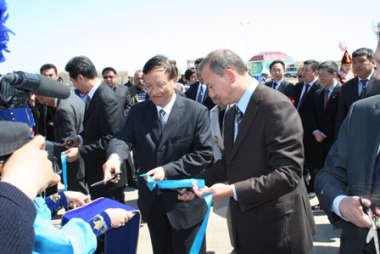 On August 24, the head of Kazakhstan's national nuclear monopoly Kazatomprom announced plans to increase its uranium fuel pellet shipments to China by one hundredfold, from 2 metric tons this year to 200 metric tons in 2013 or 2014 (Bloomberg, August 22). This is welcome news in Beijing since, according to most experts, China's own deposits of uranium are insufficient to support the country's projected electricity output. The uranium deposits that were sufficient to supply China's nascent nuclear energy program now account for less than half of its annual uranium consumption. Although Chinese energy managers naturally would like to mine domestic uranium rather than wrangle for foreign deals, the international uranium market will inevitably play a large role in China's nuclear energy drive as the first part of this series demonstrated. By 2020, China is expected to account for 20 percent of global uranium demand (Uranium Investing News, August 25). The Chinese will need to manage a predicted excess of global demand over global supply in coming years as well as corruption, political instability and other problems with the source countries, many of which are in Central Asia and Africa.
This is the second part in a two-part series examining the feasibility of China's nuclear ambitions by evaluating its access to uranium. The first part analyzed the domestic bottlenecks that challenge the feasibility of China's nuclear power ambitions.
China Looks to Foreign Reserves
The largest uranium reserves are in Australia (1.6 million tons, 31 percent of the world's supply), Kazakhstan (651,000 tons, 12 percent), Canada (485,000 tons, 9 percent) and Russia (480,000 tons, 9 percent). South Africa, Namibia, Niger and Brazil each have about 282,000 tons (5 percent). Availability however does not necessarily mean export or production potential. The largest producers of uranium are Kazakhstan (33 percent of world supply), Canada (18 percent) and Australia (11 percent) (World Nuclear Association, "World Uranium Mining," April 2011; "Supply of Uranium," December 2010). Moreover, the quality of uranium held by each country varies considerably. Among the largest producers, only Canada has high-quality uranium (Council on Foreign Relations, January 14, 2010).
China's state-run companies are increasingly importing uranium from each of the countries listed above as well as others. The total Chinese uranium imports in 2010 were 17,136 tons, a threefold increase from 2009 (Flanders-China Chamber of Commerce, April 14). The drop in uranium spot prices by two-thirds during the global recession in 2008 created favorable economic conditions for China to stockpile uranium to meet future demand. China's ambitious plans to expand its nuclear program suggest that increase in imported uranium is not a fluke.
Two large State-Owned Enterprises (SOEs)—the China National Nuclear Corporation (CNNC) and the China Guangdong Nuclear Power Company (CGNPC), as well as their subsidiaries—are the main companies responsible for procuring overseas uranium for China. While CNNC is larger, CGNPC has been more aggressive in securing foreign deals. The two SOEs are negotiating contracts in some of the same regions with some of the same foreign companies.
In exchange for access to uranium supplies, China has increased its engagement with its suppliers creatively. For example, Beijing has granted Kazakhstan's SOE Kazatomprom equity in Chinese nuclear fuel processing facilities, researched alternative nuclear power production methods with AECL and provided interest-free soft loans to the governments of Uzbekistan, Niger and other uranium-rich countries (World Nuclear News, June 10, 2010; November 4, 2008; Reuters, April 24, 2010).
Chinese Efforts in Central Asia
Chinese policy makers naturally prefer to buy their uranium from neighboring countries ruled by friendly governments. It is therefore unsurprising that China has become a major buyer of Central Asian uranium. For instance, CNNC and CGNPC currently hold stakes in several Kazakhstan uranium mines. In November 2008, the Chinese and Kazakh prime ministers signed a nuclear cooperation agreement between two countries, following an earlier memorandum in 2007. The state-owned Kazatomprom has signed deals with CGNPC on joint development and exploration of uranium resources, fuel production, long-term trade and power plant construction. Its deals with CNNC include long-term nuclear projects, investment in uranium venture and Kazatomprom's investment opportunities in China's nuclear power sector (World Nuclear News, November 4, 2008).
On June 18, 2010, Chinese president Hu Jintao and Kazakhstan leader Nazarbayev signed an additional deal to increase uranium sales between Kazatomprom and CGNPC. Under its terms, China will import 24,000 tons of uranium from 2008 to 2012 (Oil and Gas Journal, June 18, 2010). The first results of the above agreements were the Semizbay-U joint venture in Irkol, Kazakhstan, launched in April 2009. Semizbay-U is capable of producing 750 tons of uranium annually. A later 2011 deal enables China to import an additional 55,000 tons of Kazakhstan's uranium over the next decade (Roman Muzalevsky, "Global Struggle for Kazakh Uranium Resources," Eurasia Daily Monitor, April 15).
Chinese companies also want to obtain uranium from other Central Asian countries. In June 2010, CGNPC signed a contract to import uranium from Uzbekistan's state-owned Navoi Mining & Metallurgy Combine, which has a state monopoly on producing, enriching and exporting uranium in Uzbekistan (Market Watch, March 9). In August 2009, China's CGNPC Uranium Resources Co. and Uzbekistan's Geology and Mineral Resources Committee established the Uz-China Uran LLC joint venture on a parity basis, with a charter capital of $4.6 million, to prospect for uranium in the Navoi region of southwest Uzbekistan (Region.uz, September 9, 2009).
As of 2008, Uzbekistan was estimated to contain approximately 185,800 tons of uranium. Uranium production however is limited to three leaching operations in Uchkuduk, Zafarabad and Nurabad, under the control of the Navoi Mining and Metallurgy Combine. The Uzbekistan government wants to develop the country's uranium sands fields in cooperation with Chinese companies since they can provide the large capital required (World Nuclear Association, "Uranium in Central Asia," February 2011; Joao Peixe, "Uzbekistan and China look at uranium producing project," Oilprice.com, August 25, 2011).
In 2008, the Chinese company Sinosteel and an Australian company Monaro Mining NL reached an agreement whereby Sinosteel would take charge of all Monaro's uranium mining operations in Kyrgyzstan. This arrangement allows Sinosteel to own up to 60 percent of two uranium mines. Moreover, Hebai Mining, a Chinese company, possesses 10.94 percent percent of Raisama Ltd, a company that takes part in uranium mining activities in Kyrgyzstan (World Nuclear Association, "Uranium in Central Asia," February 2011).
China's uranium quest in Central Asia has met some obstacles. The region's underdeveloped energy infrastructure has necessitated additional Chinese investment. For instance, China has helped build gas pipelines and hydroelectric power stations in Kazakhstan, where China accounts for 26 percent of total foreign investment (Asia Times, March 31). Furthermore, the Central Asian uranium market is very competitive. Russia, Japan and South Korea buy significant amounts of uranium there, while India and Iran want to raise their imports. Kazakhstan in particular has mastered the art of balancing customers, preventing leading buyer China from achieving a monopoly position.
Domestic opinion could hamper China uranium imports from Kazakhstan. Japan's nuclear accident has stirred up some anti-nuclear sentiment, already present due to Kazakhstan's poor environmental and safety record in the Soviet period. The Chinese have apparently sought to decrease this risk by partnering with the state-owned Kazatomprom. Russia however offers an attractive alternative given its promise to enrich Kazakh uranium, giving it added value, and offer to build nuclear reactors jointly (Muzalevsky, "Global Struggle for Kazakh Uranium Resources"). Beijing needs to exercise skillful diplomacy to maximize imports from a diverse range of sellers in the face of such strong foreign competition.
Imports from Africa
China imports uranium from several African countries and sought to expand its access. In 2008, CGNPC acquired 49 percent of a French AREVA-owned mining group that holds deposits throughout Africa including a 42,000 ton project in Namibia and 30,000 ton project in South Africa. The company has recently sought to increase its stake in Namibia by gaining access to the Husab uranium mine, the fifth-largest deposit in the world, with estimated reserves of 166,600 tons (Caixin, March 9).
Namibia also has the largest uranium mine in Africa, the Rossing mine, which produced approximately 3,449 tonnes in 2008. The French company Areva agreed to sell the CGNPC and Chinese sovereign wealth funds a 49 percent stake in its Areva Resources Southern Africa, which will "provide CGNPC with access to more than half" (the precise amount was undisclosed) of ARSA's output, most of which will initially come from the Namibian Trekkopje mine (Roger Murray, "Uranium: Getting Ready for a Nuclear Surge," The Africa Report, July 27, 2009). In Namibia, a UK-based company, Kalahari Mineral PLC, indirectly controls 43 percent of the Husab mine through a company called Extract Resources Ltd., which owns the mine. CNNC wanted to buy Kalahari's share but eventually withdrew its offer (Miningweekly.com, May 10).
Niger possesses the Akouta and Arlette mines, which together supply around 6 percent of all the uranium mined in the world (World Nuclear Association, "Uranium Mining," April 2011). Moreover, in December 2010, the CNNC began a probationary period of operating its first mine in Niger. SinoU began uranium extraction at a mine in Azelik, of which the Chinese control 37 percent (World Nuclear News, January 4).The mine should produce some 700 tons a year once in full production and Niger received a loan for $99 million from the Export-Import bank of China to help support the mine (Reuters, April 1; China Daily, March 24).
CNNC has also negotiated with the Nigerian government to develop the Azelik deposit in the Agadez region, estimated to contain over 12,500 tons of uranium with a mining capacity of 700 tons per year.
Furthermore, China is trying to secure uranium from South Africa, the tenth largest supplier of uranium in the world in 2007 (ResourceInvestor.com, May 23). China has been begun seeking uranium in Tanzania, Zambia and Zimbabwe as well (China Daily, March 24). China holds a joint-venture agreement to mine uranium in Zimbabwe, which has an estimated 455,000 tons of uranium (The Times [Zimbabwe], May 7).
China's involvement in Africa's uranium, like Beijing's other ties with the continent, is not without controversy. China's development of uranium resources in Africa is frequently accompanied by funds for infrastructure investment projects. However, unlike Western aid, few strings are attached to this money, providing autocrats access to easy money. Africans complain about poor working conditions and restricted labor rights at Chinese-owned projects. In Niger, ethnic strife among uranium exploration workers has alarmed Chinese managers (Christian Science Monitor, March 29, 2010). Chinese diplomats have sought a proactive approach toward resolving these problems. They have argued that economic cooperation with China benefits Africans by enabling the building of hospitals, schools and other infrastructural needs as well as mutual gains through trade. (Raymond Hu, "Chinese Investment in Africa: A Dangerous Game," American Foreign Policy, March 16).
Other Foreign Uranium Sources
China's uranium quest extends to other continents as well. Early in 2006, China signed two important agreements with Australia (CNN, April 3, 2006). The Nuclear Transfer Agreement permits China use Australian uranium in specified installations, while the Nuclear Cooperation Agreement allows the Chinese search Australia for uranium. Altogether, China imports around 500 tons of uranium every year from Australia (World Nuclear Association, "Australia's Uranium," February 2011; World Nuclear News, November 21, 2008). In addition, Chinese companies have been investing heavily in uranium mining operations in Australia. On February 7, 2007, China's Sinosteel and Australia's PepinNini Minerals signed a joint venture agreement to explore uranium deposits in Australia's heartland (World Nuclear News, February 8, 2007). Yet, the Rio Tinto mining scandal has since cast a shadow over future business between the two countries (Time, August 3, 2010).
Elsewhere on the Eurasian landmass, in 2007, the China Nuclear Energy Industry Corporation agreed with Century City International to help discover and exploit uranium in eastern Mongolia (World Nuclear Association, "Uranium in Mongolia," March 2011). In 2009, China Nuclear International Uranium Corporation (CNIUC), a CNNC subsidiary, acquired a 69 percent share of a Mongolian mining company that is developing the Gurvanulag deposit in Saddle Hills, which has an estimated 14,000 tons of uranium. In 2008, China and Russia signed a $1 billion deal on building an enrichment facility in China that would supply low-enriched uranium to China's expanding civilian nuclear power sector (USA Today, May 23, 2008).
China has also sought uranium from the West. CNNC's China Nuclear Energy Corporation signed a long-term contract on June 24, 2010 with Canada's Cameco to import 10,000 tons of uranium over a 10-year period (CNNC Press Release, July 15, 2010). That November, Cameco signed an agreement with China Guangdong Nuclear Power Holding to import 13,000 tons of the mineral through 2025 (Bloomberg, November 24, 2010). Canada's Cameco has also contracted to sell 29 million pounds of uranium concentrate through 2025 to CGNPC (Wall Street Journal, January 21; Uranium Investing News, June 28). Australia is another large supplier of uranium products to China's two importing behemoths, selling processed fuel rather than impure ore. Furthermore, in November 2010, during Chinese President Hu Jintao's visit to France, the French nuclear giant AREVA signed deals with CNNC and CGNPC to construct reactors and export uranium. CGNPC and AREVA signed a $3.5 billion contract to export as much as 20,000 tons of uranium to China over a ten year period (AREVA Press Release, November 4, 2010).
Conclusion
Chinese companies have responded to the current depressed international uranium market—due to the March meltdown in Japan and the subsequent decision by Germany to phase out its large civilian nuclear power sector—by attempting to renegotiate outstanding bids and positions. In early May 2011, CGNPC reneged on its $1.24 billion bid to acquire a controlling interest in Kalahari Minerals PLC, which is developing a nearly $1.5 billion uranium mine in Namibia. The bid, placed only a few days before the earthquake on March 11 in Japan, was completely overvalued considering the subsequent fall in global uranium demand and prices. When regulators denied CGNPC's revised bid, the company withdrew its offer entirely. This decision was made only after over two months of negotiations, indicating China's reluctance to abandon such a large uranium acquisition (Wall Street Journal, March 22).
Moving forward, China will need to contend with further volatility in international uranium markets. Although it has procured foreign supplies with relatively little controversy, China must manage possible diplomatic tensions in Central Asia and political instability in Africa. Future complications could arise in other foreign areas once global demand rebounds and uranium prices rise. The Chinese will face especially stiff competition for uranium from Russia, India and South Korea. Russia has contracted with some of the same countries as China in its many uranium deals, especially Kazakhstan and Mongolia. The Indians have sought to buy uranium from Kazakhstan, Namibia, Niger and Mongolia, and are vigorously searching for opportunities elsewhere (MiningWeekly.com, May 13).
Although Chinese companies continue to look for uranium resources around the world, they are wary to overbid for mines that lack proven valued resources. But the Chinese have shown they will often pay above market prices for those mines, companies and other assets that are genuinely rich in natural resources.