Chinese Investment in Kyrgyzstan Hampered by Unstable Business Climate
Publication: Eurasia Daily Monitor Volume: 10 Issue: 175
By: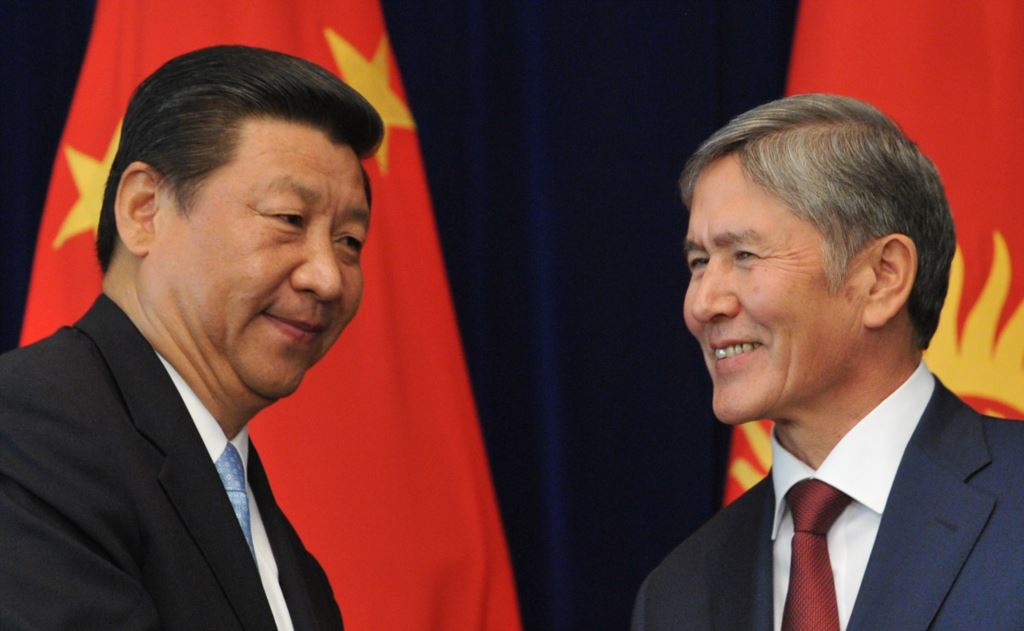 A joint declaration on strategic partnership was among several agreements that were signed following talks in Bishkek between visiting Chinese President Xi Jinping and his Kyrgyz Republic counterpart, Almazbek Atambaev, on September 11. Atambaev told reporters that the signed documents also include agreements on Chinese vehicle deliveries to Bishkek, natural-gas pipeline construction in Kyrgyzstan, cooperation in the healthcare sector, upgrading a heating plant in Bishkek, construction of a new highway connecting Kyrgyzstan's north and south, and $10 million in credit to Kyrgyzstan. The amount of Chinese investment outlined in the documents totals $3 billion (Fergananews, September 11).
Before stopping in Bishkek to attend a summit of the Shanghai Cooperation Organization (SCO) (see EDM, September 18), Xi made a series of visits to Turkmenistan, Kazakhstan and Uzbekistan. He signed important economic deals with these countries, calling for the construction of pipelines to bring Central Asian hydrocarbon resources to China's booming cities (Fergananews, September 11).
The amount of Chinese investment in Kyrgyzstan, outlined during President Xi's visit is insignificant in comparison with the investments in other Central Asia countries outlined during the Chinese leader's visit to the region. For example, Xi agreed to invest $30 billion in Kazakhstan's economy and $15 billion in Uzbekistan. The scale of investment in Turkmenistan went unreported, but because Beijing has a big interest in Turkmenistani gas, it is possible to suppose that the Chinese investment in Turkmenistan's economy is no less than in Kyrgyzstan.
During President Xi's foreign trip, against all expectations, Beijing again postponed negotiations on the construction of a railroad from Uzbekistan to China across Kyrgyzstan. Undoubtedly, for Kyrgyzstan and Uzbekistan, this railroad would be their most important joint project with China. The railroad would traverse less than 200 kilometers from China's Kashi rail terminus in Kashgar, Xinjiang, to the trade hub at Kara-Suu, Kyrgyzstan, located on the border with Uzbekistan and 20 kilometers north of Osh. The new line would then connect with the Ferghana Valley's existing railroad network, which links the region's major cities with Andijan, Uzbekistan. China has interests in Uzbekistan's raw materials and seeks direct access to Iranian oil and the Islamic Republic's wider market (Kyrgyzstan's news agency Kabar, September 29).
With the construction of this railroad, Uzbekistan would gain access to Southeast Asian markets. Currently, both Uzbekistan and Kyrgyzstan are forced to use rail lines passing through Kazakhstan in order to ship their goods to Southeast Asia. The length of this route is 1,244 kilometers. Moreover, the proposed railroad would be quite profitable for Tajikistan because this country suffers from an energy and transport blockade imposed on it by Uzbekistan. Kyrgyzstan's President Atambaev emphasized that the construction of the China-Kyrgyzstan-Uzbekistan railway would allow Kyrgyzstan to benefit from becoming a regional transit country. Therefore, the failure to sign an agreement with Beijing on this project was a major blow to Bishkek (Kyrgyzstan's news agency Kabar, September 29).
The relative insignificance of Chinese investments in Kyrgyzstan to date is most likely explained by an unstable situation in this Central Asian republic, which continues to suffer from high levels of criminality. Doing business in Kyrgyzstan remains a risky prospect for foreign companies.
Illustratively, in September 2013, two leaders of a local criminal organization attempted to extort $3 million from the leadership of Centerra Gold, which owns the Kumtor gold mine in Kyrgyzstan. When the police arrested the racketeers, residents of Saru, a village located near the Kumtor mine, again organized to demand the gold mine's closure. About 500 Kyrgyzstani demonstrators had earlier demanded Kumtor's immediate nationalization in October 2012 (see EDM, October 5, 2012; Rosbalt, September 5).
Chinese companies often face similar pressure from Kyrgyz criminals and locals engaging in unsanctioned and violent protests. Indeed, in October 2012, about 450 villagers threatened to destroy the offices of the Chinese company Zijin Mining Group in the village of Orlovka in Kyrgyzstan's northern Chui province. Approximately 250 Chinese workers were reportedly evacuated and Zijin Mining Group's Orlovka operations were suspended indefinitely. Earlier, in August 2011, some 300 locals beat up three Chinese miners at the Chinese-operated Solton-Sary gold mine in Naryn Province in northern Kyrgyzstan. Locals demanded the privatization of the gold mine to domestic companies (see EDM, November 7, 2012).
After the violent incident in Orlovka, the head of the Chinese Chamber of Commerce in Kyrgyzstan, Li Deming, wrote in the English-language Global Times (linked to the Chinese Communist Party's People's Daily) that doing business in Kyrgyzstan is "not easy." According to Li, "If the Kyrgyz government doesn't [sic] fix its own problems, we can foresee more undesirable results from foreign resources projects" (Global Times, October 28, 2012).
Beijing clearly does not perceive Kyrgyzstan's business investment climate to have improved over the past year. According to the People's Daily (September 12), a book titled "The Report on the Development of Central Asia" was presented in Beijing on September 11, at the same time as Xi was visiting Bishkek. According to this book, which the People's Daily stressed represents the official position of the Chinese authorities, the situation in most of Central Asia is stable and the conditions for business development are favorable. However, the book argues, the same cannot be said of the political and business climate in Kyrgyzstan. So far the troubling economic situation in the Kyrgyz Republic, as perceived by Beijing, has not completely prevented Chinese companies from doing business there. Chinese direct investment, while anemic, continues. Meanwhile, small traders have proliferated along the border between the two countries for years (see EDM, November 7). However, should Chinese opinion significantly worsen in the near term, resulting in all Chinese activities in the country ceasing, Kyrgyzstan may be left with no other economic alternatives to the Russian-led Customs Union or Eurasian Union.