Chinese State-Owned Military Firm Reports Major Increase in Sales
Publication: China Brief Volume: 9 Issue: 11
By: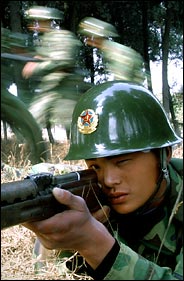 Recent reports within the Chinese press revealed that sales of a Chinese state-owned military conglomerate that produces equipments and arms for both civilian and military applications have rose substantially in the first quarter of 2009. A case in point is the Beijing-based China South Industries Group Corporation (CSIGC), one of the country's largest civilian-military firms, which stated that its first-quarter sales rose 8.4 percent year on year to $5.73 billion (38.99 billion Renminbi). According to the official Xinhua report, CSIGC reportedly earned over $100 million (710 million Renminbi) in profits in the first quarter—with profits increasing month-on-month—citing data released by the company in late April (Xinhua News Agency, April 26).
The figures in the report only cited sales for civilian products such as small cars and motors, and no details were given on the composition of total sales from military products. "In the first quarter, the company sold 300,000 sets of vehicles, up 13.2 percent year on year. The growth was more than 9 percent higher than a 3.88-percent growth in the country's overall domestic auto sales in the same period." Moreover, "sales from its power transmission and transformation, as well as new-energy sectors, jumped almost 60 percent year on year to 3.44 billion yuan [approximately $500 million]. The company's sales of transformers surged 73 percent" (Xinhua News Agency, April 26).
CSIGC is a state-owned enterprise under the direct administration of the Chinese State Council. The company was re-structured in the landmark reforms of 1998, which divided China's defense industrial base into civilian and military components. CSIGC is comprised of 64 large-and medium-sized industrial enterprises, 13 research institutes and other corporations. According to a Chinese government website, CSIGC holds 11.6 percent and 50 percent of shares of North lndustries Finance Company Ltd. (NORFICO) and China North lndustries Corporation (NORINCO), respectively (Techinfo.gov.cn). While CSIGC produces equipment for civilian uses, it is known for its research and development of "special equipment" for the country's armed forces.
The growth in sales of CSIGC and its sister organizations in recent years have increased in line with the People's Liberation Army's (PLA) military budget, which analysts say creates a feedback loop for PLA defense modernization. The PLA's overall budget has been increasing by double-digits annually for the past two decades, and the modernization of the Chinese military is stoking concerns of a regional arms race and raising international awareness about the impact of Chinese arms sales toward conflict zones.
Andrei Chang, the editor-in-chief of Kanwa Defense Weekly, noted in a January report that the quantity of Chinese military arms and equipment transferred to Africa is expanding. According to Chang, the arms and equipment are being "traded for oil, mineral resources and even fishing rights." For instance, "Zambia has used its copper resources to pay China in a number of military deals, for instance, and Kenya has been negotiating with China to trade fishing rights for arms" (UPIAsia, January 26).
While China's military exports are soaring, Russian arms sales on the other hand have been in decline. According to a Russian official, Moscow's sales of weaponry and military technology to Beijing continue to drop from previous years. Anatoly Isaikin, general director of Rosoboronexport—a Russian arms export monopoly—told the Rossiiskaya Gazeta that "sales have dipped about $1 billion a year" (The Moscow Times, April 19; UPI, April 11). The Moscow Times reported that Russia has pulled in $16 billion from arms sales to China since 2001, and this includes Su-27 and Su-30 fighter jets, Kilo class diesel submarines and air defense systems. Yet, Isaikin said that the Chinese share of Russian arms exports fell to 18 percent last year and could continue dropping to 10-15 percent in the future. Isaikin attributes this to Russia's expansion into other arms markets (The Moscow Times, April 19). The Russian arms industry, however, has been trying to lobby for stronger Sino-Russian defense ties due to concerns about the 62 percent drop in Russian arms sales to China in 2007 (SIPRI's online Arms Transfers Database, March 31, 2008; Moscow News Weekly, March 27, 2008; China Brief, April 16, 2008).