CIS, CSTO Eye Increased Cooperation Despite Divisions
Publication: Eurasia Daily Monitor Volume: 9 Issue: 74
By: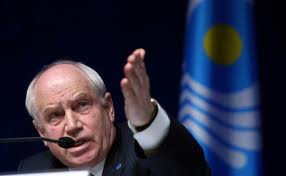 The latest top-level meetings of post-Soviet regional groupings, the Commonwealth of Independent States (CIS) and the Collective Security Treaty Organization (CSTO), pledged to intensify joint efforts to counter security and economic challenges. However, despite continued Russian efforts to sustain the groupings' unity, the CIS and the CSTO still faced internal disagreements between member nations.
On April 6, the CIS foreign ministers met in Astana, Kazakhstan, and pledged to develop multilateral ties. Foreign ministers of the CIS member states agreed to hold their next meeting in November 2012 in Turkmenistan. The CIS executive secretary Sergei Lebedev also announced that Turkmenistan is due to host a meeting of the CIS prime ministers in May 2012 (Interfax, April 6).
However, officials made it clear their CIS-related expectations were becoming increasingly limited. Kazakh Foreign Minister Yerzhan Kazykhanov said the grouping still had certain potential to solve economic problems. However, he conceded that the grouping's future possibilities should not be over-estimated (Interfax, April 6).
The CIS meeting in Astana coincided with higher-level pledges of increased cooperation between Russia and other member states. In an interview with the Russian daily Kommersant, published on April 6, Kyrgyz President Almazbek Atambayev also pledged to develop a strategic partnership with Russia (Kommersant, April 6). On April 6, Russia's President Dmitry Medvedev hailed bilateral cooperation with Tajikistan and Turkmenistan (Interfax, April 6).
In September 2011, Tajikistan hosted a CIS summit that was marked by a number of abstentions, as the leaders of Azerbaijan, Belarus and Uzbekistan refrained from coming. These top level no-shows have come as an indication of the grouping's increasing irrelevance. The next CIS summit is due in November 2012 in Ashgabat, and it remains to be seen whether the grouping's semblance of unity may be sustained.
Member countries of the Russia-led post-Soviet collective security grouping also pledged to counter perceived regional threats. On April 6, the foreign ministers of the CSTO member states held a separate meeting in Astana. After the meeting, Kazakh foreign minister Yerzhan Kazykhanov said the discussion focused on measures to counter external security challenges, notably those originating from the territory of Afghanistan. The ministers also discussed measures to improve the protection of the border between Tajikistan and Afghanistan, as well as transiting freight to Afghanistan (Interfax, April 6).
The CSTO meeting was preceded by a flurry of diplomatic activity. On April 5, Kazakh Foreign Minister Yerzhan Kazykhanov met the CSTO general secretary Nikolai Bordyuzha. Both officials pledged to work out consensus-based decisions of regional and global issues. Kazykhanov hailed multilateral cooperation going on between CSTO member states. He also pledged increased security assistance to Tajikistan to protect its border with Afghanistan (Interfax, April 5).
At the meeting, the CSTO foreign ministers adopted a statement on cooperation with NATO and suggested increased coordination between the two blocs to counter international terrorism and the drug trade. The statement also advocated cooperation in dealing with natural calamities and political emergencies, including evacuation of member-state nationals from other countries (Interfax, April 6).
Not surprisingly, the statement on cooperation with NATO turned out to be Moscow's brainchild. Russian Foreign Minister Sergei Lavrov urged NATO to cooperate with the CSTO on Afghanistan, adding that it was Russia's idea to adopt the statement on cooperation with the North Atlantic Alliance (Interfax, April 6). Russian officials have long advocated closer ties between NATO and the CSTO, and repeatedly voiced criticism of what they described as NATO's reluctance to treat the CSTO as an equal partner.
The CSTO, which includes Armenia, Belarus, Kazakhstan, Kyrgyzstan, Russia, Tajikistan and Uzbekistan, is aimed to jointly face security challenges. The CSTO summit meeting in Moscow on December 20, 2011 already adopted a plan to counter threats from the territory of Afghanistan. However, earlier this year, disagreements between two Central Asian member states resurfaced.
Notably, on January 4, Uzbekistan cut natural gas supplies to Tajikistan without warning. The move followed bilateral disagreements on gas prices. On January 9, Tajikistan's officials announced that both sides settled their differences and agreed on Uzbek gas supplies to Tajikistan in 2012 totaling 200 million cubic meters. But from April 2, Uzbekistan reportedly halted gas supplies again in a move seen in Tajikistan as an economic blockade.
Relations between CSTO member countries Uzbekistan and Tajikistan have been uneasy in recent years. Uzbekistan left the grouping in 1999 and re-joined the CSTO in 2006. However, Tashkent has been demonstrating a non-committal approach and declining to join multilateral security initiatives of the joint forces of the grouping.
Therefore, Russian has been keen to present the CIS and the CSTO as pro-active regional groupings and to seek greater international clout for both organizations. However, the continued disagreements between their member states continue to indicate the groupings' limited capabilities of effective joint action.