Collapse In Russian Military Morale Undermines Effectiveness
Publication: Eurasia Daily Monitor Volume: 8 Issue: 150
By: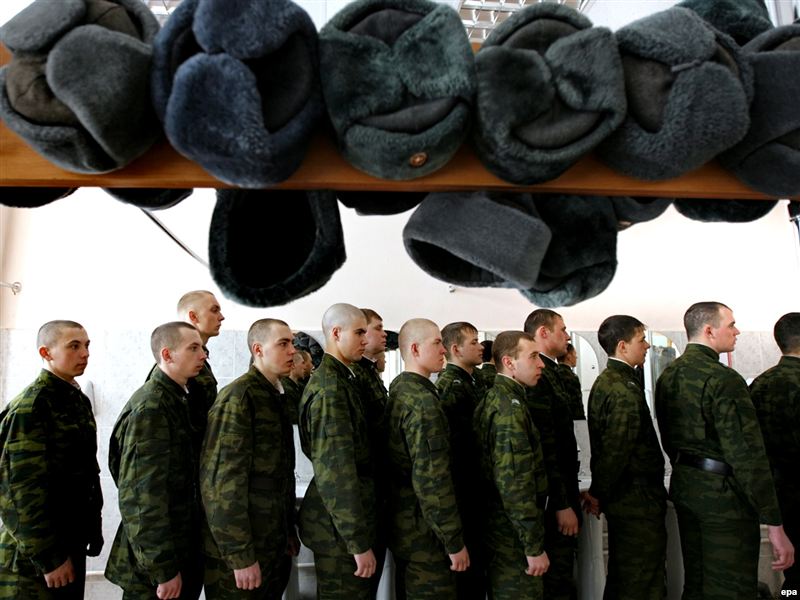 Massive corruption and misappropriation of government funds is a widespread ill in Russia that no one seems to know how to correct. Chief Military Prosecutor, Sergei Fridinsky, has frequently spoken about criminal outrages within the Russian military while the situation continues to worsen. Last January, Fridinsky described to journalists the details of defense procurement misappropriation and exclaimed: "The scope of military corruption is mindboggling; it seems people have lost shame and a sense of proportion." Fridinsky, of course, promised that the guilty will be brought to justice (Komsomolskaya Pravda, January 12).
To stem corruption it was decided to stop all cash payments of any type within units and to use a centralized system involving territorial defense ministry accounting authorities transferring disbursements to all suppliers and to personnel. It was promised that by the end of 2011 the defense ministry's military and civilian employees "would see cash only when withdrawing their pay at ATMs using specially issued debit cards." Moreover, it was hoped that the closure of accounting offices handling the cash payments in units "would minimize the misappropriation of defense budget funds and also produce considerable savings on the payrolls of redundant unit financial accounting officers" (Interfax, February 10). Of course, it did not work out as planned.
Fridinsky stated that during the first half of 2011 the overall number of registered crimes within the military decreased 10.6 percent compared to the first half of 2010, but this was described as a result of "leniency" by military prosecutors and in any case the number of military personnel has decreased during the same period by 25 percent, therefore the number of crimes per capita is growing. Procurement, housing construction, the privatization of defense ministry land and other real estate are being used to steal money, according to Fridinsky, but the most alarming trend is the spread of corruption deep in the ranks of combat units (Nezavisimoye Voyennoye Obozreniye, July 29).
In May a massive extortion scheme was exposed, involving fighter pilots from Russia's top elite air force unit – the Lipetsk Center of Combat Training and Flight Personnel Training. Pilot Senior Lieutenant Igor Sulim in the third (fighter-bomber) squadron wrote an open letter to Defense Minister Anatoliy Serdyukov, complaining that since January 2010 he and other pilots were forced by commanding officers to pay monthly extortion money. In 2009, Serdyukov introduced special bonuses to be awarded to the best performing officers. These bonuses drastically (threefold) increased regular pay. It was hoped these payments would promote better service performance while at the same time partially increase low military pay, before a massive overall payroll hike is introduced – at present planned for next January. Sulim paid his superiors 13,600 rubles ($485) per month from a 52,000 rubles ($1,860) bonus; the entire third squadron paid an extortion levy of 185,000 rubles ($6,600) monthly (www.newsru.com, May 25). Of course, Sulim and the other pilots handed over the extortion cash to their superiors after using debit cards to withdraw their salaries and benefits through an ATM.
According to Fridinsky, more than 3 million rubles ($110,000) were extorted in total, but the air force supreme command instead of acting decisively, has been doing its best to suppress the investigation, cover up the crime and is applying pressure on whistleblowers (Interfax, July 21). Military prosecutors reportedly indicted for organizing the extortion racket the chief of staff of the Lipetsk center Colonel Eduard Kovalsky and a number of his subordinates. Sulim stated that General Alexander Kharchevsky – the commander of the Lipetsk center that includes squadrons of fighters, bombers and attack aircraft – persists in proclaiming his innocence, while continuing to pressure the whistleblower: Sulim says he has not been allowed to fly since May 14, and will soon be disqualified as a pilot (Kommersant, July 24). Kharchevsky is one of Russia's most decorated fighter pilots and a Hero of Russia. In 2010, Kharchevsky led a formation of fighters overflying Red Square in close formation during the May 9 Victory Day parade in Moscow. According to Sulim's calculations, the total extortion sum "from the four Lipesk squadrons" could be some 7 million rubles ($250,000) per year (Kommersant in Voronez, August 3).
Fridinsky said the alleged Lipetsk extortion scheme is the tip of the iceberg: extortion of sizable amounts of bonus money is widespread "from company unit level to the top staffs of military districts and naval fleets." Attempts by the defense ministry and military prosecutors to stop this racket meet with stiff resistance: decisions to award officer bonuses "are practically always made on the condition to agree to pay back part of the sum directly to commanders or into different unofficial 'funds'" (Interfax, July 21). Senior Russian officers (colonels and generals) believe it is unfair that lieutenants and captains are given sudden massive pay hikes. Next January, all officers and contract soldiers are scheduled to receive an overall threefold pay increase, but the widespread extortion of money by military superiors may persist. A commanding officer is quoted as explaining that colonels will enjoy the new relatively high wages for only several years and then will be forced to retire, while lieutenants have an entire career in front of them and "must share," without squealing like Sulim (Nezavisimoye Voyennoye Obozreniye, July 29).
Fridinsky also disclosed that criminal assaults in barracks and hazing are increasing fueled by ethnic conflict between Russian and non-Russian conscript soldiers. At the same time there is a growing number of hazing crimes connected to criminal extortion within military units. Older serving conscript soldiers or sergeants are often demanding protection money and beating up those who fail to pay. Conscript soldiers are presently paid a meager 500 rubles ($18) per month, and also issued with debit cards, which allows parents to wire them money for protection payouts. The defense ministry is planning to introduce a 20,000 strong military police force and hopes this will drastically reverse the criminalization of the armed forces, though Fridinsky believes that their impact will be limited (Interfax, July 21).
Of course, not all units have fully degenerated into criminal mobs and not all officers and soldiers are racketeers. Still, the morale of the once proud Russian military has been seriously shattered, while its continued major nuclear status makes this situation intolerable.