Coming Arms Race in the Balkans?
Publication: Eurasia Daily Monitor Volume: 13 Issue: 30
By: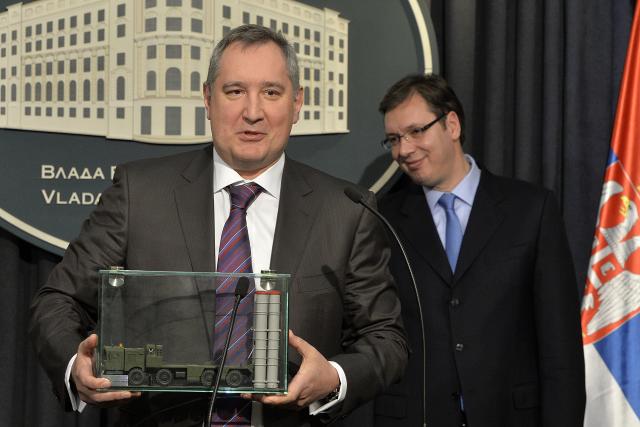 On December 2, 2015, Montenegro was formally invited to join the North Atlantic Treaty Organization (NATO). The military alliance saw its last enlargement round in 2009, when Albania and Croatia were admitted. The acceptance of these states was widely seen as a stepping-stone in ensuring long-term stability in the Western Balkans, following decades of ethnic unrest (Illyria Press, December 2, 2015). But Montenegro's membership in NATO occurred against the background of street protests by government opponents in Podgorica, widely believed to have been sparked and backed by Russia and Serbia (Balkan Insight, January 14). The case of Montenegro, combined with recent military advances made by leaders in Croatia and Serbia, are a reflection of this wider competition unfolding between regional powers as a result of the West's strategic influence and Russia's ambitions to reinstate its historical footprint in the Balkans.
Serbia has perhaps most clearly demonstrated how the struggle for influence in the Balkans between Russia and the West is translating into what increasingly looks like a budding arms race in the region. When Serbian Prime Minister Aleksandar Vučić visited Moscow last October, Belgrade and Moscow signed a deal for the purchase of over $2.5 billion in Russian armaments (Mapo.al, November 3). Although few details were initially released to the media regarding the deal, military experts in Belgrade were quick to deny that these arms sales would cause any diplomatic friction between Serbia and the European Union (Balkan Insight, October 27, 2015). More recent reports, however, confirm that EU-candidate Serbia plans to buy S-300 air-defense missile systems (Transitions Online, January 13) and MiG-29 warplanes from Russia (Illyriapress.com, February 3). The Serbian leader and Russian defense officials have since stated that these procurements come as a response to neighboring Croatia, which has been seeking to purchase surplus M270 multiple launch rocket systems (MLRS) from the United States. The M270 MLRS has a range of about 300 kilometers (Total Croatia News, December 29, 2015).
In recent interviews and public appearances, Vučić has repeatedly expressed his apprehensions about reports that Croatia is considering purchasing heavy artillery and rocket launchers from its Western allies: "We do not interfere in what other countries are doing, we do not feel threatened. But we feel there are some problems, and that is what we have been talking about with our partners in Moscow. The thing is, some countries in our region have begun ordering ballistic missiles. I do not know why anyone in our region would have ballistic missiles," Vučić claimed to Russia's Sputnik News service (JutarnjiList, December 12, 2015).
Several previous bilateral meetings and agreements have aimed to strengthen military cooperation between Russia and Serbia. But Belgrade's recent heavy procurement of Russian air-defense arms has raised concerns among some local analysts, who see Russia's overall growing involvement in the region as a destabilizing factor (Lajmi.net, January 14). The two countries' officials have announced that a joint military exercise will take place in Serbia in the second half of 2016, thus marking a significant symbolic step forward in their close military cooperation, which was reignited during President Vladimir Putin's visit in October 2014. The Russian leader was greeted with a lavish military-style parade, the first of its kind to be held in Belgrade since 1985, in which over 3,000 Serbian soldiers participated (Balkan Insight, October 16, 2014). However, Serbian security officials and analysts have actively denied that Serbia's military cooperation with Russia could lead to friction between its neighbors or the EU. Moreover, they highlighted the fact that Serbia cooperates with the military forces of over 60 countries, while retaining close relations with NATO through the Partnership for Peace (PfP) program (Balkan Insight, January 25).
Nevertheless, neighboring countries are still wary of the underlining consequences that a Russian military presence may have on the long-term stability of the region. In addition to Croatia's suspicions of Russian moves in Serbia as well as Montenegro's apparently foreign-fueled internal crisis, Bulgaria is also taking steps to terminate its military reliance on Russia. In particular, Sofia has signed a deal with Warsaw for Polish defense contractors to upgrade and repair Bulgaria's outdated fleet of MiG-29 fighter jets (The Sofia Globe, January 12). This move has caused friction along the Moscow-Sofia axis as Russia had previously held a contract to repair Bulgarian MiGs through 2015.
That said, the regional rivalry between Croatia and Serbia still remains the most noticeable challenge at the moment. It has particularly intensified since Croatia's latest military parade showcasing its military prowess as well as commemorating the 20th anniversary of operation "Storm," which reclaimed Croatian territory from Serbian forces in 1995 (EUinside.eu, August 11, 2015). The event itself enflamed nationalist rebukes between Belgrade and Zagreb and has led to diplomatic tensions at the highest levels (EUinside.eu, August 11, 2015). Reportedly, the Croatian government is sending a list of conditions that Serbia must first meet for Zagreb to agree to any future face-to-face meetings between the two countries' presidents. These conditions include resolving the issue of missing persons during the Balkan wars of the 1990s, the return of lost property and cultural treasures, war reparations, as well as the resolution of outstanding bilateral border disputes on the Danube River (Illyria Press, February 3).
Border and ethnic disputes remain at the forefront of issues in the Balkans—a region where all countries aspire to join the EU (so far only Bulgaria, Romania and Croatia have) and several (namely Macedonia and Bosnia-Herzegovina) still await NATO membership. But security risks continue to threaten the stability of this fragile European region, which suffers from high levels of corruption, the strong grip of organized crime, often even at the highest levels of politics, as well as growing instances of religious radicalism and right-wing nationalism. However, governments are taking few steps to address the root causes of these phenomena—namely corruption, red tape and high unemployment (Clingendael.nl, October 2014; Imf.org, March 15, 2015). Instead, political leaders have turned to military build ups as a means to ensure power and rally internal support among voters driven by radical ideas and a nationalist fervor—a move that, in the past, has often led to violence and internal divides.