Competing Media Agendas and the Geostrategic Interests of Belarus's Southern Neighbor
Publication: Eurasia Daily Monitor Volume: 20 Issue: 28
By: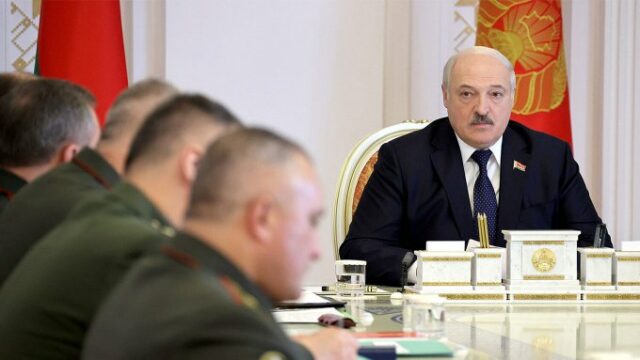 The agendas of the Belarusian official and opposition-minded media outlets create the impression of two parallel worlds. While some common themes exist, such as the creation of new government entities, the treatment of such subjects could not be more contrasting.
According to Belta, Belarus's official news agency, at a ceremony awarding Belarusian scientists with doctorates and professorial diplomas, President Alyaksandr Lukashenka stated that the information-technology (IT) sector has not crashed due to the outflow of IT specialists. This outmigration was, according to Lukashenka, impelled by Western sanctions designed to stifle the Belarusian economy. Thus, the Belarusian president understands why some had to leave (Belta, February 9). Indeed, much of Belarus's IT output used to be outsourced to the West, especially to corporate customers in the United States. Belarus's state-run press agency also shared information about the recently completed "large-scale national security drill" conducted for and by non-military state entities, including government ministries, the National Bank and local administrations. During the exercises, special emphasis was placed on these entities' concerted actions during critical situations (Belta, February 9).
On February 9, Lukashenka signed into law the October 2022 parliamentary bill laying out the activities of the All-Belarusian People's Assembly, hitherto an extra-constitutional body, composed of handpicked delegates representing the local, regional and central authorities. This assembly resembles a Soviet-style congress of the Communist Party and sidelines the elected parliament. Its seventh meeting, the first one under the new rules, will take place in April 2024 (Belta, February 9). Two days earlier, on February 7, the leadership of the pro-presidential political movement, Belaya (White) Rus, declared that, on March 18, the inaugural congress of the eponymous political party will take place and will unite all those willing "to support the political course pursued in Belarus" (Belta, February 7).
But why is it that Belaya Rus has been given the green light now? The movement has been around since 2007 and, on multiple occasions, solicited the highest permission to upgrade itself to a formal political party, only to be rejected by Lukashenka. According to Yury Drakakhrust of Radio Free Europe/Radio Liberty, the lack of erstwhile approvals by Lukashenka had to do with his belief in direct democracy as opposed to a representative one, whereby the system includes the "Batska," or father of the nation, and the nation itself (i.e., the people), with no intermediaries between them. While Lukashenka's belief may not have changed, life goes on, and he feels that sooner or later he will have to go—hence his desire to prevent his regime from collapsing like a house of cards upon his retirement. The post-election protests of 2020 demonstrated exactly how such a collapse can occur, and the Belarusian president is trying his best to preempt such an outcome (Zerkalo, February 8).
One common topic addressed by both the government and opposition media involves the creation of a government body to consider recent émigrés' solicitations for coming back home without fear of prosecution. Whereas official media channels are trying to instill assurances that the government will treat applicants fairly, the opposition continues to insist that this is a trap for gullible returnees (Telegraph, February 6).
To be sure, official Minsk has not quite succeeded in gaining trust in this process. To begin with, the applicants must confess their wrongdoing and ask for forgiveness. Then, should an application be approved with a no-prosecution verdict, the latter can be changed later if the general prosecutor (currently Andrei Shved) comes to believe prosecution is warranted after all (T.me/pul_1, February 6). Moreover, one of Lukashenka's chief propagandists, Vadim Gigin, likened the current attempt to bring back recent émigrés to the experience of repatriating émigrés in 1921–1925 (YouTube, February 8). That experience was successful, but Gigin predictably did not dwell on what happened to those returnees during the 1930s.
One theme that the government media briefly tackled and then dropped, but one that the opposition media continues to debate, is Ukraine's attitude toward Belarusian officialdom and the opposition, including a putative suggestion by Kyiv to sign a non-aggression pact with Minsk (see EDM, January 25). "The Ukrainian side is panickily trying not to provoke the opening of the Belarusian front by dint of careless words or gestures," writes Victor Bagdzevich of Radio Free Europe/Radio Liberty. "As for the Belarusian side, they are trying to look into the future wherein Russia's victory gets more doubtful, and so Lukashenka's dictatorship is not assured safety. … During war, everybody has his own dugout, and from the dugout of one's own problems, the concerns of somebody else are viewed differently."
For his part, Russian émigré journalist Matvei Ganapolsky, born and raised in Lviv, Ukraine, captured the Ukrainian side's true attitudes remarking, "I could not care less about democracy in Belarus. What is important to me, is that Belarusian soldiers not join the war on Russia's side for I do not need the Belarusian front" (Svaboda, February 5). While Bagdzevich surely appreciates that Ganapolsky refrained from political correctness here, he cannot be at peace with such an attitude. A similar criticism of Kyiv is embraced by Vadim Mazheika, yet another opposition commentator, who also claims Ukraine has no definite Belarus policy (Svaboda, February 1).
Drakakhrust is of a different opinion. To him, Kyiv's policy is, on the contrary, quite tangible. Its goal is indeed not to provoke Minsk and to use caution in maintaining relations with various segments of the Belarusian opposition. This is a pragmatic policy going back to a dictum of Joseph Stalin. When it was suggested to Stalin that the pope would appreciate him ceasing to oppress Catholics, Stalin famously scoffed, "The pope? How many divisions has he got?" No Belarusian opposition leader has any division at his or her disposal, underscores Drakakhrust. Thus, there is hardly anything that Kyiv has yet to learn about Belarus that would change its policy (Facebook.com/VadimMojeiko, February 7).
Indeed, raw geopolitics is not easy to blend with compassion and feelings in general. That is not to say these feelings are worthless. However, geostrategic interests as such have their own self-contained logic, especially during wartime, and recognizing the legitimacy of this logic makes a great deal of sense for all sides.