Conflicts Between Tajikistan and Kyrgyzstan Potentially Undermine CSTO and Custom Union in Central Asia
Publication: Eurasia Daily Monitor Volume: 11 Issue: 27
By: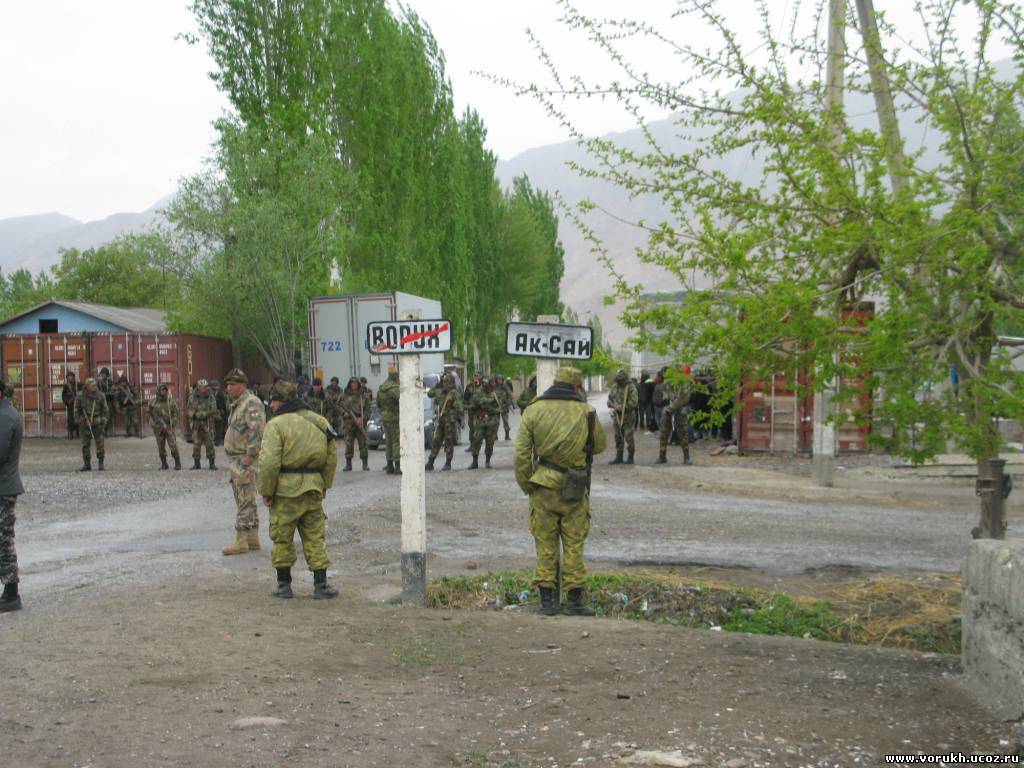 On January 30–31, the deputy prime ministers of Kyrgyzstan and Tajikistan, Tokon Mamytov and Murodali Alimardon took part in negotiations to try to relieve tensions from recent border clashes, which involved exchanges of fire between their border guards. Mamytov and Alimardon reached an agreement to remove additional troops that the governments had massed at the Kyrgyzstan-Tajikistan border. They also pledged to undertake more active work to delineate the two countries' disputed border line. However, it should be noted that previous negotiations concerning this ongoing situation proved to be only idle talk (Fergananews.com, January 31).
The situation around the Tajikistani exclave of Vorukh, located in southern Kyrgyzstan, has remained tense since the two Central Asian republics' border troops clashed there on January 11. Five Kyrgyzstani border guards, one Kyrgyzstani policeman, and two Tajikistani border guards have been hospitalized as a result of that day's firefight. The cause of the bilateral border conflict was sparked by the construction by workers from Kyrgyzstan of a road in a disputed border area nearby. According to Dushanbe, Kyrgyzstani border patrol agents started shooting first, using snipers and hit one of the Tajikistani soldiers. But according to Deputy Prime Minister Mamytov, who is charged with Kyrgyzstan's security matters, it was Tajikistan's border patrol agents who shot first, and they also fired mortars and grenade launchers at the Kyrgyz Republic border personnel. Kyrgyzstan's Prime Minister Jantoro Satybaldiev sent a note of protest to Tajikistan's Ministry of Foreign Affairs over the incident, and Bishkek also recalled its ambassador from Dushanbe (Fergananews.ru, January 11; kginform.com, January 12).
According to Sergey Abashin, a professor of ethnology at the Russian Academy of Sciences, after the collapse of the Soviet Union disputed state boundaries became some of the most serious factors of potential destabilization in Central Asia (Author's interview, February 2). The very principle of territorial and administrative division along national lines is alien to the history of Central Asia. States here were never formed on an ethnic or national principle as the very concept of "nationality" was understood only in relative terms. In 1921, when the indigenous people of Central Asia were asked what their nationality was, they generally replied "Muslim." The unsuitability of local conditions to the very principle of territorial division according to nationality was made even worse by the fact that borders were sometimes drawn arbitrarily, without taking ethnic and political realities into account. As a result, Central Asia features around a dozen "disputed territories" that are simultaneously claimed by multiple nationalities and their titular republics (Igor Rotar, Under the Green Banner: Islamic Radicals in Russia and the Former Soviet Union,' Religion, State & Society 30(2), June 2002).
The border problem is most acute in the Ferghana Valley. This ethnically and culturally complex region is now divided among three countries: Kyrgyzstan, Tajikistan and Uzbekistan. Presently, the international border in the Ferghana Valley divides ethnic Uzbeks in Uzbekistan from those living in a closely united group close to the border with Uzbekistan between the Osh and Jalal-Abad regions of Kyrgyzstan, as well as Sughd province in Tajikistan. 2013 was a record year for border conflicts in the Ferghana valley. Violence erupted in early January 2013 in the Uzbekistani exclave of Sokh, located inside Kyrgyzstan. That incident resulted in extensive property damage and hostages being taken. Then in April, local clashes occurred near Tajikistan's exclave of Vorukh. It is important to note that all conflicts in 2013 occurred between Tajiks and Kyrgyz (the population of the Uzbekistani Sokh exclave is mainly ethnically Tajik) (see EDM January 9, 2013; Fergananews.ru, April 29, 2013).
The continuing clashes between Tajikistan's and Kyrgyzstan's border patrol agents is an unprecedented phenomenon in the modern history of Central Asia: this is the first conflict in the region that has involved live fire exchanges between state security forces and the alleged use of military arms such as grenades and mortars. The situation is further complicated in that it is also possible that a "third force" might enter the conflict. According to the Russian news agency RIA Novosti (January 27), the militants of the former warlord of the Tajik opposition, Shokh Iskandarov, regularly appear along the Tajikistan-Kyrgyzstan border. The Tajik opposition has combat experience fighting against Kyrgyzstan's army. In 1999 and 2000, some Tajik warlords (including Iskandarov), together with fighters from the Islamic Movement of Uzbekistan (IMU), tried to reach Uzbekistan through Kyrgyzstani territory.

Tajikistan and Kyrgyzstan are Russia's main allies in Central Asia. And in 2013, the Kremlin dramatically increased its political presence in the region. Due to pressure from Moscow, Bishkek did not prolong its agreement with the United States and the International Security Assistance Force (ISAF) on the continued use of the Manas Transit Center airbase (see EDM, November 13, 2013). In turn, Russia agreed to provide military and technical support to Kyrgyzstan in the form of direct assistance. According to a deal reached last year, Russia is prepared to spend $1.1 billion to upgrade Kyrgyzstan's army Meanwhile, the lower house of Tajikistan's parliament ratified on October 1, 2013, a long-delayed deal to extend the presence of Russia's military base (the former 201st division) in Tajikistan until 2042. The deal still has to be ratified by the upper house and signed by the president of Tajikistan, Emomali Rahmon (see EDM, October 16, 2013). But now the Kremlin may be pressed to intervene between its two Central Asian allies, whose tense relations along their border are close to escalating to a real war. Tajikistan and Kyrgyzstan are both members of the Russian-led Collective Security Treaty Organization and potential members of the Custom Union. So if an open conflict is allowed to explode between these countries, this resulting war in Central Asia would likely seriously undermine the validity and apparent influence of both Kremlin-supported Eurasian integrationist projects.