Conscription Used as a Deterrent by Belarusian Government
Publication: Eurasia Daily Monitor Volume: 7 Issue: 12
By: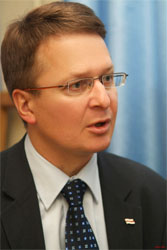 On December 29, Franak Vyachorka, the son of the former leader of the Belarusian Popular Front Vintsuk Vyachorka, was transferred from his military unit in Mazyr to a hospital after having discovered scabies. He also suffers from high blood pressure. However, although the hospital doctor informed him that he would remain there for several days in order to recover, he was discharged on January 5 and returned to his unit (www.charter97.org, January 6).
The case of Franak Vyachorka is the most notorious of several enforced conscriptions into the army of former university students, expelled for their political activities. In February 2008, he was expelled from the Belarusian State University, allegedly because he had been absent from some examinations, and had not performed satisfactorily on his re-examination papers. However, as his father pointed out (Correspondence with Jamestown, December 8), he was one of the best students at the university and almost certainly singled out for his political activities. On July 16, 2008, a medical board linked to the military enlistment office of the Savetsky district in Minsk found Franak to be unfit for service on a number of counts. A further examination in September 2008 revealed that he had high blood pressure and he was thus declared unfit for duty (Vyasna, July 13, 2009).
However, a regional medical board demanded a further examination, after which a final decision was postponed until March 2009. The military enlistment office in the Savetsky district, nonetheless, held a closed-door session in January 2009 and reversed that verdict, refusing Franak and his lawyer permission to attend the hearing (Vyasna, July 13, 2009). On January 16, 2009 plainclothes officials entered the hospital ward where Franak was recuperating, handcuffed and beat him, and took him to the recruitment office. Although his case was appealed, he was again physically assaulted on the street twelve days later, handcuffed, beaten, and taken to his army regiment, air defense unit 48694 in Mazyr (Correspondence with Jamestown, December 8).
Since his enforced conscription, Franak Vyachorka has returned to the hospital three times, most recently suffering from scabies. He has noted on an internet site (Facebook, January 11) that from January 1, 2010, the minimum food intake for soldiers serving at Mazyr has been sharply reduced, as the region is no longer considered to be a zone suffering from the 1986 nuclear accident at Chernobyl. According to the Vyasna human rights agency (July 13), Senior Lieutenant Dzianis Kozak has put Franak under pressure because he refused to use the Russian language, and was threatened with criminal punishment as a result. On July 10, 2009, an ensign demanded that he sing in Russian, noting that other soldiers disliked the Belarusian language.
The case is increasingly typical in Belarus, where monitoring of human rights violations is often confined to head counts of political prisoners or the distribution of opposition newspapers (Nasha Niva and Narodnaya Volya specifically) at official outlets. Officially, members of opposition youth movements cannot be officially targeted for attending rallies and peaceful demonstrations. The reality is that it occurs all the more frequently. Once a male student is expelled from a higher educational institution, then the next step is conscription into the army, where conditions can quickly be made close to intolerable. That situation is exacerbated when the recruits are physically unfit for service.
In a letter to Jamestown on December 8, Vintsuk Vyachorka highlighted several other cases, including another member of the Belarusian Popular Front, Zmitser Zalezhnichenka, and Ivan Shyla and Zmitser Khvedaruk of the Young Front. Zalezhnichenka, he noted, was the most outstanding student in mathematics at Homel University, but was expelled and became the first to be forcibly conscripted in early 2008. Having finished his service, he now studies in Holland. Shyla, from Salihorsk, the deputy leader of the Young Front's "youth initiative" was forcibly drafted on January 28, 2009 following his own expulsion.
An even more disturbing example provided by the senior Vyachorka is that of Zmitser Fedaruk, another young man with a medical condition, but moreover, a student at a Theological College in Minsk, and thereby exempt from military service according to Belarusian law. On January 28, 2009, however, he was detained and accused of taking part in a rally in May 2008. In itself, this was a further violation of the law stating that administrative sentences no longer apply after a three-month period. He was forced to serve a ten-day prison sentence, then promptly taken to the medical center, declared fit for service, and sent to a unit in Zodzhina.
That expulsions continue to be used as a means of silencing student opposition is demonstrated by the recent case of Tatsiana Shaputska. Also linked are the kidnappings and harassment of youth activists by members of the Special Forces and KGB (EDM, December 16). Recently, the authorities have tried to control access and use of the internet, reportedly instigated by President Alyaskandr Lukashenka, because of a complaint by both the Russian and Belarusian Patriarchs (Kirill and Filaret respectively) regarding the content (Belarusian Telegraph Agency, December 30). Users will not be banned, but made "answerable" for whatever they may write.
Of all the human rights infringements, enforced conscription of medically unfit young men is perhaps the most glaring. Once recruited, they are essentially isolated, and placed under conditions that threaten both their physical and mental health.